The U.S. Auto Industry's Joyride Is Nearing Record 2007 Levels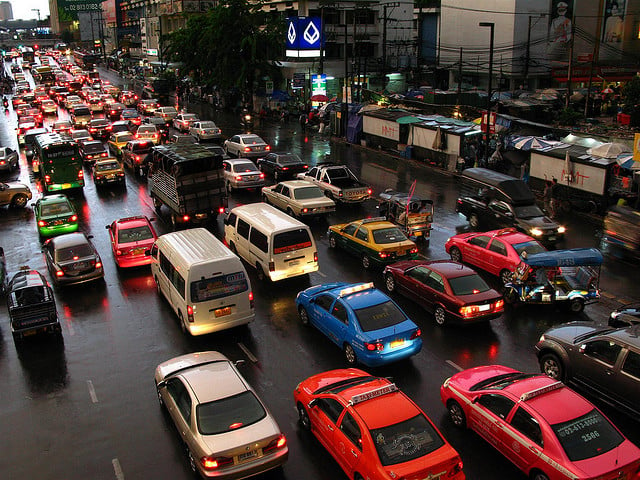 The big players in the U.S. auto market continue to post impressive gains, and last month's auto sales report illuminates that the industry is well on its way to outpacing the record it reached in 2007, right before everything began to crumble for General Motors (NYSE:GM), Ford (NYSE:F), and Chrysler.
As the U.S. economy continues to improve, the auto industry has been the one sector especially contributing to its recent success. While drivers on U.S. roads used to turn to Toyota (NYSE:TM) and Honda (NYSE:HMC) to meet their auto needs, they're now increasingly visiting GM and Ford dealerships as the U.S. automakers roll out appealing fuel-efficient vehicles and full-size pickup trucks. This has not only led to record-breaking sales but also labor increases, satisfying both employees and consumers.
According to The Wall Street Journal, GM posted a significant double-digit year-on-year gain of 16 percent from 2012, and its little brother, Ford, also held its own with an 11 percent sales gain; Chrysler posted the same figure. On the other hand, the U.S. automakers' rival, Toyota, noted the largest year-on-year gain of 17 percent, illustrating that while U.S. car manufacturers' business is no doubt on the rise, Toyota is still a force to be reckoned with.
2007 marks the last time the seasonally adjusted annualized sales rate in the U.S. surpassed 16 million units, and if forecasts from auto researchers like Kelley Blue Book ring true, automakers could see their sales finally exceeding these benchmarks once all the July results are calculated.
Thanks to low interest rates and gains in the manufacturing, energy, and production sectors, American consumers are finally showing readiness to dip back into their wallets and spend on new cars, as evidenced by forecasts that new car sales in July would rise by 16 percent. An improving U.S. economy is just what these automakers need as they continue to wow buyers with launches of redesigned pickups, fuel-efficient compact cars, and appealing sport utility vehicles.
But while these cars and trucks have reeled in significant gains for GM, Ford, and Chrysler, the manufacturers still face flailing sales in Europe and tight competition in Asian markets. The Wall Street Journal reports that although GM's July sales of its full-size GMC Sierra and Chevrolet Silverado pickups were up 44 percent from a year earlier, these gains only helped outweigh losses in Europe, bringing a $7,000 operating profit on each truck sold.
While GM's overall sales rose to 234,701, Toyota posted a 193,394 figure. Ford sold 193,080 vehicles, Honda sold 141,439, and Chrysler increased to 140,102.
Don't Miss: Toyota's New Tundra Meets the Bar But Falls Far Short of Setting It.