The Young and the Jobless Are Still Feeling the Recession's Side Effects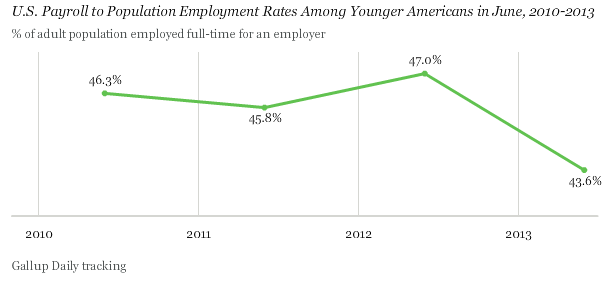 The side effects of the Great Recession are still being felt across the nation. Several economic indicators have improved in recent years, but the employment situation remains anemic, especially for young adults.
Full-time jobs are quickly becoming scarce for young Americans. According to Gallup's most recent payroll-to-population employment rate, only 43.6 percent of adults aged 18 to 29 worked full time for an employer in June, down sharply from 47 percent a year earlier. In comparison, the employment rate came in at 46.3 percent and 45.8 percent in 2010 and 2011, respectively.
These results are based on interviews conducted by landline and cellphone with around 30,000 Americans. Gallup considers a person to be employed full time by working at least 30 hours per week.
Despite the troubling rise of student debt in the country, a college education still has its benefits. Gallup found that young adults with a college degree are almost twice as likely to have a full-time job, compared to those without a degree. However, some young adults without a degree are not looking for full-time work, as they are currently enrolled in classes.

Furthermore, the payroll-to-population employment rate among Americans with a college degree has declined in recent years. In 2012, almost 69 percent of young adults with a degree held a full-time job, compared to 65.4 percent this year.
The rise of a part-time nation has been evident from the U.S. Department of Labor's monthly reports. The number of people employed part time because of economic reasons increased by 322,000 in June to 8.2 million.
Additionally, the U-6 unemployment rate, which includes everyone in the headline rate plus people who are employed part-time but prefer a full-time position or who want work but have stopped looking, jumped from 13.8 percent in May to 14.3 percent in June, its highest level in four months.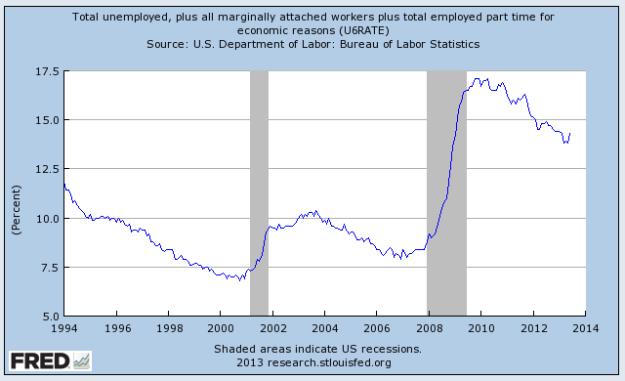 With the economic recovery still struggling to pick up pace, many older adults are remaining in or returning to full-time jobs where possible. Americans 50 to 64 years old with a full-time job reached 48.2 percent in June, up from 46.6 percent a year earlier and 45.9 percent in 2011, according to Gallup. Meanwhile, 8.4 percent of people 65 or older held a full-time job in June, up from 7.2 percent in 2012. In fact, both age groups increased their payroll-to-population employment rates for four consecutive years.
Here's how the 3 major stock indices have traded over the past 5 trading sessions:

Follow Eric on Twitter @Mr_Eric_WSCS