The Zuckerberg Files Launches Covering Facebook CEO and 2 Other Heavily Traded Stocks to Follow
Facebook Inc. (NASDAQ:FB): Current price $50.16
On Friday, researchers at the University of Wisconsin–Milwaukee debuted The Zuckerberg Files, representing a scholarly website dedicated to collecting every word that Facebook Chief Executive Mark Zuckerberg has ever publicly spoken. It was said that the purpose is not to follow him around taping his utterances, but rather to collect statements, interviews, talks, and presentations he has made, and then to create transcripts of all of them.
Already, The Zuckerberg Files has assembled more than 100 transcripts and close to 50 videos for its archive, which is said to comprise all publicly available speech and writing from the CEO. However, only researchers will be allowed access to them, "as the site is meant to help critically engage Facebook's approach to privacy, and not to bluntly expose the company's CEO."

General Electric Co. (NYSE:GE): Current price $26.09
General Electric's GE Aviation and Vietnam Airlines have agreed to a $1.7-billion contract to purchase and lease 40 new engines to be used for the flag carrier's fleet of Boeing 787 Dreamliners, said the Wall Street Journal, citing comments from Vietnam Airlines' chief executive.

Zynga Inc. (NASDAQ:ZNGA): Current price $3.78
On Monday, Zynga debuted its new Hit It Rich slots themes featuring favorite entertainment icons. The online social casino game based on high-quality slots mechanics which present a free and lifelike casino experience, Hit It Rich is presently available for players worldwide on Facebook at and coming soon for mobile. Hit It Rich offers new ways to play with games tat are themed on favorite entertainment icons.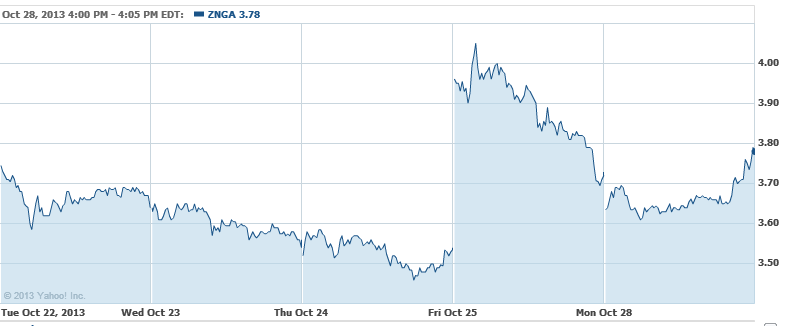 Don't Miss: Here's What the Twitter IPO Test Revealed.