These 3 Dow Healthcare Stocks had an Awesome Week
Johnson & Johnson (NYSE:JNJ): Current Price $82.70
Analyst Michael Weinstein at JPMorgan downgraded the stock from Overweight to Neutral in a note to clients earlier Monday. Weinstein lowered his rating on the firm because he believes that, after appreciating by 30 percent, J&J's stock overly reflects the improvement in its fundamentals. Shares now trade 8 percent above the value of its assets and 16 percent above the average value of large pharmaceutical firms. Moreover, Johnson & Johnson is likely to report lower than anticipated first quarter revenue because of 1-2 fewer business days during the quarter, and it will probably lower its 2013 earnings per share guidance as a result of currency factors, according to Weinstein, who raised his target on the shares from $77 to $83.
In a report, Jefferies Group has placed a $85 price target on Johnson & Johnson, and it currently has a a Hold on the stock. A Jefferies analyst commented that "We remain positive on Pharmaceuticals and see valuation as attractive for most stocks. Our Top Pick in the U.S. is AbbVie (ABBV), with Novartis (NYSE:NVS) being our most preferred name in Europe. Sanofi (NYSE:SNY), Roche, and Pfizer (NYSE:PFE) remain high conviction Buy ratings. We point to Eli Lilly (NYSE:LLY) and GlaxoSmithKline (NYSE:GSK) as least preferred names."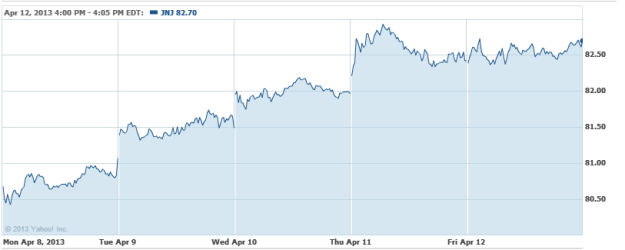 UnitedHealth Group (NYSE:UNH): Current Price $63
The new price target on shares is $71, raised by analysts at Credit Suisse on Tuesday, who said that investors are not fully acknowledging the company's pharmacy benefits management division, OptumRx. The analysts maintain an Outperform rating on UNH. This new target implies a 15 percent upside to Monday's close of $61.89. The stock is up 14.1 percent year-to-date, has a divided yield of 1.37 percent based on the close, and the firm's annualized dividend payout is 85 cents per share, says Dividend.com.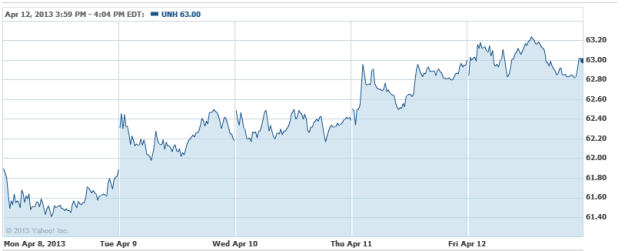 Don't Miss: Is This Obama Budget Proposal Dead On Arrival?
Pfizer (NYSE:PFE): Current price $3067
Pfizer's investigational compound palbociclib has received breakthrough therapy designation from the FDA for the potential treatment of patients suffering from breast cancer, according to Dow Jones Newswires . Palbociclib, or PD-0332991, is an oral and selective inhibitor of cyclin dependent kinases 4 and 6. Breakthrough therapy designation should expedite the development and review of a potential new drug if it is meant to treat a serious or life-threatening disease or condition, and preliminary clinical evidence indicates that the medication might show substantial improvement over existing therapies on one or more clinically significant endpoints.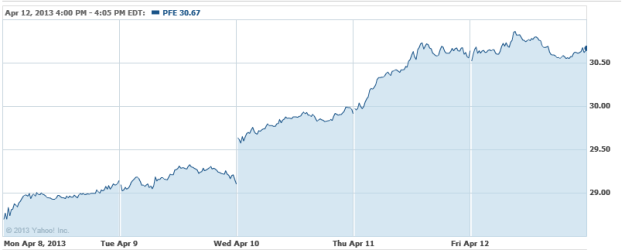 Investing Insights: Does Celgene Support All-Time Highs?