These 5 Stocks Are Loving Obamacare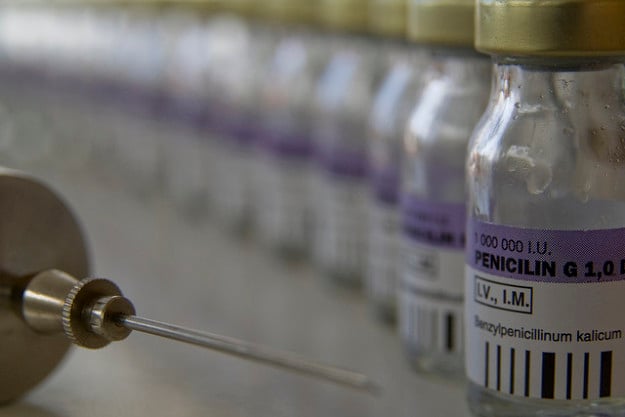 The implementation of the Affordable Care Act has created a political firestorm in Washington. The fiscal standoff is over, the United States will not default on its public debt, and the federal government will have the funds to continuing operating thanks to legislation passed by both the Senate and the House of Representatives that will authorize current spending levels through January 15, thus extending the debt cushion until February 7.
But hearings regarding the implementation of the health care reform law's cornerstone provision, the online marketplaces, have only just begun. Yet despite concerns that the technical problems plaguing the insurance exchanges will translate to enrollment problems, shareholders of the five biggest publicly traded insurance companies — Aetna (NYSE:AET), WellPoint (NYSE:WLP), UnitedHealth Group (NYSE:UNH), Humana (NYSE:HUM), and Cigna (NYSE:CI) — have not been spooked.
Over the past year, shares of Aetna, WellPoint, UnitedHealth Group, Humana and Cigna have advanced by an average of 32 percent. For comparison, the S&P 500 Index has risen 24 percent.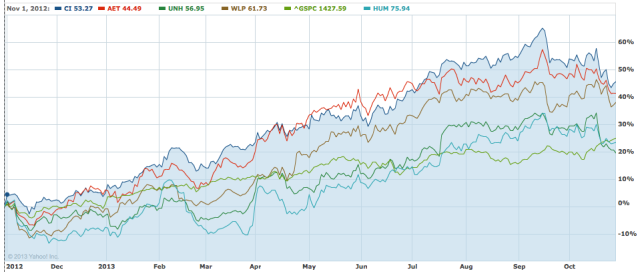 What matters to health care companies and their investors in the debate over how successfully the reform law extends coverage to 48 million uninsured Americans are the numbers — how many people sign up. The Congressional Budget Office estimated that 7 million Americans will enroll in the online exchanges created by the Affordable Care Act's individual insurance mandate.
But investors surveyed by Citigroup in late September had a much lower forecast: 4 million. The reason for that lower estimate is not lack of awareness of the law's requirement that all Americans who can afford to buy health care coverage do so or confusion about how to sign up for coverage, or even distaste for the mandate. Rather, the survey shows that investors are concerned that technical glitches will present obstacles to enrollment.
Still, despite the glitches plaguing the rollout, investors have shown signs of excitement at the coming reform of the health care system because it means that millions of new customers will flow into the marketplace, injecting billions of dollars a year, and with coverage potentially extended to so many of the country's uninsured, hospitals could be required to do fewer procedures for free. As of now, according to Bloomberg Industries, hospitals receive no compensation for between 25 percent and 30 percent of all procedures they perform.
The prospect of higher compensation is one reason why the stocks of HCA Holdings (NYSE:HCA), Tenet Healthcare (NYSE:THC), and Community Health Systems (NYSE:CYH) have soared more than 180 percent in the past two years. Some estimates show that as many as 27 million Americans could end up being insured and, as a result, use hospital services more often. After falling for several years thanks to the economic recession, U.S. health care spending is expected to jump next year because of the implementation of the individual exchanges, according to calculations made by actuaries at the Centers for Medicare and Medicaid Services.
But for insurers, the benefits of the influx of new customers are not black and white. Companies like Aetna, WellPoint, UnitedHealth Group, Humana, and Cigna face new regulations as the result of the health care reform, and those regulations will cost. The plans offered on the exchanges must have 10 "essential benefits," surcharges based on health status will be eliminated, premium variations based on age will be limited, and those with preexisting conditions cannot be turned down. Plus, the new regulations also limit profit-taking.
But for now, investors in insurance companies are confident. This year, profits have grown as overall health costs have dropped. And even with the new regulations, most insurers are pleased to be handed new customers who are required to buy policies. As Aetna CEO Mark Bertolini said in the company's second-quarter earnings conference call this year, "we continue to believe that public exchanges can represent a longer-term upside opportunity."
Most insurance companies are forecasting earnings growth for the period after the health care law is fully implemented. Cigna Chief Executive David Cordani said that his company's average annual earnings per share would increase between 10 percent and 13 percent over the next three to five years.
Follow Meghan on Twitter @MFoley_WSCS
Don't Miss: Here Is Where Republicans and Democrats Agree on Obamacare.