These CEOs Are Making Massive Piles of Cash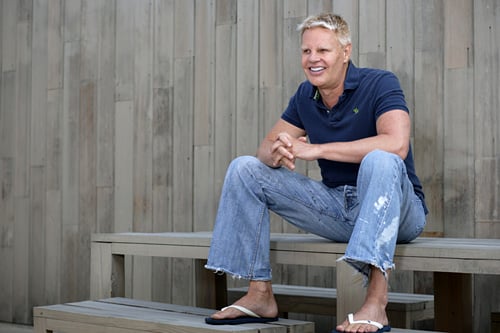 Abercrombie & Fitch (NYSE:ANF) CEO Mike Jefferies made $1.5 million in 2012
The more things change the more they stay the same — at least when executive compensation is concerned. CEO pay averages almost 300 times what the average employee makes, and that figure is not expected to change anytime soon. The average CEO salary is $1.1 million — but that number is very misleading.
Daily Finance reports that the $1.1 million salary average is heavily supplemented with an average annual bonus of $2 million and average annual stock options of $7 million. This comes out to an average of around $10.1 million per chief executive officer. Tying a large chunk of total compensation to bonuses and stock options is how corporate boards are trying to make sure CEOs have their priorities aligned with those of the shareholders. CEO stock options are only as good as the company's performance in the markets, and can typically only be cashed in after a set period of years to make sure what the CEO is doing is good for the company in the long term.
The chief executive officer of any corporation is a key decision-maker, and typically serves as that company's face to investors. The CEO's decisions shape the company's future for years to come and can make or break it. It makes sense to pay CEOs much better than the going wage for the company's employees, but is 300 times the average employee's salary taking things too far?
Overall, though, chief executive officer compensation has been leveling off. Last year's compensation increase for CEOs was only 3.6 percent on average, according to the Huffington Post. Still, 3.6 percent is a huge chunk of change when you figure the amounts involved. Three point six percent for someone making $10 million comes out to $360,000 — around ten times the average salary. Below is a list of some of the most highly compensated CEOs of 2012.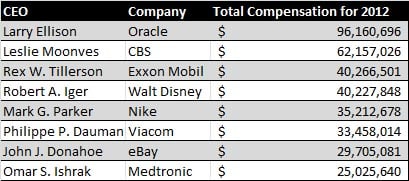 Data: Businessweek
Don't Miss: Are US Banks Playing with Fire in the Commercial Loan Market?