These Four Solar Stocks Shine After Citigroup Coverage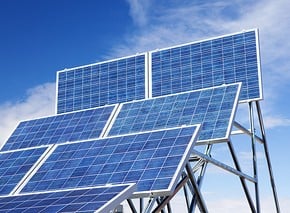 If you're going to bet on solar, bet on businesses with heavy downstream exposure, argues an analyst at Citigroup, who launched coverage of seven solar companies on Wednesday. According to Forbes, analyst Shahriar Pourreza writes that "the upstream segment of the solar value chain is going through a permanent structural shift – mainly the commoditization of the panel manufacturing business."
There are two main implications of this, Pourreza argues. First, upstream companies will find it harder and harder to distinguish themselves from competitors. In order to remain competitive, pure-play manufacturers will have to shift into downstream operations such as project procurement, development, and maintenance. Second, Pourreza argues that manufacturers will "never see gross margin levels attained prior to the sector bust."
For these reasons, the analyst gave four solar companies a "Buy" rating, one with conviction, expecting that their downstream exposure and investment in growth regions will lead to long-term gains. Here are his top picks…
First Solar (NASDAQ:FSLR)
Shares of this American solar-module manufacturer climbed as much as 4.4 percent on Wednesday afternoon following the note. Citigroup pegged the company with a price target of $41, 35 percent above its Tuesday closing price, and a "Buy" rating.
First Solar's strength is in no small part due to its size and relatively strong balance sheet. With a market cap of $2.65 billion, it's the largest among the solar companies with bullish calls. First Solar had a fairly successful 2012, landing several key projects both in the U.S. and abroad. Most recently, the company announced the acquisition of a 50 megawatt project in New Mexico, which will be the state's biggest when complete.
Advanced Energy Industries (NASDAQ:AEIS)
This lightly-traded solar company climbed as much as 5.8 percent following positive Citigroup coverage. The analyst gives Advanced Energy Industries a price target of $20 following its recently-announced restructuring efforts.
With a potential upside of 25.7 percent from its Tuesday closing price, the Citigroup analyst suggests that this company is poised to capitalize on utility-scale projects in North America, a segment that is in the early stages of a growth cycle.
MEMC Electronic Materials (NYSE:WFR)
On Tuesday this company announced that its subsidiary, SunEdison, entered into an agreement with Chile-based steel and iron ore supplier CAP S.A. to develop a 100 megawatt power power plant in the Atacama Desert. The project, once finished, would be the largest solar photovoltaic power plant in Latin America.
The analyst at Citigroup gave MEMC Electronic Materials a price target of $5.40, 23.9 percent above its Tuesday closing price. Shares climbed as much as 3.3 percent on Wednesday as the analyst highlighted the company's ability to successfully capitalize in sustainable overseas markets.
SunPower Corp. (NASDAQ:SPWR)
SunPower is up over 30 percent this year to date, with additional gains of 4.2 percent on Wednesday. The company got a huge boost at the beginning of December when a holding company owned by Berkshire Hathaway (NYSE:BRKA)(NYSE:BRKB) purchased the world's largest permitted solar photovoltaic development from it for between $2 and $2.5 billion.
SunPower is the Citigroup analyst's conviction buy with a price target of $12, 49.6 percent above Tuesday's closing price. The analyst commented that the company's "leading efficiency panels, massive downstream channel, the backing of oil giant Total and, strategic JVs with key industry players make it the perfect package, in our view."
Investing Insights: Is Arch Coal a Steal Here?