These Headwinds Are Yet To Bother the Stock Markets
The Dow Jones Industrial Average and other major U.S. stock indexes levitate higher in the face of weak economic news.
Last week, the Dow Jones Industrial Average (NYSEARCA:DIA) gained 2 percent, while the S&P 500 (NYSEARCA:SPY) and Nasdaq (NYSEARCA:QQQ) also posted better than 2 percent  weekly gains.
On My ETF Radar
In the chart of the Dow Jones Industrial Average below, we can see how the index has now returned to overbought levels with RSI of greater than 70. However, momentum, as represented by MACD, has returned to positive ground. The Dow Jones Industrial Average now approaches 15,000 as it continues setting all-time highs.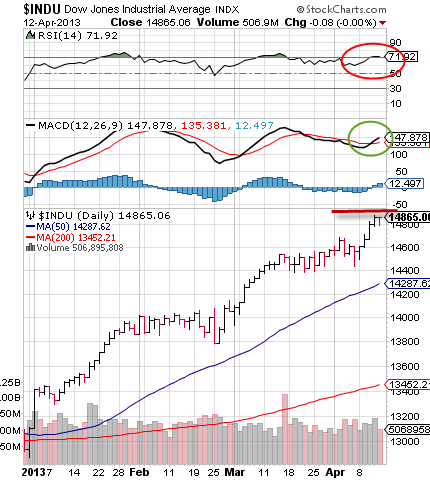 chart courtesy of StockCharts.com
ETF News You Can Really Use
The advance of the Dow Jones Industrial Average continues to outpace the Dow Jones Transports and Russell 2000 (NYSEARCA:IWM), which have yet to return to recent highs. This action is seen as a warning by some analysts as these two major indexes are not confirming the recent move by the Dow…
Economic reports were generally weak again last week, with negative consumer sentiment and retail sales readings on Friday. March retail sales dropped 0.4 percent, widely missing expectations of a 0.1 percent decline, and consumer sentiment fell to levels seen last July as the April print was 72.3, a big drop from last month's 78.6 and well below expectations.
The NFIB small business index also declined, but on the good news side of the ledger, initial weekly unemployment claims fell.
Shipments of personal computers tumbled in the first quarter to post the worst quarterly decline on record. And Thompson Reuters' reported that so far more than 100 S&P 500 companies have issued negative earnings previews versus positive forecasts from 23, making this the most negative quarter since late 2001.
In international news, Cyprus was reported to be selling its gold reserves to help pay for its bailout and the tense situations in Slovenia and Portugal continue to simmer. In the Pacific, North Korea continued rattling sabres, and the region was on alert for a missile launch there and the bird flu in China.
Commodities were slammed across the board as gold (NYSEARCA:GLD) spot prices fell 5 percent on Friday to $1480.50/oz., and oil (NYSEARCA:USO) dropped 2.96% to $90.72/bbl.
Nevertheless, the S&P 500 set an all-time record high, and Japan's Nikkei index went vertical on the strength of a massive monetary easing program launched by the Bank of Japan…
Last week saw the start of earnings season and this week will bring a blizzard of market moving earnings reports. More than 70 S&P 500 companies will report earnings, including big names such as Coca-Cola (NYSE:KO), General Electric (NYSE:GE), McDonald's (NYSE:MCD), Yahoo (NASDAQ:YHOO), Google (NASDAQ:GOOG), Bank of America (NYSE:BAC), and Citigroup (NYSE:C).
In economic reports, news will come from the New York Empire Index on Monday, home builders and industrial production on Tuesday, Fed Beige Book on Wednesday, and weekly jobless claims, leading indicators and Philadelphia Federal Reserve on Thursday.
Bottom line: The Dow Jones Industrial Average and other major U.S. stock indexes continue to levitate higher in the face of fundamental and technical headwinds.
Disclaimer: The content included herein is for educational and informational purposes only, and readers agree to Wall Street Sector Selector's Disclaimer, Terms of Service, and Privacy Policy before accessing or using this or any other publication by Wall Street Sector Selector or Ridgeline Media Group, LLC.
John Nyaradi is the author of The ETF Investing Premium Newsletter.
Don't Miss: Is Fracking Really Depleting Our Water Supplies?