These Hot Stocks Were Make or Break in April
Monday was the final trading day of April. For the month, the Dow Jones Industrial Average managed to edge slightly higher, while the S&P 500 and Nasdaq posted a modest loss of .75 percent and 1.46 percent, respectively.
It was a month filled with more European headlines and poor economic data, but there were plenty of winners and losers in the stock market. There were 15 individual stocks in the S&P 500 that increased more than 10 percent during April. Meanwhile, 34 stocks witnessed a double digit percentage decline for the month. Listed below are the top 5 stocks from each category.
Best Performers of the S&P 500:
Sunoco Inc. (NYSE:SUN): Shares soared almost 30 percent in April as Energy Transfer Partners (NYSE:ETP) announced it will purchase the oil company in a cash and stock deal valued at $5.3 billion. The agreement will create one of the largest and most diversified energy partnerships in the nation.
Expedia Inc. (NASDAQ:EXPE): Shares surged 27.5 percent in the month, helped by better-than-expected first-quarter financial results. The travel company reported an adjusted net income of 26 cents per share, beating the mean estimate of only 5 cents per share. Revenue also increased 12.2 percent to $816.5 million from the year earlier quarter.
O'Reilly Automotive Stores Inc. (NASDAQ:ORLY): Shares gained 15.5 percent in April and have surged 33 percent year-to-date. The automotive parts supplier continues to perform well, as net income for the first-quarter increased 43.9 percent to $147.5 million ($1.16 per share), compared to $102.5 million (73 cents per share) a year earlier.
Range Resources Corp. (NYSE:RRC): Shares increased almost 15 percent in April. Despite the recent decline in natural gas prices, the gas explorer climbed higher after reporting a 20 percent increase in production from a year earlier, representing a quarterly record.
Amazon.com Inc. (NASDAQ:AMZN): Shares of the world's largest online retailer jumped 14.5 percent in April. As the chart below shows, shares flirted with the 50-day moving average for most of the month. However, support held near $190 and recent financial results boosted shares to $230. As long time Wall St. Cheat Sheet readers know, the 'Technicals on the Stock Chart' is the first 'T' in our CHEAT SHEET investing framework.The company reported earnings of 28 cents per share, well above estimates of 7 cents per share. Amazon also said the Kindle Fire was the bestselling item on its website, shipping 4.7 million units in the quarter.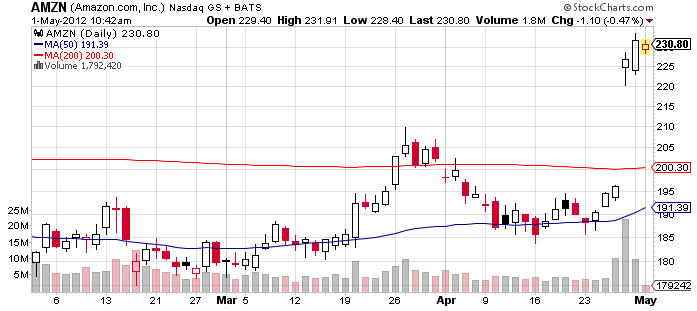 Worst Performers of the S&P 500:
Netflix Inc. (NASDAQ:NFLX): Shares of the media company plummeted 30 percent in April. Netflix has struggled to convince many investors it can maintain its dominance with increasing competition from Amazon, Wal-Mart (NYSE:WMT) and Coinstar (NASDAQ:CSTR). For the first-quarter, Netflix reported a loss of $4.6 million, compared to a net gain of $60.2 million a year-earlier.
Genworth Financial Inc. (NYSE:GNW): Shares dropped almost 28 percent in April. The insurance company announced it will postpone the initial public offering of its Australian mortgage insurance unit until early 2013, as opposed to the earlier expected date during the second quarter of 2012. An increase of losses in Australia was given as the paramount reason for the delay.
First Solar Inc. (NASDAQ:FSLR): Shares of America's biggest solar company dropped 26.5 percent in April and even fell below its 2006 IPO price of $20. Competition from Chinese  solar manufacturers have pressured solar companies across the industry. Shares of First Solar are down about 90 percent over the past three years.
SanDisk Corp. (NASDAQ:SNDK): Shares of the data storage company fell 25 percent in April. The company reported that net income in the first-quarter dropped 49 percent to $114.4 million (46 cents per share), compared to $224.1 million (92 cents per share) a year earlier. "Our first quarter results were adversely impacted by lower-than-expected pricing and demand weakness in certain segments and we expect similar trends in the second quarter as well," said Sanjay Mehrotra, president and chief executive officer.
Chesapeake Energy Corp. (NYSE:CHK): Shares of the natural gas giant declined 20 percent in April. In addition to declining natural gas prices, the company's CEO has been in more hot water. It was revealed by a Reuters report that Aubrey McClendon took out as much as $1.1 billion in unreported loans over the past three years. As a result, the board of directors and McClendon agreed to separate the roles of the CEO and chairman. McClendon will remain the CEO, but will step down as chairman. The 'A' in our CHEAT SHEET investing framework represents 'A-Level Management Runs the Company' and should make investors think twice before jumping into Chesapeake shares. In the past, McClendon has been in the spotlight due to huge margin calls and a peculiar map collection sale in 2008 that led to a shareholder lawsuit. As the chart below shows, shares of Chesapeake gapped higher today to begin May on a better foot than April.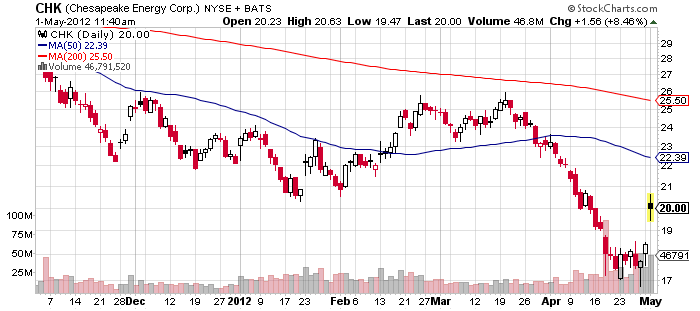 Investor Insight: YOU WERE WARNED: Groupon Could Be the Worst Public Investment Ever