These Monster CEO Payouts Will Make Your Eyes Bulge
Take a deep breath and go to your happy place because whether or not you think these particular executives from Yahoo! Inc. (NASDAQ:YHOO), Heinz (NYSE:HNZ), and Ford (NYSE:F) deserve their compensation, these monster CEO payouts will make your eyes bulge.
First up is Marissa Mayer, president and CEO of Yahoo. Mayer has collected millions of shares of restricted Yahoo stock after taking the helm of the company in July 2012. When Mayer left her executive job at Google (NASDAQ:GOOG) in 2012, she received $14 million in Yahoo stock to compensate for the money she would have made there, as well as a retention bonus of $15 million in Yahoo stock. At the end of last year she also received $13.3 million in performance-based stock options, according to company filings.
In addition to her valuable Yahoo stock holdings, Mayer also collects a $1 million base salary with the potential of getting a cash bonus as high as $2 million this year. Last year Mayer received a $1.12 million cash bonus for her initial six months as Yahoo's lead executive. Altogether, Marissa Mayer has amassed $60 million worth of shares of restricted stock from Yahoo. However, nearly half of the value of Mayer's stock holdings can be directly attributed to her stewardship of Yahoo, since share prices have risen 46 percent since she was named CEO of the company eight months ago.
Yahoo! Inc. shares closed up 0.88 percent at $22.90 this Friday. The chart below shows Yahoo stock movement since Mayer became CEO in July.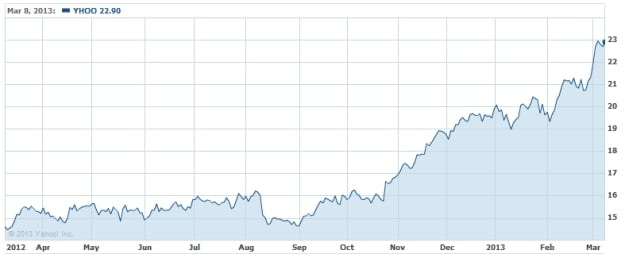 Up next is Heinz CEO William Johnson, who oversaw Heinz's upcoming purchase by Berkshire Hathaway and 3G Capital for $28 billion. According to a company filing made earlier this week, Johnson owned 2.1 million shares of Heinz stock at the end of February. Although Johnson has said he has no plans to retire, if he does decide to leave after the acquisition by Berkshire and 3G, he will receive approximately $56 million in cash and other accumulated benefits from his 30-year career at Heinz. As reported by CNN, Johnson also holds "vested stock, options, and other deferred compensation worth $156.7 million."
Altogether, Johnson could leave Pittsburgh-based Heinz with a combined payout worth over $212 million after the sale of the company. However, similar to Yahoo's Marissa Mayer, much of Johnson's potential payout can be attributed to relatively recent gains in Heinz's stock price. Ever since activist investor Nelson Peltz initiated cost-cutting measures in 2006, Heinz has posted shareholder returns of 177 percent.
Heinz shares closed up 0.12 percent at $72.52 this Friday. The chart below shows Heinz stock movement since the sale of the company was announced in February.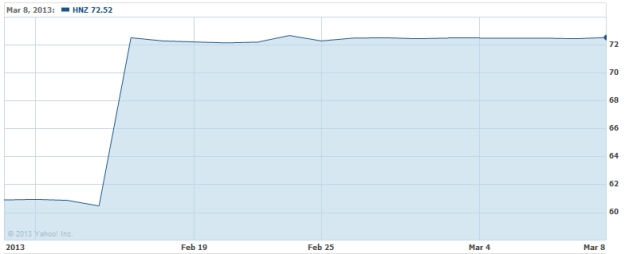 Ford CEO Alan Mulally is the last on our list, although he is far from the least. Mulalley, who has been with Ford for a little over six years, has already amassed holdings that are estimated to be worth over $300 million. According to CNN, Mulally holds Ford shares worth $93.5 million at the current price, as well as a $220.2 million in stock options. However, Mulally would have to pay $107.3 million in order to exercise those stock options. Mulally also has a retirement account filled with $3 million in contributions from Ford. The $300 million-plus figure also doesn't take into account the salary and cash Mulally has received in prior years at Ford. Although Mulally's golden parachute seems exorbitant, one of the reasons it is so big is because the Ford shares he accumulated were once so low. Since 2009, Ford's share price has risen more than 700 percent and Mulally is credited with helping Ford avoid the federal bailout and bankruptcy that destroyed share value at rivals General Motors (NYSE:GM) and Chrysler Group (DAI.DE).
Ford shares closed up 1.17 percent at $12.98 this Friday. The chart below shows Ford stock movement since the lows of 2009.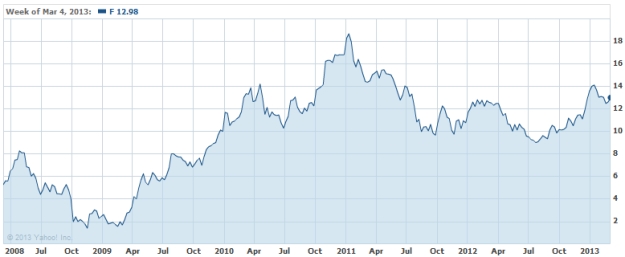 Investing Insights: Is Caterpillar Facing Too Many Headwinds?