These Solar Stocks Outshine the Dow on Huge Rally
On Thursday, the Dow (NYSE:DIA) experienced its best day in two months, while the S&P 500 (NYSE:SPY) gained more than 3%.  The rally was brought on by progress being made out of the Eurozone, and a falling dollar.  The rally also made beaten down stocks make a sharp rebound.
Solar stocks have certainly seen better days, especially since the Solyndra scandal surfaced.  With Thursday's risk on trading session, these solar stocks (NYSE:KWT) are shining bright once again.  Germany also announced it will cut a record-breaking amount of photovoltaic power next year.
Investing Insights: Are These 5 Momentum Stocks Broken?
Shares of First Solar (NASDAQ:FSLR) jumped 14% on Thursday's great rally.  Shares started to rally after reporting third quarter earnings.  Net income came in at $196.5 million ($2.25 per share), compared to $176.9 million ($2.04 per share) last year.  Analysts were expecting $2.55 per share, but in the face of a risk on rally, earnings seem to mean very little.
Suntech Power Holdings (NYSE:STP) develops, manufactures, and delivers the world's most reliable and cost-effective solar energy solutions. Founded in 2001 by leading solar scientist Dr. Zhengrong Shi, they are the world's largest producer of silicon solar modules.  Shares powered nearly 30% higher on Thursday.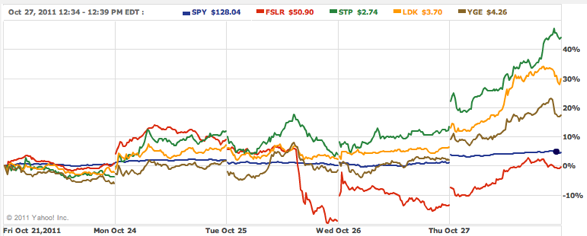 Although shares are down 60% year-to-date, LDK Solar Co. (NYSE:LDK) increased 22% with Thursday's rally.  Established in 2005 in China, LDK Solar is a leading producer of solar wafers in terms of capacity and a leading high-purity polysilicon and solar module manufacturer.
Despite being downgraded on Wednesday, Yingli Green Energy Holding (NYSE:YGE) closed 16% higher on Thursday.  The company was downgraded by Collins Stewart from Buy to Neutral.  The company is a leading solar energy company and one of the world's first fully vertically integrated photovoltaic manufacturers.  They develop, manufacture, and sell high-quality modules under the brand Yingli Solar to a wide range of markets, including Germany, Spain, Italy, Greece, France, South Korea, China, and the United States.
Investing Insights: Are Chinese Internet Stocks Making a Comeback?