These Stocks Attracted Heavy Interest on 60th Trading Day of 2011
The Dow Jones (NYSE:DIA) is closed higher at 12,279, the S&P 500 (NYSE:SPY) closed 9 points higher at 1319 and the Nasdaq (NASDAQ:QQQ) closed higher at 2,756 on the 60th trading day of 2011, and here is a group of stocks making moves on our radar and the reasons why:
1) Apollo Group, Inc. (NASDAQ:APOL): Shares of Apollo Group traded lower 4.25% to $40.55 per share today. Over 9.5 million shares traded hands. The company reported a loss of $64 million, or $.45 cents per share relative to a profit of $92.6 million, or $.60 cents per share, in the same quarter last year. Revenue fell 2% to $1.05 billion. Apollo Group, Inc. provides higher education programs for working adults. The Company provides educational programs and services at the high school, undergraduate, and graduate levels online and on-campus through subsidiaries. Here's a Deeper Look Back at Apollo's Earnings Cheat Sheet>>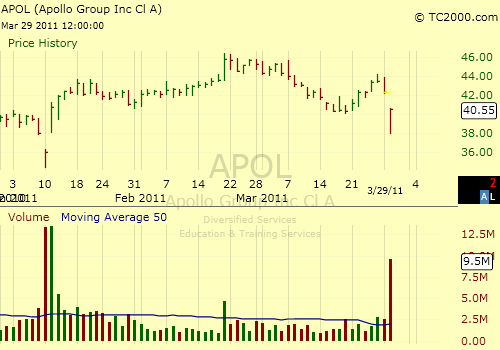 2) Hewlett-Packard Company (NYSE:HPQ): Shares of HPQ traded lower 2.44% to $41.11 per share today. Over 26 million shares traded hands. According to the AP, Acacia Research Corp., a California company that buys and licenses patents, said its Data Detection Systems subsidiary reached a settlement with HPQ. Hewlett-Packard Company provides imaging and printing systems, computing systems, and information technology services for business and home. The Company's products include laser and inkjet printers, scanners, copiers and faxes, personal computers, workstations, storage solutions, and other computing and printing systems. Hewlett-Packard sells its products worldwide. Which Company Will Hewlett-Packard Buy Next?>>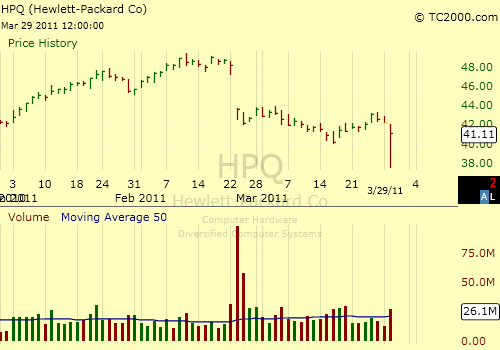 3) Lennar Corporation (NYSE:LEN): Shares of Lennar traded lower 3.44% to $19.07 per share today. Over 10 million shares traded hands. The company said it earned $27.4 million, or $.14 cents a share relative to a loss of $6.5 million, or $.04 cents a share, a year ago. Revenue declined 3% to $558 million, from $574.4 million, but topped Wall Street's estimate of $514.6 million. Lennar Corporation constructs and sells single-family attached and detached homes, and to a lesser extent multi-level buildings as well as buys and sells residential land. The Company also provides mortgage financing, title insurance, closing services and other ancillary services (including personal lines insurance, high-speed Internet and cable television). Homebuilders trending>>
4) BP plc (NYSE:BP): Share of BP traded down 2.74% to $44.78 per share today. Over 18 million shares traded hands. Following the recent rebound, BP it appears investors were taking profits today on the resurfacing of potentially negative charges on the company for the Gulf spill. BP plc is an oil and petrochemicals company. The Company explores for and produces oil and natural gas, refines, markets, and supplies petroleum products, generates solar energy, and manufactures and markets chemicals. BP's chemicals include terephthalic acid, acetic acid, acrylonitrile, ethylene and polyethylene. After Our Attention Span Expired, BP Made a Comeback>>
5) OmniVision Technologies, Inc. (NASDAQ:OVTI): Shares of OTVI traded higher over 8% to $36.07 per share. Over 5 million shares traded hands. Investors feared a supply shortage today due to the Japan tsunami impact and bid the shares higher on the future benefit. OmniVision Technologies, Inc. provides integrated single chip semiconductor imaging devices. The Company designs, develops, and markets semiconductor imaging devices for computing, communications, and consumer electronics applications. OmniVision's image sensor product is used in cameras and camera related products such as personal computer, digital, and security cameras.
6) Warner Music Group Corp. (NYSE:WMG): Shares of WMG traded higher 13.25% to $6.58 per share today. Over 2.9 million shares traded hands. According to Reuters, Warner Music appointed Goldman Sachs (NYSE:GS) and Alan Mnuchin's AGM Partners in January to explore sale options for the company after management was approached by a potential buyer.Warner Music Group Corp. is a music company composed of both recorded music and music publishing businesses. The Company markets, sells, and licenses recorded music in physical and digital formats. Warner Music also owns and acquires rights to musical compositions, exploits and markets these compositions, and receives royalties or fees for their use.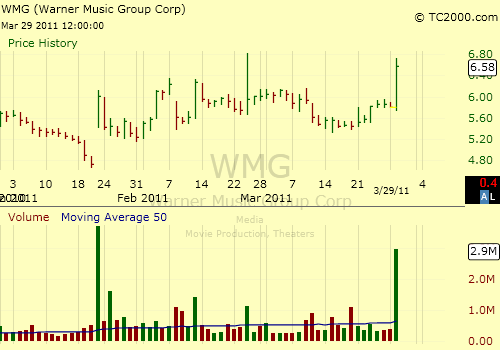 7) Sohu.com (NASDAQ:SOHU): Shares of SOHU traded higher 7.81% to $89.60 per share today. Over 2.91 million shares traded hands. The company hit a 52-week high today. Sohu.com Inc. operates an Internet portal in China. The Company's Web site consists of Chinese language Web navigational and search capabilities, Web-based communications services, and a platform for e-commerce services.
8) NXP Semiconductors NV (NASDAQ:NXPI): Shares of NXPI traded higher 9% to $$31.29 per share. Over 3.42 million shares traded hands. The company is planning to issue 25 million common shares of stock in a public offering soon.NXP Semiconductors NV operates as a global semiconductor company. The Company designs semiconductors and software for mobile communications, consumer electronics, security applications, in-car entertainment, and networking. Kaslion's offers its products to the automotive, identification, wireless infrastructure, lighting, mobile, and computing applications.
9) McCormick & Company, Incorporated (NYSE:MKC): Shares of McCormick & Company, Incorporated traded lower 1.69% to $48.77 per share today. Over 1 million shares traded hands. The company earned $76.8 million, or $.57 cents a share, above consensus analyst expectations of $.54 cents a share. Revenues increased more than 2% to $782.8 million, missing estimates. McCormick & Company, Inc. manufactures, markets, and distributes flavor products (including spices, herbs, extracts, seasonings and flavorings) and other specialty food products to the food industry. The Company sells to retail stores, food manufacturers, and food service businesses.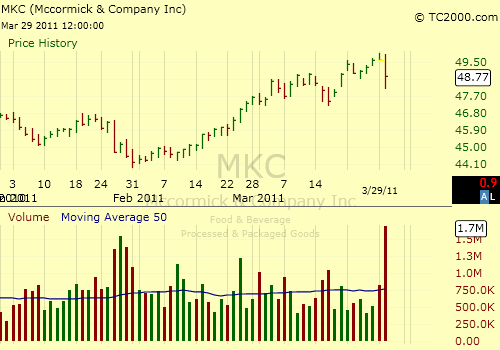 10) Phillips-Van Heusen Corporation (NYSE:PVH): Shares of Phillips-Van Heusen traded higher over 8% to $65.20 per share today. Over 4 million shares traded hands. The company issued guidance of $4.70 to $4.95 per share and revenue of $5.58 billion to $5.66 billion. Analysts on average were expecting earnings of $4.75 per share and revenue of $5.38. billionPhillips-Van Heusen Corporation designs, sources, manufactures, and markets men's, women's, and children's apparel and footwear. The Company markets its products at a wholesale level through department store chains and directly to consumers through retail stores.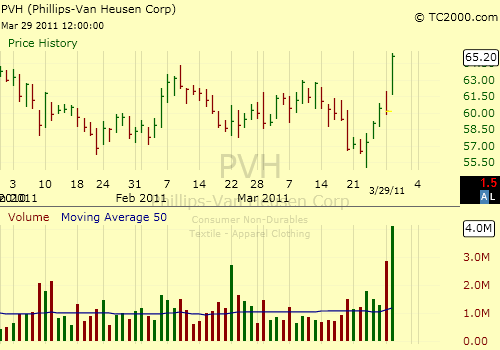 Don't Miss: The next release of the Wall St. Cheat Sheet Premium Investment Newsletter on April 1st, 2011>>