These Two Oil Drilling Stocks Are Falling Since Gas Prices Spiked
Stocks of companies that environmentalists love to hate, namely, those companies that provide services to offshore oil drillers, should rise and fall along with the price of a gallon of gas.  Well, as the price of gas has increased in the United States, the stocks of both Transocean (NYSE:RIG) and Diamond Offshore (NYSE:DO) have fallen.  So much for the theory of correlation. Oil ETFs: The Top 10 Exchange Traded Funds for Your Oil Investing List>>
RIG has traded in a 52-week range of $44.30 to $85.98 and most recently traded at $63.54.  Over the past 3 months, the shares have fallen about $15, from around $78 to their present value.  Its forward P/E ratio, however, is 9.99.    Its price to book ratio is just under 1.  The company has $11.25 billion in debt against $3.81 billion in cash; nonetheless, its current ratio, at 1.8, suggests that the company will have no problem meeting its short-term obligations.  The real question about this stock is whether it can reverse its revenue and earnings declines.  Interestingly, in taking a quick look at options activity on the stock today, its puts have increased in price and its calls have decreased in price.  If we assume that traders of options are savvier than overall market participants, this suggests that some savvy people are skeptical about its near-term performance.  (Options information can be seen here.)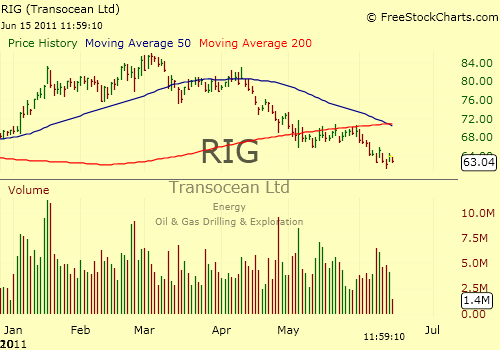 What of DO?  Its shares trade at $67.77, and have traded in a 52-week range of $54.70 to $93.42.  The stock has slid from $71 per share three months ago to its present price.  Its forward P/E ratio is 12.43 but its price to book ratio is 2.36.  AS with RIG, both its revenue and earnings for the year-over-year period have declined.  Its options exhibit a similar behavior as those of RIG.
About the companies:
Transocean Ltd. (NYSE:RIG): Transocean Ltd. is an offshore drilling contractor. The Company owns or operates mobile offshore drilling units, inland drilling barges, and other assets utilized in the support of offshore drilling activities worldwide. Transocean specializes in technically demanding segments of the offshore drilling business, including deepwater and harsh environment drilling services.
Diamond Offshore Drilling Inc. (NYSE:DO): Diamond Offshore Drilling, Inc. drills offshore oil and gas wells on a contract basis. The Company is a world-wide deep water driller that serves markets that include the deep water, harsh environment, conventional semisubmersible and jack-up markets.
Competitors include: Noble Corporation (NYSE:NE), Patterson-UTI Energy (NASDAQ:PTEN), Helmerich & Payne (NYSE:HP), ENSCO PLC (NYSE:ESV), Rowan Companies, Inc. (NYSE:RDC), Hercules Offshore, Inc. (NASDAQ:HERO), and Vantage Drilling Company (AMEX:VTG).
(Note: Selected financial data is taken from Yahoo! Finance.  All data are assumed to be accurate.)
Father's Day is Approaching June 19th: Make Your Father the Rich Dad with Wall St. Cheat Sheet's Winning Newsletter!