These Two Stock Sectors Are in a Bull Market
While the general indexes have been holding up decently (until this week), there has been a lot of carnage under the surface the past few weeks – especially in leaders of the run from Sep-mid March.  That carnage has been hidden by outperformance by two (defensive) groups in particular – consumer non discretionary and healthcare.  These are not areas of focus for me, due to their lack of growth characteristics, but looking at the charts since mid March you'd think the market is flying.  So if you are wondering how the markets are holding up (relatively speaking) while so many other sectors get hit – this is the reason.
Both appear to be very overbought, so the question is what happens when they slow down?  Do we rotate back into the high growth areas? Or when they falter do the indexes finally give up the ghost?  Stay tuned.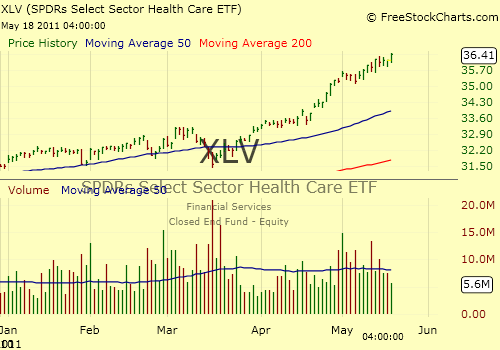 [average market cap $74 Billion]
TOP HOLDINGS
Company name
% Net assets
Johnson & Johnson (NYSE:JNJ)
12.82%
Pfizer Inc. (NYSE:PFE)
11.95%
Merck & Co, Inc. (NYSE:MRK)
7.91%
Abbott Laboratories (NYSE:ABT)
4.87%
Unitedhealth Group, Inc. (NYSE:UNH)
3.87%
Amgen, Inc. (NASDAQ:AMGN)
3.78%
Bristol-Myers Squibb Company (NYSE:BMY)
3.43%
Medtronic, Inc. (NYSE:MDT)
3.20%
Eli Lilly and Company (NYSE:LLY)
2.69%
Baxter International Inc. (NYSE:BAX)
2.39%
Percentage of holdings 56.91%
—————————————————-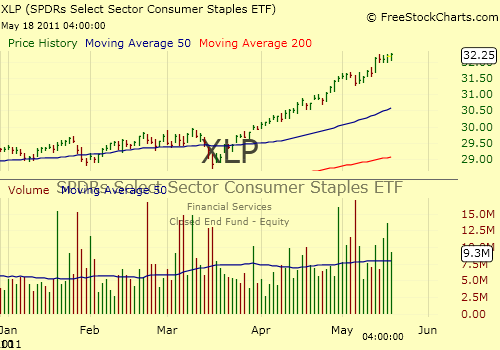 [average market cap $89 Billion]
TOP HOLDINGS
Company name
% Net assets
Procter & Gamble Company (NYSE:PG)
14.41%
Philip Morris International, Inc. (NYSE:PM)
9.90%
Wal-Mart Stores, Inc. (NYSE:WMT)
8.54%
Coca-Cola Company (NYSE:KO)
7.19%
Kraft Foods, Inc. (NYSE:KFT)
4.66%
Altria Group Inc. (NYSE:MO)
4.45%
CVS Caremark Corp (NYSE:CVS)
4.40%
PepsiCo, Inc. (NYSE:PEP)
4.35%
Colgate-Palmolive Company (NYSE:CL)
3.61%
Walgreen Company (NYSE:WAG)
3.31%
Percentage of holdings 64.82%
————————————-
As an aside, while the other two sectors broke out beginning mid March, another defensive group – Utilities (NYSE:XLU) – has also taken off in the past few weeks.