16 Things That Are a Complete Waste of Money at the Grocery Store
If spending money on meals leaves your wallet a little lighter than you would like, you're not alone. The average American spends $151 every week at the grocery store or restaurants. What's behind food budget bloat? Sneaky supermarket tricks are partly to blame. Stores have tons of sly ways to get you to spend more than you intend, including pitching high-priced convenience products and hiding the healthier, cheaper staple items in the back of the store.
"The design of the grocery store is actually created to keep you in longer and spend more money," said Jamie Logie, host of the Regained Wellness podcast. If you're not strategic about your shopping, he warned, you'll end up wandering the aisles and tossing expensive, unhealthy processed and packaged food into your cart.
Avoiding the center aisles as much as possible is one of the best tips if you want to eat healthy and save money at the supermarket. But shopping the outer ring of the store isn't the only way to save. You can stick to a budget by crossing these 16 items off of your shopping list.
1. Food from the salad bar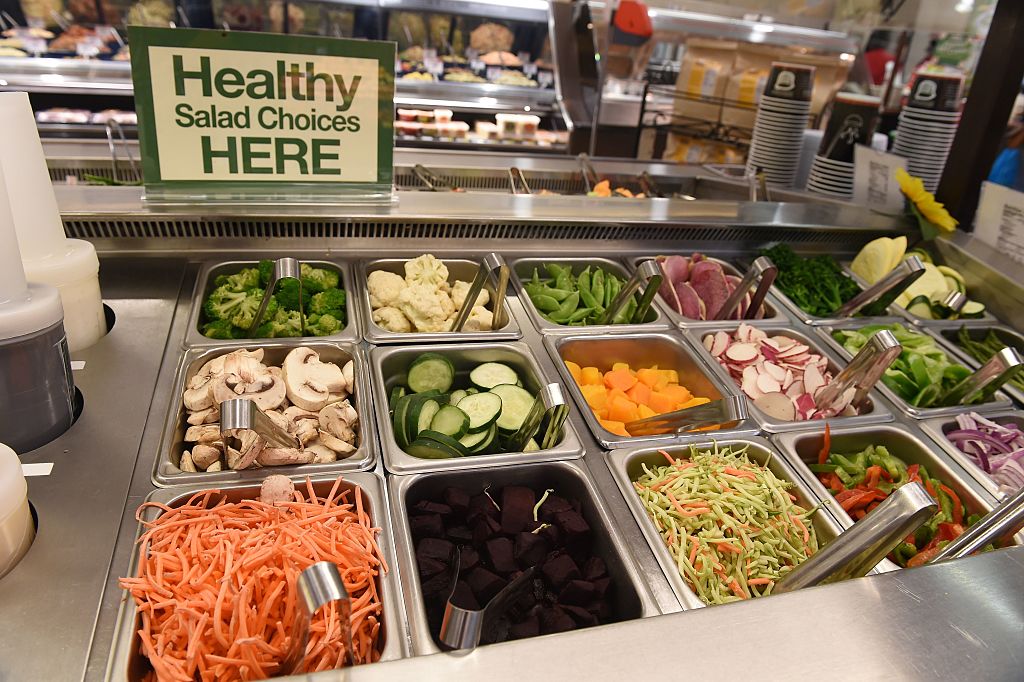 Grocery store salad bars promise a convenient, healthy meal. But you pay a price for not having to prep those veggies yourself.
"At the salad bar, most of the items there can be purchased for less in the produce aisle, and it only takes a few moments to wash and cut them," said Jeremy Kranowitz, the executive director of Sustainable America.
However, if you need a small amount of an expensive item, such as blue cheese or crumbled bacon, the salad bar can be budget-smart option. "From an economic perspective, it makes sense only to load up on those smaller, expensive items on a per pound basis," Kranowitz said.
Next: You might be able to save 90% by checking this place out.
2. Herbs and spices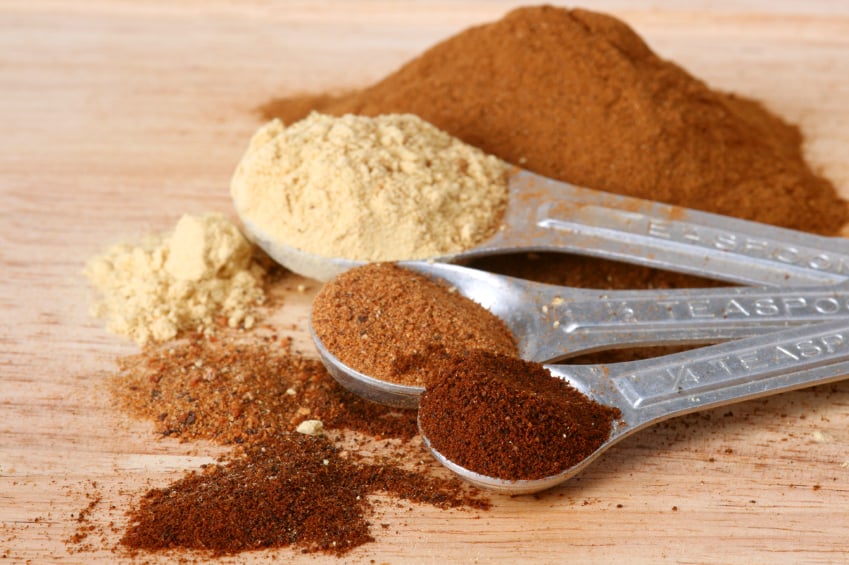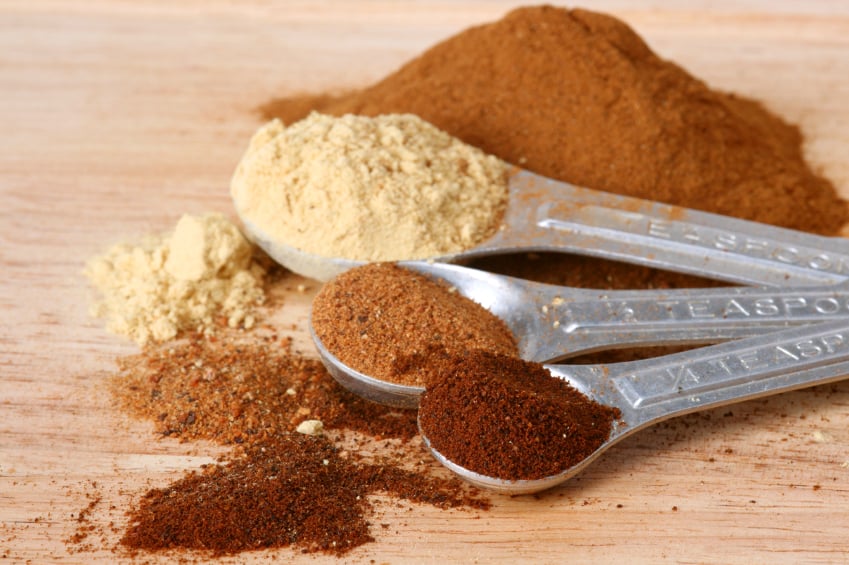 You can easily spend $5 or more on a small jar of spices at the grocery store. To save money, head to your local ethnic market, and buy in bulk, where you might be able to save up to 90%, said money-saving expert Andrea Woroch.
As for fresh herbs, skip the high-priced bunches of basil, cilantro, and parsley in the produce section, and try growing your own. Even apartment dwellers can set up a small container garden near a window or on a balcony.
3. Cooking tools and bakeware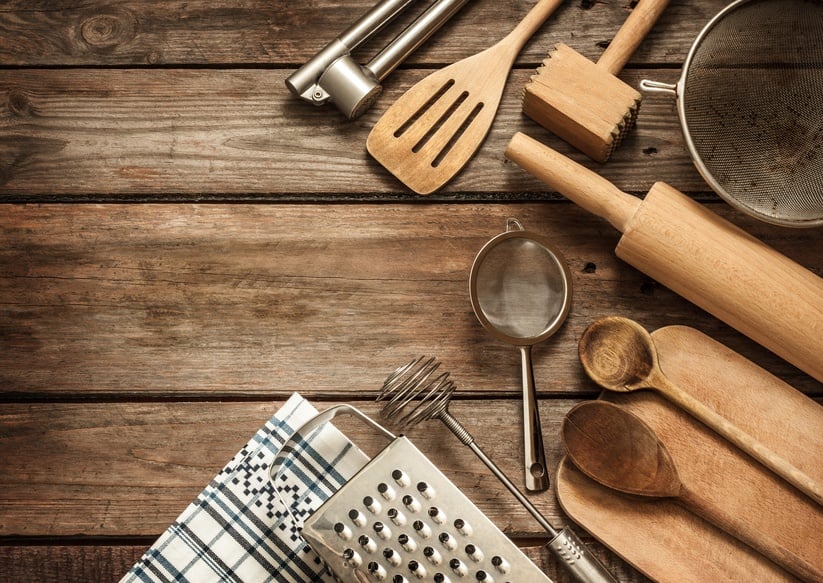 Picking up a baking pan, skillet, or serving dish at the supermarket is convenient, but you can usually find a better deal on these items elsewhere.
"You're looking at overpaying by 30% on average for basics like frying pans and baking sheets," said Woroch, who recommends borrowing items from friends if you have a last-minute need for a specific tool. To outfit your kitchen properly without spending a ton, she suggests shopping holiday sales at major retailers, such as Macy's.
 4. Items that are smaller than they look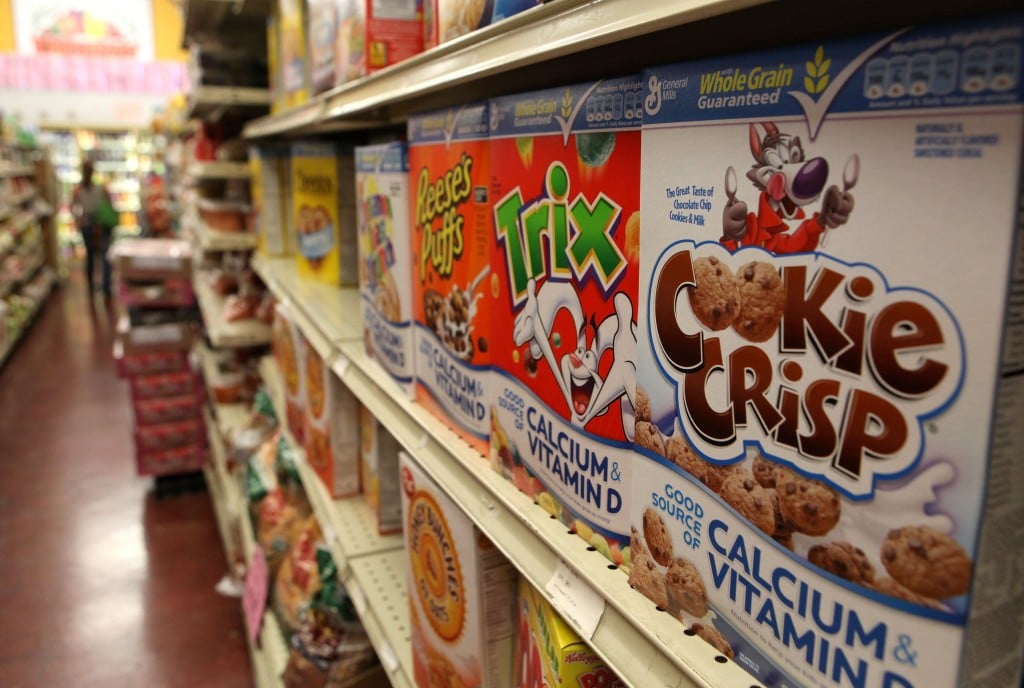 When food manufacturers want to raise the price of an item, they sometimes try to hide the increase by shrinking the package size. Packages for many brands of coffee, yogurt, and peanut butters have all gotten smaller in recent years, the Boston Globe reports. In other words, that "pint" of ice cream might only contain 14 or 15 ounces.
To make sure you're really getting the best deal, look for the cost per ounce, which is often displayed in small print on the item's price tag, said food stylist Rachel Sherwood.
"You can easily see what is really the best deal for the amount of product you are getting," she said. "The cereal boxes may all look the same size but they can range from 24 to 12 ounces per box, [and] checking the price per ounce on the bottom ensures you are getting the most for your dollar."
5. Snack-sized foods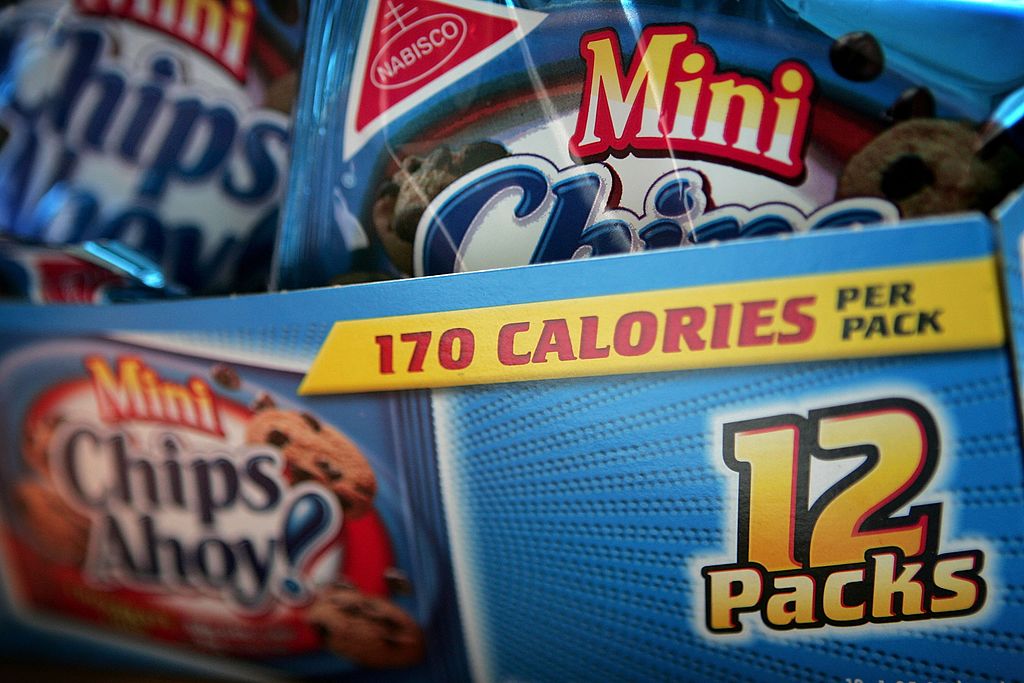 Individual, 100-calorie servings of crackers, nuts, and other snack foods are a tempting buy, especially if you're trying to lose weight. But these convenience items aren't always the bargain they seem. Not only are you usually buying "processed junk food," registered dietitian nutritionist Lauren Harris-Pincus said, but they aren't even a good deal.
"The cost per serving is significantly more than if you purchased a full sized bag and simply divided the servings into smaller zipper bags," she said. "Almonds in 100-calorie packs ring up at almost 50% more per ounce than larger bags of almonds. I suggest buying nuts like pistachios in bulk and separating them in to smaller servings. You get about 30 pistachios for 100 calories."
6. Greeting cards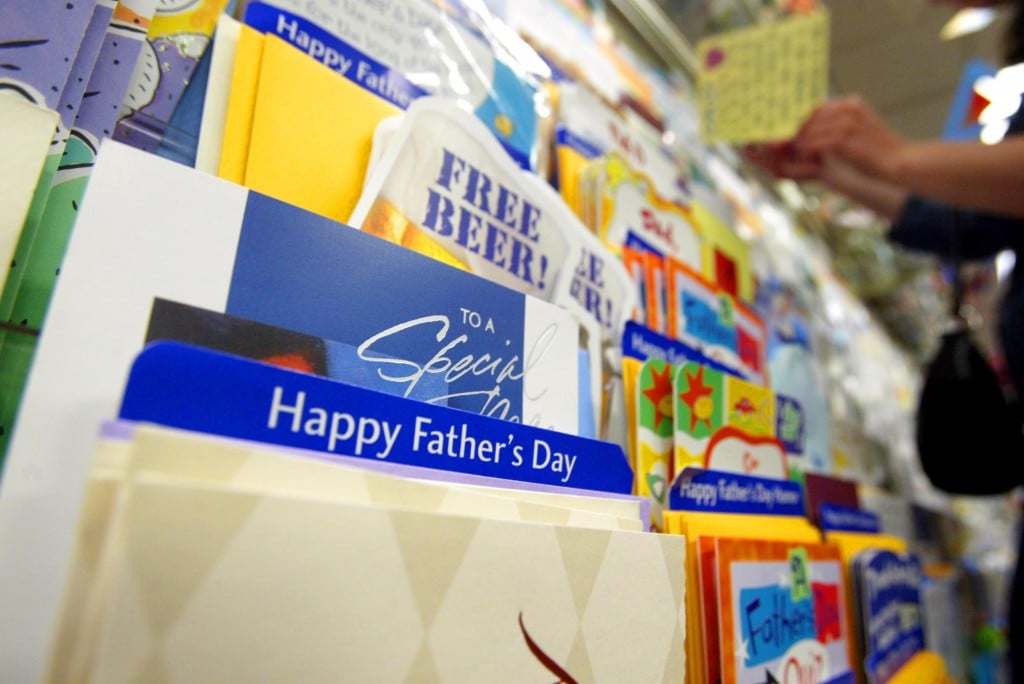 Yes, you should send your mom a birthday card. But don't buy it at the supermarket, where that piece of folded paper might cost you $4 or $5. Instead, stock up on cards at the dollar store, suggested Karen Hoxmeier of My Bargain Buddy. That way, you'll always have one on hand when you need it — and at a quarter of the cost of the higher-priced item.
"While spending a few extra bucks here and there might not seem like a big deal, think of it this way: Would you willingly spend four to five times [more] on any other purchase?" Hoxmeier said.
7. Personal care products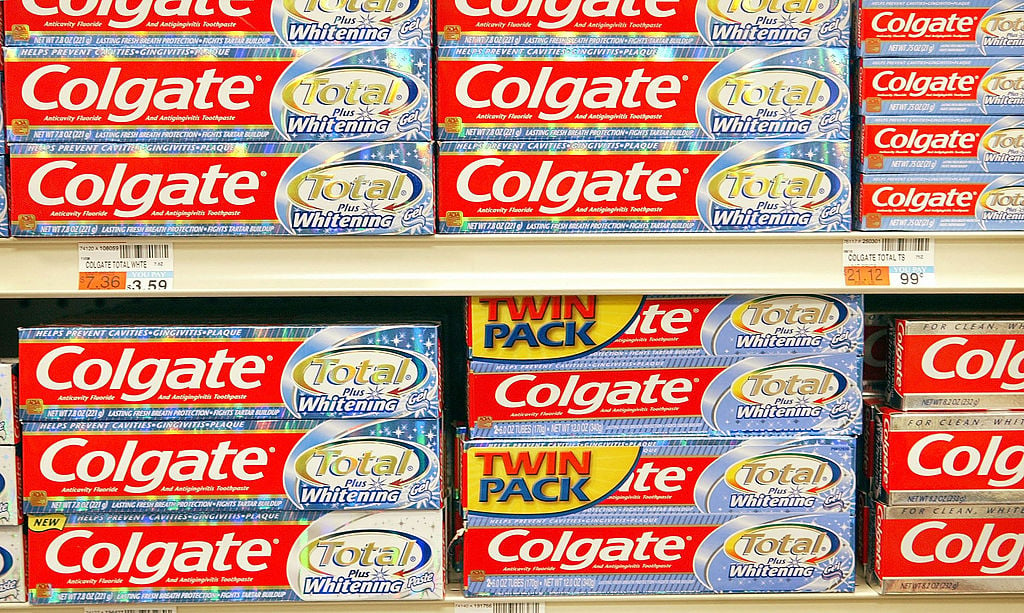 The supermarket is usually not the best place to shop for personal care and beauty products. Pick up these items along with your milk and bread, and you'll pay a hefty mark up for the convenience, said Kellyann Schaefer of Task Complete, an errand and concierge service. She suggested buying your toiletries at a big-box store, such as Wal-Mart or Target, instead.
But if you do need to restock your soap, shampoo, and shaving cream, the supermarket isn't the worst place to shop. Personal care products are actually most expensive at drugstores, such as CVS and Walgreens, a 2012 ShopSmart magazine survey found.
8. Magazines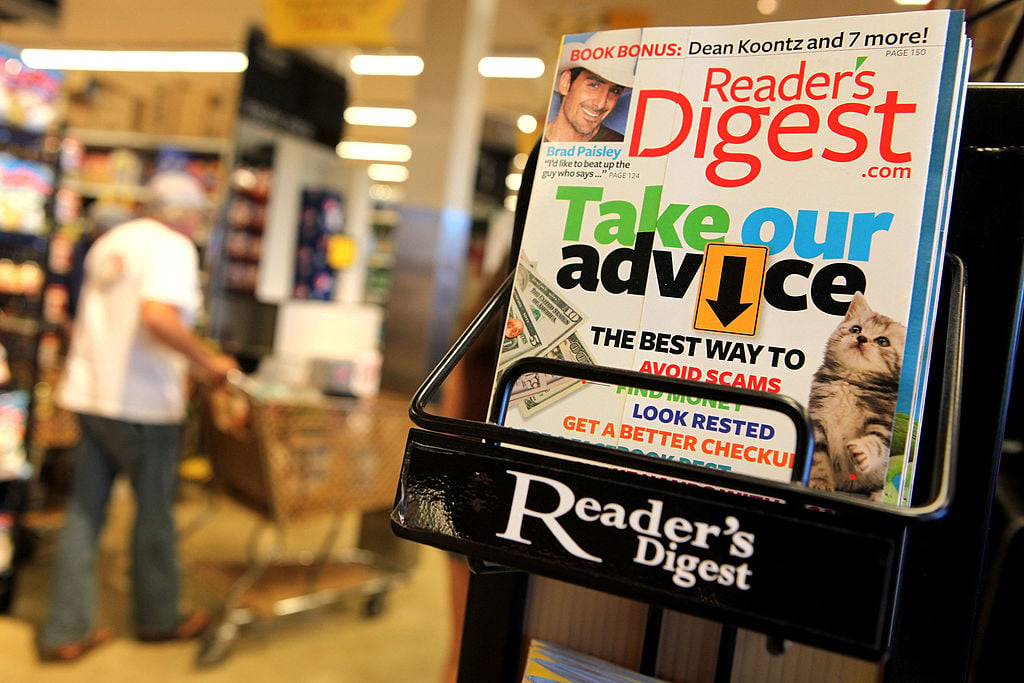 There's no shame in thumbing through the latest issue of Us Weekly while you're waiting in line, but don't throw that magazine in your cart. Stores place these magazines near the checkout, hoping you'll get sucked in by the dramatic headlines. But buying periodicals at the grocery is a big waste of money.
Single issues of a magazine you buy at the newsstand usually cost between $2 and $6. If there's a publication you read regularly, you'll save by subscribing. Sometimes, you can buy a full year's worth of issues for the price of a single one at the grocery store. You can save even more by checking out magazines from your library. Many libraries even let you borrow digital versions of magazines to read on your tablet.
9. Gift cards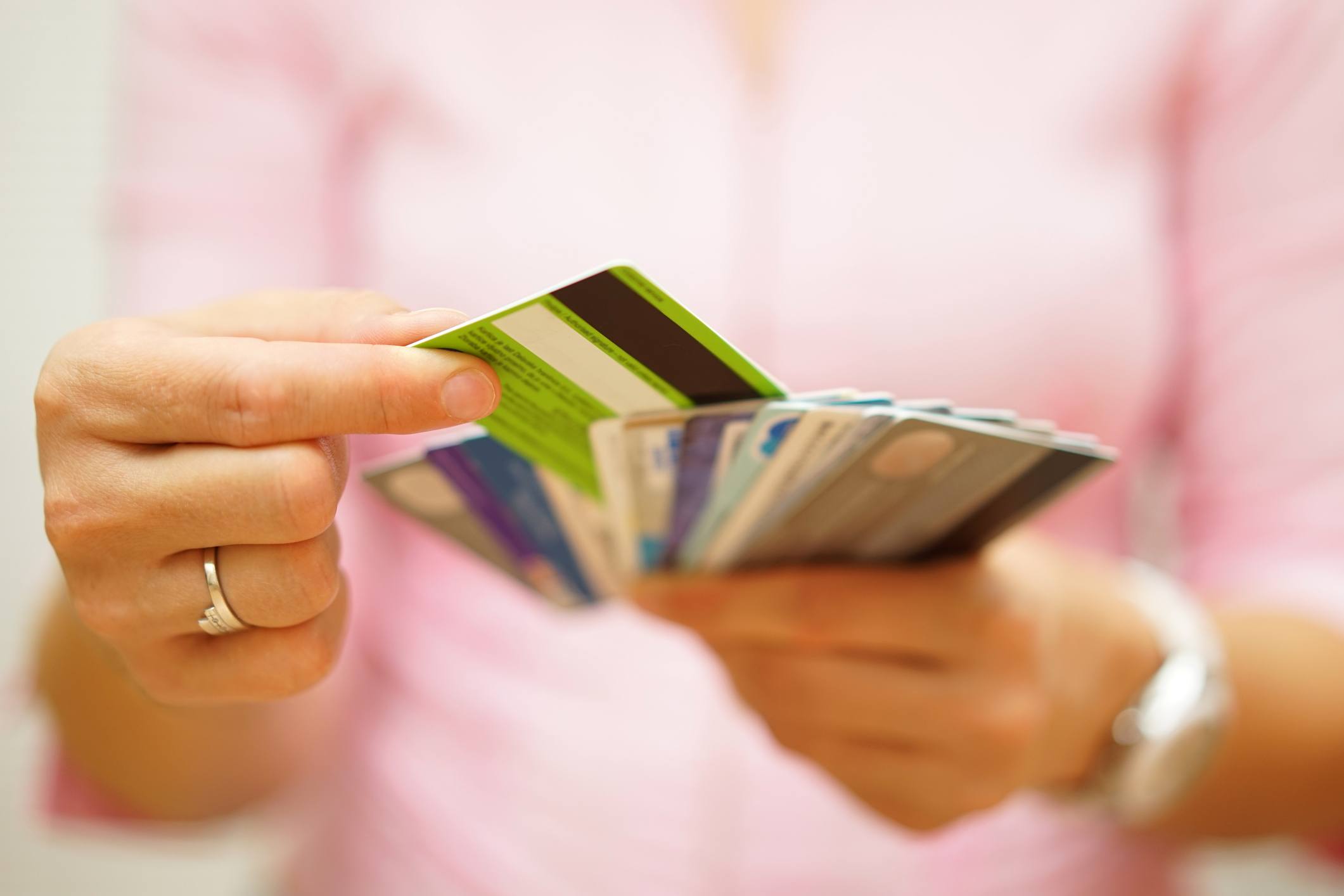 When you forgot to buy a wedding gift or spaced out on someone's birthday, you might have no choice other than to grab a gift card at the grocery store. But you'll save money when you buy your gift cards elsewhere, provided you can plan ahead.
Warehouse clubs, such as Costco and Sam's Club, sell packs of gift cards at a discount, saving you as much as $20 off of $100 worth of gift cards. You can also search sites, such as Gift Card Granny, for discounted cards or use reward points to stock up on cards. Around the holidays, stores and restaurants might also offer "give one, get one" bonuses, such as an extra $5 if you buy at $25 gift card.
Though you'll rarely save when buying gift cards at the grocery store, you might be able to find multi-packs of cards for a discount. Some savvy rewards program users also buy gift cards at the supermarket to take advantage of cash-back credit card deals, though that trick has gotten harder to pull off recently.
10. Grapes you haven't taste-tested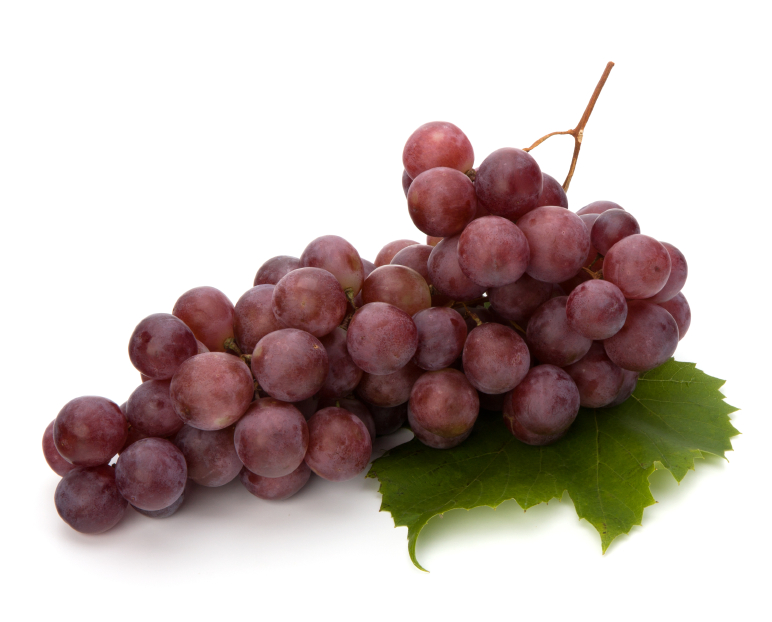 We don't advocate thievery, but some people would never purchase a bag of grapes or similar item without doing a tiny taste test first. But the question of whether it's OK to sample a grape or two before you buy in order to avoid getting a bum batch inspires some fierce debate. Some people feel it's akin to shoplifting, while others figure they have a right to know they're not getting subpar fruit.
Tempted to taste, but afraid of breaking the rules? Just ask a produce clerk for permission to taste a grape or other type of produce. Many stores don't mind customers sampling the merchandise, provided you ask first.
11. Pre-cut meat and vegetables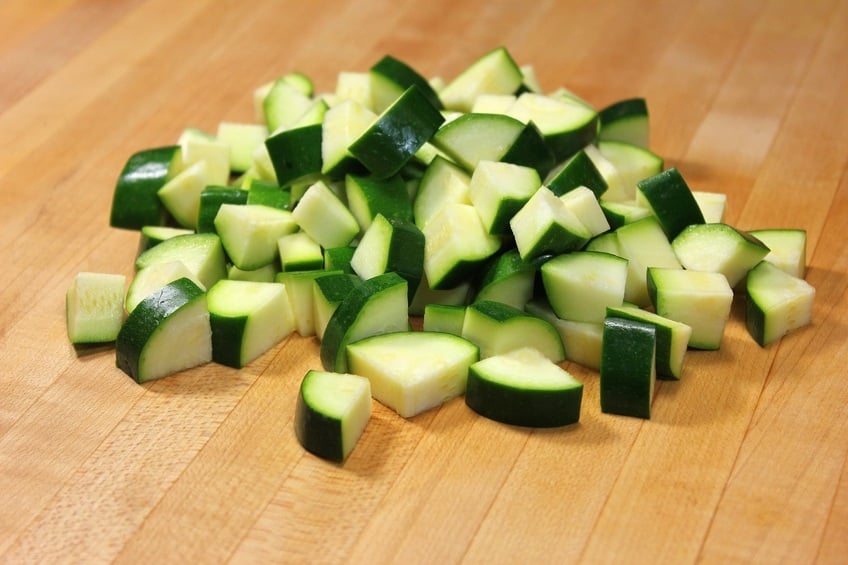 Pre-cut vegetables and sliced meat make meal prep easy, but convenience comes at a big cost. Some ready-to-cook items cost as much as 370% more than the normal versions, an analysis by Consumer Reports' ShopSmart magazine found.
Pre-wrapped baking potatoes cost $3.11 a pound versus $1.26 a pound for plain old spuds, a 147% difference, according to ShopSmart. Pre-cut pineapple cost 55%, and pre-washed and trimmed kale cost 317% more. But you'll actually save on broccoli florets, unless you eat the stalks. Buying pre-cut broccoli is actually 12% cheaper than buying whole heads because it eliminates waste.  
12. Baby food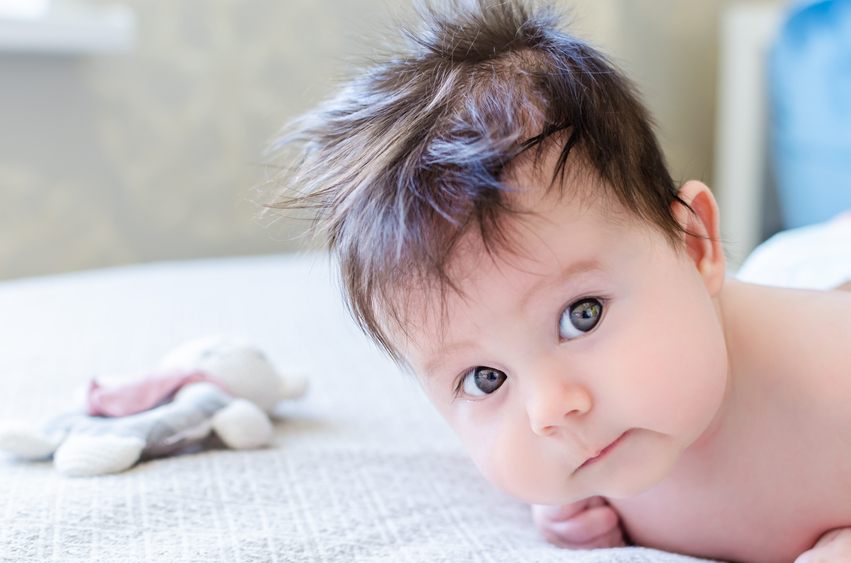 You might want to pass on those cute little jars of Gerber next time you're at the supermarket. Baby food is often available for for less online at retailers, such as Amazon. They sell food for little ones at cost in order to lure in parents who'll eventually make bigger purchases, according to Consumer Reports.
Or you could try making your own baby food. Depending on the ingredients, you'll likely be able to save money by creating mushy veggies and fruit in your own kitchen, according to The Pennyhoarder. Most homemade food costs 12 cents to 39 cents an ounce, compared to 62 cents an ounce for jarred baby food.
13. Alcohol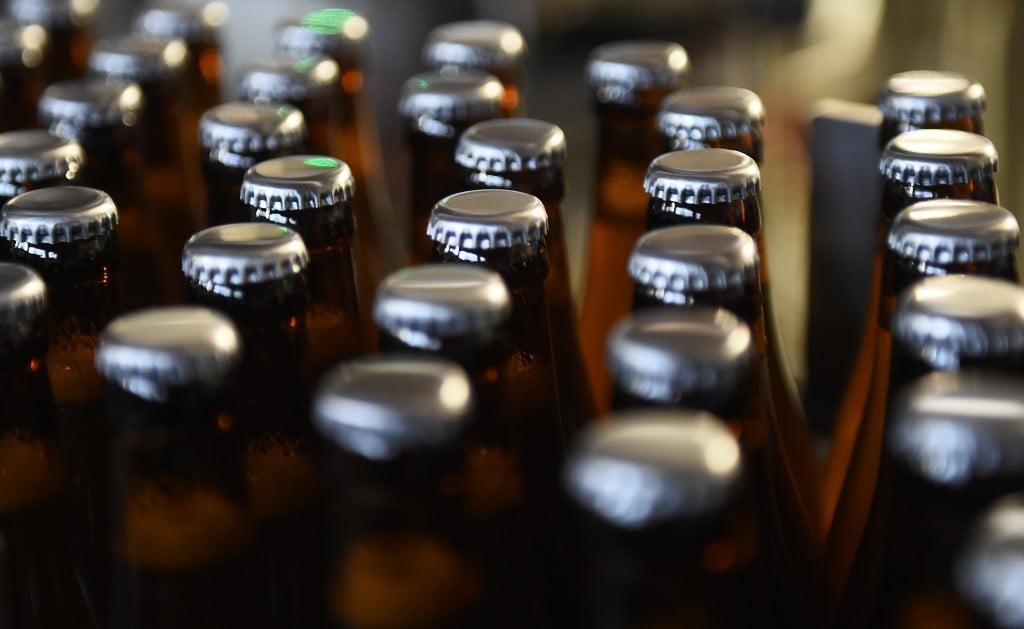 Unless it's on sale, resist the urge to pick up a six-pack or bottle of wine while you're doing your weekly shopping. Your booze might cost 10% or 20% more than at a warehouse clubs, such as Costco, according to Marketwatch. You can also keep an eye out for sales at liquor stores and wine shops to save on your adult beverages.
14. Prescriptions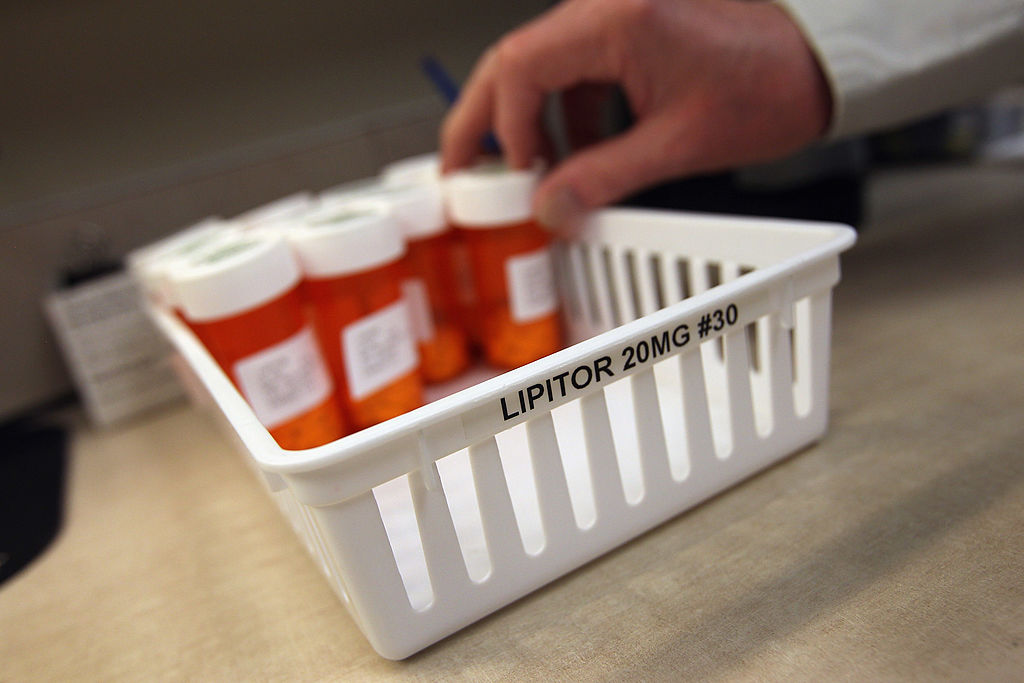 If you're worried about the cost of health care, it might be time to switch your pharmacy. Grocery stores had some of the highest prices for a basket of common prescription drugs, a recent analysis by Consumer Reports found. The cost difference might not matter to you if you have insurance coverage. But if you're paying for drugs out of pocket, chances are you'll save by shopping at Costco or an independent pharmacy.
15. Anything unwrapped that touches your cart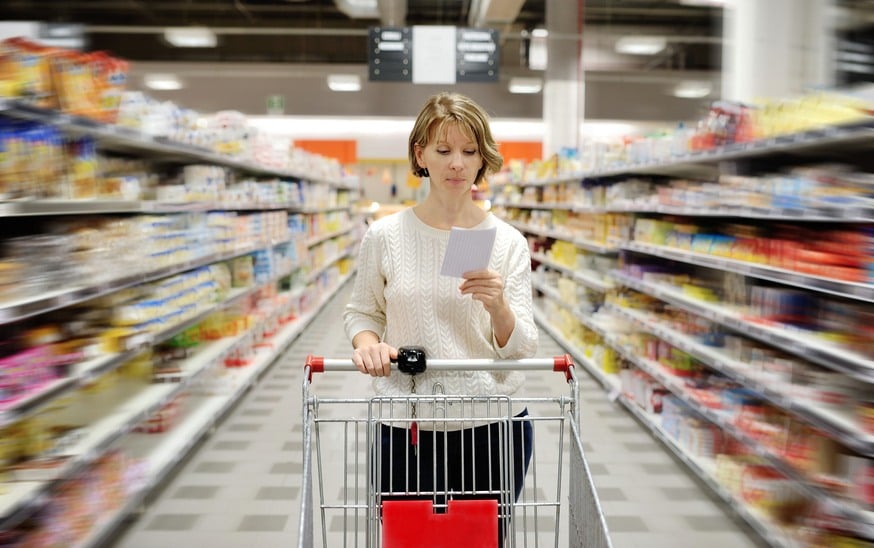 We don't want to gross you out too much, but your shopping cart is pretty disgusting. Nearly three-quarters of shopping cart handles were contaminated with E. coli, a University of Arizona study found. The study didn't look at contamination in the part of the cart where you're actually putting your food, but those things clearly aren't getting cleaned after each use.
You might want to think twice about tossing your apples and tomatoes in there without the protection of a plastic bag. And while you're at it, make sure you wash your reusable shopping bags, too. Those eco-friendly grocery carriers are breeding grounds for bacteria.
16. Party supplies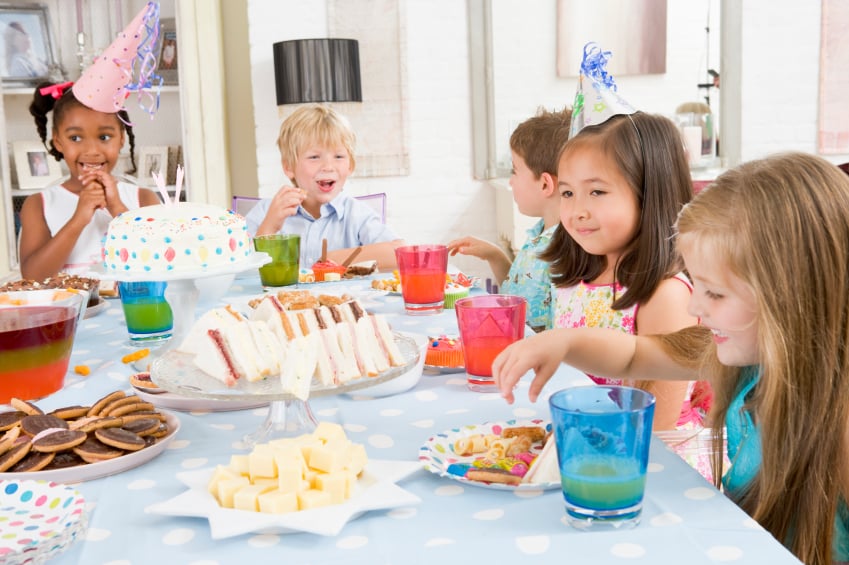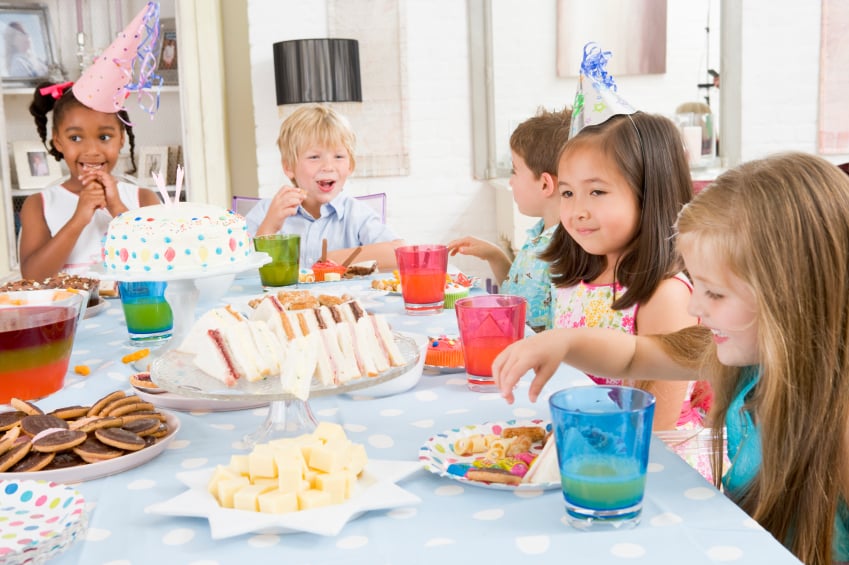 You already have the chips and dip in your cart, so why not grab the napkins and paper plates, too? But the local supermarket is rarely the best place to stock up on party supplies. Hosts on a budget head to the dollar store instead, where you can find cheap disposable plates, cups, tablecloths, and decor. Online stores, such as Oriental Trading, also have tons of cheap favors and party goods. Or scoop up clearance items at the end of the season at stores, such as Target or Wal-Mart. Those American flag banners will still look good at next year's Fourth of July barbecue.