This Communications Equipment Stock Dropped 35% After Earnings Release
No matter how many times you have seen it, it still takes the breath away when a momentum stock missteps.  The optical networking space has been one of the hottest sectors in the market the past few months, bringing back memories of 1999 when a small group of companies were that era's "cloud computing" stocks.  We've seen a bit of a rebirth of these names.
Last evening, Finisar (NASDAQ:FNSR) issued a pretty serious warning, and the stock is being obliterated today to the tune of nearly 35%.  Amazingly, the move up in this name has been so intense this crushing blow only takes the stock back to MID DECEMBER pricing.   That's how relentless the advance in some stocks has been.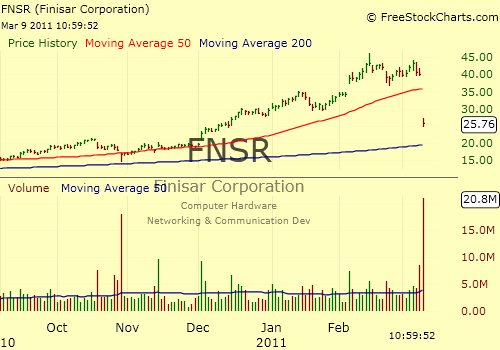 Competitor JDS Uniphase (NASDAQ:JDSU) – which has had its own 1999-like run lately, is down in sympathy, about 12%, to around $22.20.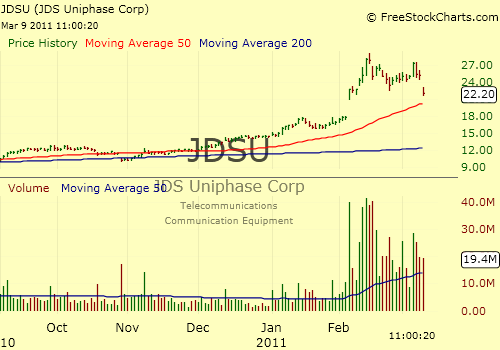 Via AP:
Finisar Corp (NASDAQ:FNSR)…. warned of a litany of factors that are hurting its business, particularly slowing demand in China. The commentary alarmed investors because it suggests that China's aggressive rollout of new telecommunications networks is slowing. That deeply damaged other, related stocks. Finisar (NASDAQ:FNSR) executives said what it is seeing is an industrywide problem.
The penalty for Finisar's worse-than-expected outlook was so severe, in part, because its explanation for what went wrong was so pointed.  Growth markets, particularly China (NYSE:FXI), have been crucial for many technology companies as the Great Recession has taken its toll on spending in the U.S. and Europe. Any serious problems in those markets have ramifications across many industries.
Building out telecommunications networks costs billions of dollars, and the industry's spending tends to come in waves. Finisar's (NASDAQ:FNSR) guidance shocked investors because it suggested that the industry could be in for a prolonged slowdown.  (still too early to say that, but it could be a shot across the bow if anyone else in the industry confirms FNSR's issues)  Finisar (NASDAQ:FNSR) executives said on a conference call with analysts that the slowdown is part of an "industrywide phenomenon."
They said they've seen the dramatic reduction in orders in China for a couple of months and weren't sure when it would ease. They emphasized that the weakness was with multiple customers in China, and that Finisar isn't losing market share.
Other factors the company identified in its guidance were price cuts for customers, a 10-day long shutdown at some customers for the Chinese New Year last month, and the fact some telecommunications customers are reducing how much gear they buy and keep in their inventories.
Financial Impact:
For the fiscal fourth quarter, which ends April 30, the company said expects earnings of 31 cents to 35 cents per share, excluding items. Analysts had expected 48 cents per share, on that same basis, according to FactSet.
It expects revenue of $235 million to $250 million. Analysts had expected $267.2 million.
The guidance overshadowed Finisar's better-than-expected numbers for the fiscal third quarter, which ended Jan. 30.  In that period, Finisar's (NASDAQ:FNSR) net income more than tripled to $18.8 million, or 22 cents per share, versus $5.6 million, or 8 cents a share, in the previous year. Excluding items, the company earned 47 cents per share, matching the average estimate of analysts polled by FactSet, on that basis.
Revenue was $263.0 million, a 58 percent increase over last year. It topped the analysts' expectation of $257.3 million.
No position
This is a guest post written by Trader Mark who runs the blog Fund My Mutual Fund.