This Expert Has a Plan to Save Distressed Cities Like Detroit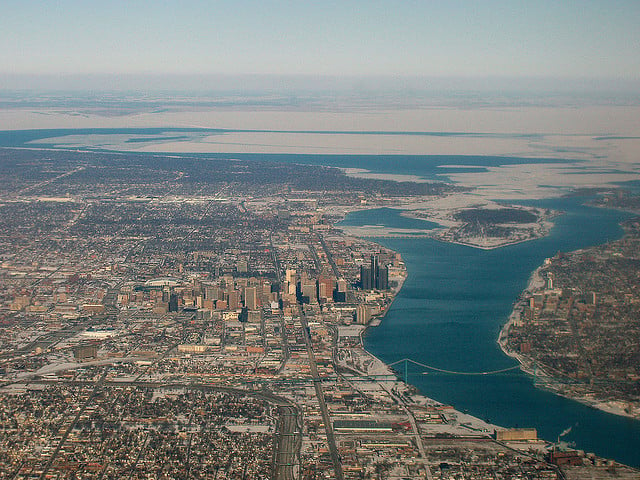 James E. Spiotto, a partner with Chapman & Cutler in Chicago, is shopping around a model to help bankrupt cities — like Detroit — devise a structure to enable them to recover and become financially sound once again. His plan, based on the special-purpose entities that helped New York City survive its 1975 financial crisis, is known as the Public Pension Funding Authority.
What the city of Detroit experienced in the years and months before its bankruptcy is known in cold, analytic terms as the "Death Spiral" — the self-feeding cycle where unbalanced budgets, cuts in essential services like the police force, and increasing taxes force residents and businesses to leave, causing the much-needed tax base to shrink.
With a population now 63 percent below its post-war peak, Detroit is a city with non-functioning streetlights, the highest violent crime rate of any United States metropolitan area, an average per capita income of just $14,000, and nearly 150,000 vacant and abandoned parcels. Each subsequent wave of departures leaves a smaller and poor population, less able to cover the city's mounting bills. At the base of the spiral, the city is left with workers and retirees who are still constitutionally owed benefits they earned for years of labor.
Currently, the city is sitting in the middle of that bleak reality. Detroit filed for bankruptcy protection on July, and Friday saw the culmination of its bid to launch the United State's largest-every municipal bankruptcy, with the conclusion of a nine-day trial to determine whether Detroit qualified for Chapter 9 bankruptcy. In order to gain the protections bestowed by the bankruptcy law, the city and its lawyers must prove that it was insolvent and tried to negotiate with creditors in good faith before filing for bankruptcy.
The attorney for the city — Bruce Bennett — told Judge Steven Rhodes that negotiations with creditors were impossible because many said they were not authorized to negotiate on behalf of Detroit's 23,500 retirees, as the Detroit Free Press reported. A decision is expected sometime after Wednesday, after additional briefs are filed. "Ultimately, it was determined this municipal Chapter 9 bankruptcy filing was simply the last viable option and was in the best interests of the people of Detroit and our state — to solve the financial crisis six decades in the making," Sara Wurfel, a spokesperson for the governor, told the Los Angeles Times.
As Matthew Schneider, attorney for the state, characterized the city's journey to bankruptcy: "Years ago, the people of Michigan and the people of this city started to learn that a tremendous and terrible storm was headed to the city of Detroit, and this was no secret." The tremendous and terrible storm was fueled partly by the fact that the city — known as Motor City — became a one-industry town. The wages paid factory workers made cars affordable to those that built them, allowing the city to expanding to a size greater than San Francisco, Boston, and Manhattan combined.
Mobility spawned sweeping road construction and a boom in single-family homes, an infrastructure that became impossible to keep once residents began leaving after the auto industry began shrinking. Repairing and downscaling that system would have cost between $140 million and $200 million, according to Bloomberg. Furthermore, the automotive industry made college educations much less important, and as a result, the region has a less-educated work force. Then, the declining United States auto industry, unsustainable pension deals, and poor city council investments hit, leading to Detroit's perfect storm: a record $18 billion bankruptcy.
Like cities and states have done for decades, Detroit turned to both taxpayers and the municipal bond market to fund workers' pensions. But as those options have become decreasingly viable — taxpayers resist further increases and bond markets have weakened since the city filed for bankruptcy — mayors and governors have been left with a puzzle: how to keep pension plans intact, which is required by law, while the costs of pension plans grow annual and there are fewer and fewer ways to raise the necessary funds. That is where Spiotto's model could be useful. "You can't just say, 'Workers, you lose,' or, 'Citizens, you lose,'" Spiotto told the New York Times. "The citizens and the workers and the retirees are all in this together."
In theory, his Public Pension Funding Authority would halt the "death spiral." While funds cannot be sourced out of thin air, the entity would offer independent, quasi-judicial powers to analyze each case and help communities restructure their debt. For example, the authority would determine whether a city had exhausted its ability to levy taxes or whether growing pension obligations were keeping the city for providing essential services, like street lighting. Then, the tough decision would be whether the city or its workers needed to make bigger pension contributions to maintain the pension fund or whether the plan was just too unsustainable to save. As the Times reported, the authority's decision would be binding.
Some policy makers have said the model has potential, like Daniel Biss, a state senator in Illinois, who was "certainly intrigued" by the idea, according to the publication. Of course, no legislation has been drafted and even more concerning, "there's a genuine dispute about how bad the problem is," the senator added. He described the state's pension mess was "horrific," while other colleagues saw rosier prospects.
But unions that represent the public workers argue that a funding authority is a route for politicians to eschew laws that forbid the reduction of public pensions. Discussing pensions is undoubtedly polarizing, but Spiotto would base his calculations on how much a city could afford to pay in benefits in a given year.
Under that formula, the money available for pensions after budgeting for essential services, maintenance, and debt service would likely be much less than the cost of the existing pension plan, and in that case, the authority would design the pension plan within the city's means. When that paradigm is brought up with municipal leaders, their response is, "'Hold on! What happened to democracy?'" Biss told the Times. Plus, local officials are wary of the idea because it appears to another way for the state to limit their powers. "They'd like a free hand to deal with it," the state senator continued. "They'd like to have a minimum external mandate, and a maximum of external support."
Labor leaders are flat out opposed to the idea. "They think they can just raise taxes," Spiotto told the publication. "I understand where they're coming from." But raising local taxes will just hasten the downward spiral, which would expose retirees to even bigger losses. Halting that spiral would better for everyone involved, he added, because if retirees gave up part of their pensions, the remaining benefits would be "rock-solid," free from risk of a later collapse, Spiotto explained. For residents that would mean money would be available to repair streets, improve schools, and fund police and fire services, key motivators for residents to say, which keep the tax base from shrinking further.
As it now stands, Detroit is expecting harsh losses for both retirees and holders of the city's municipal bonds. If the court approves the bankruptcy plan, the city may suffer losses so great that the necessary momentum will build across the country, so that both the local and state leaders will want to prevent a catastrophe of that magnitude from ever occurring again. Still, for now, "we are playing the game of blink," Spiotto said. "Everyone believes that the other side should give in and blink."
Follow Meghan on Twitter @MFoley_WSCS
Don't Miss: Ted Cruz in the Crosshairs: Study the Past to Know the Present?