This Gun Maker Should Send President Obama a Thank You Note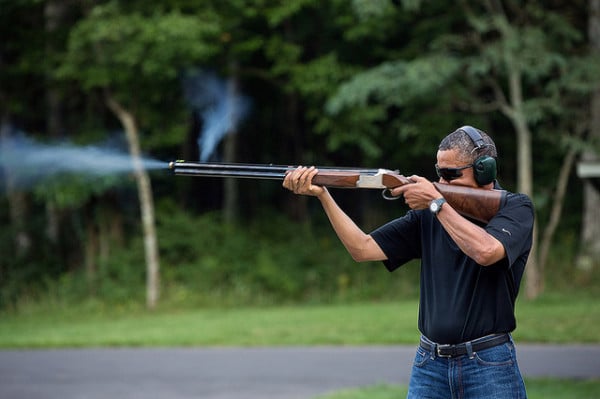 The nation's second largest publicly-traded gun manufacturer may need to send a thank you note to President Obama.
For the 25th consecutive year, The Boston Globe unveiled its Globe 100 list on Sunday, ranking the best-performing public companies in Massachusetts. The Springfield-based Smith & Wesson (NASDAQ:SWHC) topped the list for the first time in history.
In a press release, the Boston Globe explains, "Smith & Wesson secured the number one spot by achieving revenue growth of more than 40 percent in 2012, significantly improving profit margins, and delivering an average return on equity of more than 55 percent. Company sales continued to surge after intense public debate on gun ownership, and White House efforts to introduce new gun control legislation. In March the company said that, despite increasing production, it was unable to meet market demand for its firearm products."
Smith & Wesson's accomplishment is even more impressive, considering the list is dominated by sectors such as technology, biotechnology, and telecommunications. To be considered for the rankings, a company must have corporate headquarters in Massachusetts, trade on the New York Stock Exchange, the Nasdaq, or the American Stock Exchange, have been a public company for all of 2012, and report revenue and profit for both 2011 and 2012.
The gun industry typically receives a boost when a Democrat holds the White House, but gun and ammo sales have surged to record highs as the tragedy in Newtown sparks more debate about gun control.
In January, President Barack Obama and Vice President Joe Biden rolled out a wide-ranging list of executive actions regarding gun control. Furthermore, Obama called on Congress to: ban military-style assault weapons, ban capacities of more than 10 rounds, require background checks on all gun sales, and create tougher penalties for those selling guns to people who are not legally allowed to have them.
After months of discussions and finger pointing, Congress did not answer Obama's call. A bill aimed at expanding the system of background checks failed in the Senate. It received only 54 votes, six votes short of the 60 needed to advance. Although the bill had co-sponsorship from both political parties, five Democrats broke from party lines, and only four GOP senators voted in favor of the bill. The Senate also blocked a proposal to ban semi-automatic rifles and high-capacity ammunition magazines.
A visibly angry Obama gave a speech shortly after the Senate's decision. He said, "So all in all, this was a pretty shameful day for Washington. But this effort is not over. I want to make it clear to the American people we can still bring about meaningful changes that reduce gun violence, so long as the American people don't give up on it. Even without Congress, my administration will keep doing everything it can to protect more of our communities… but we can do more if Congress gets its act together."
Many people are making purchases ahead of any major changes. In fact, Obama is considered by many to be the best gun salesman in history.
As the chart below from Smith & Wesson shows, background checks for February, while down from January, were 29.1 percent higher from the same month in 2011.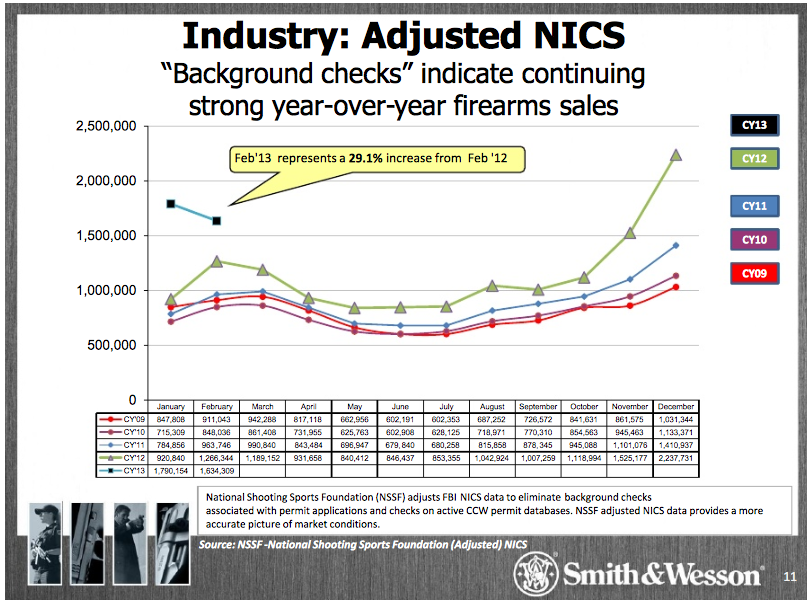 According to an analysis of the gun industry by the Associated Press, the federal government has conducted roughly the same number of background checks for gun owners and prospective buyers under Obama's first term, as it did under George W. Bush's first six years of presidency. For the first time since 1993, the number of federally licensed retail gun dealers in the U.S. increased in 2010 and 2011, adding 1,167 more licensed dealers.
Other gun manufacturers are also seeing strong demand. Sturm, Ruger & Co. (NYSE:RGR) had to recently limit incoming orders from independent distributors to reduce the growth in its backlog, which hit 1.5 million orders at the end of 2012, or roughly nine months of production.
Don't Miss: What is Warren Buffett Buying and Selling?
Follow Eric on Twitter (@Mr_Eric_WSCS)