This Report Is Bad News for U.S. Manufacturing
Ahead of the Commerce Department's release of its March report on durable goods orders, Rockwell Global Capital's chief market economist Peter Cardillo noted that data would likely "solidify the weakening economic trend that we have been seeing." And he was correct. On Wednesday, data showed that orders for U.S. durable goods fell in March by the most in seven months as demand for commercial aircraft slumped and business investment declined.
Bookings for goods meant to last at least three years fell 5.7 percent compared to last month's 4.3 percent gain. Analysts polled by Bloomberg had expected a much smaller decline, with the median forecast calling for a 3 percent decline. Contributing to the much lower results was an unexpected drop of 1.7 percent in orders excluding transportation equipment. According to Bloomberg, those orders were expected to rise 0.5 percent. In particular, orders for metals, machinery, and electrical equipment significantly dropped off, the Commerce Department's figures showed.
"Manufacturing ended the quarter on a very weak note," Societe Generale senior economist Brian Jones told Bloomberg. "Not only was the March number weak but we lost on the prior revision." He had predicted orders to drop by 6 percent in March…
Both lower commodities prices and weakness in overseas markets have suppressed demand for some companies — like Caterpillar (NYSE:CAT) — which indicated that manufacturing slowed as the first quarter came to an end. These conditions could take a toll on some companies. Already, the mining equipment manufacturer cut its 2013 forecast. As Bloomberg reported, Caterpillar equipment dealers shrunk inventories and orders for equipment dropped in the first quarter. Michael DeWalt, director of investor relations at the company, told the publication that capital expenditures by businesses remain weak.
However, strong motor vehicle sales and a growing housing market could help keep production from floundering.
In regards to transportation equipment, data showed that bookings for commercial aircraft dropped 48.2 percent, with Boeing (NYSE:BA) reporting that it received orders for only 39 aircraft in March, down from February's 179. Comparatively, orders for automobiles increased, but at a much slower rate than the previous month. Orders rose just 0.2 percent after a 4.7 percent jump in February. In total, cars and light trucks sold at a 15.2 million annual rate in March, down from the prior month's rate of 15.3 million, according to Ward's Automotive Group…
However, one key gauge rose in March; orders for non-defense capital goods excluding aircraft — which is a proxy for future business investment in equipment such as computers and communications — rose 0.2 percent. Yet this slight jump failed to offset the 4.8 percent slump recorded in February. Shipments of those types of products, a measurement that is used to calculate gross domestic product, advanced 0.3 percent after increasing 1.2 percent in February.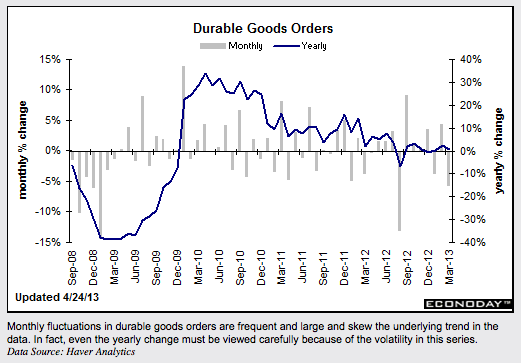 Don't Miss: Low Interest Rates Are Still Juicing the Housing Market.