This Union Isn't Happy With DoJ Suit Against American-US Airways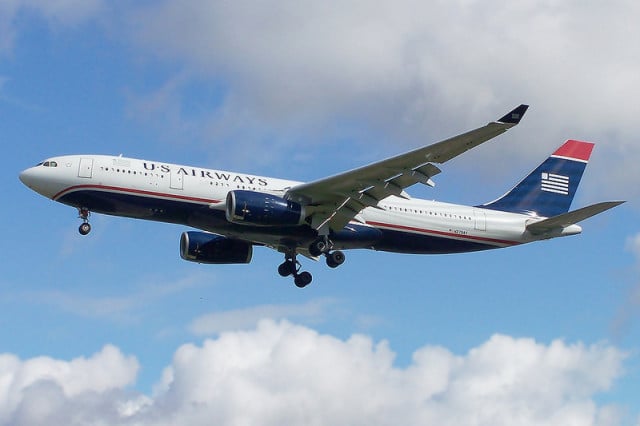 The new president of the Transport Workers Union has criticized the U.S. Department of Justice's attempts to block the proposed merger between AMR Corp.'s (AAMRQ.PK) American Airlines and US Airways (NYSE:LCC), saying that the DoJ's lawsuit will cost the union's workers raises and even their jobs.
The Transport Workers Union "represents workers at major transit systems in cities such as New York, Philadelphia and San Francisco along with workers in railroading, gaming and commercial airlines." Harry Lombardo was elected the union's international president on Tuesday, and some of his first public comments in the position were about the blocked merger. AMR Corp. and US Airways received approval from shareholders, AMR Corp.'s creditors, and European regulators before the merger was blocked by a surprise lawsuit from the Justice Department.
"The DOJ's blocking of the merger has already led to layoff notices in Tulsa where we represent aircraft maintenance workers and blocked raises and the distribution of stock to more than 20,000 hard-working TWU ground workers at American," Lombardo said in a TWU press release.
Of particular worry was a recent warning from American Airlines that it may need to lay off 400 employees. "If the merger does move forward, and since management has committed to growing the airline, there is no reason that management can't commit to protecting every job on the property," he continued in the statement.
AMR Corp. and US Airways have accused the DoJ of treating their merger unfairly, holding them to stricter standards than previous mergers in the industry. The DoJ has said that the merger will cut down too much on competition and raise prices for consumers. The agency went on to say that its previous merger approvals were rushed, and that consumers are now seeing higher prices because of mergers like the one that created United Continental Holdings (NYSE:UAL). The airlines are arguing that they shouldn't have to pay for the DoJ's previous missteps, and believe that their merger would actually stimulate the market by helping them better compete with the bigger airlines.
The airlines did have one small victory against the DoJ, when the court decided to give the airlines a November trial date rather than waiting until March, like the DoJ requested. In addition to the TWU, the airlines can count officials from Texas, Florida, and North Carolina on their side for the merger, as those states are large hubs for the airlines and believe the merger would help stimulate their local economies. The trial is set to begin on November 25.
Follow Jacqueline on Twitter @Jacqui_WSCS
Don't Miss: 8 States With the Highest Wages in America