This Week, Consumers Lacked the Urgency to Shop
Now, the average American family not only makes less than it did before the recession, but it makes less than it did in 1989, according the Department of Commerce's Census Bureau, in 1989, the median American household made $51,681 annually in current dollars, while in 2012, annual household earnings amounted to an average of $51,017. This lost generation of economic gains has kept middle-income and lower-income individuals and households from saving for retirement and saving for college.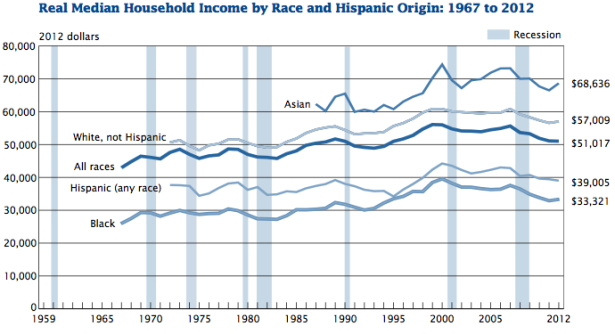 Even worse for the economy is that stagnating incomes mean Americans are more likely to keep discretionary spending to their immediate needs. Consumer spending accounts for approximately 70 percent of gross domestic product and because government and business spending have remained weak, the economy is depending even more on household spending to fuel growth. "It's hard to get to a significant pickup in growth without the consumer playing a significant role in that," Jim Baird, chief investment officer at Plante Moran Financial Advisors, told The Wall Street Journal earlier this month.
With consumer confidence ebbing and the slow pace of retail sales growth, consumer spending is clearing not providing the necessary momentum for a stronger recovery. "We have to see better job growth, better income growth" for consumer spending to improve, Wells Fargo Securities analyst Eugenio Aleman said following the Department of Commerce's August retail sales report.
The month's retail sales growth put the struggles of the American consumer back in the spotlight, rising less than analysts had forecast. The 0.2 percent increase was the smallest gain in four months. Analysts had expected retail sales to increase 0.5 percent with help coming from back-to-school shopping.
"While the economy and job market are improving, it has now been four years since the recession officially ended and millions of Americans are still unemployed or underemployed," John Challenger, chief executive officer of the global employment consulting firm Challenger, Gray & Christmas, said in a statement with the firm's annual Holiday employment forecast. "As a result, consumers remain uneasy, which is evidenced by wide monthly mood swings in confidence surveys."
In deciding not to begin tapering its monthly bond-buying stimulus, the Federal Reserve gave a nod to just how difficult the current spending environment is. To put it simply, the central bank decided to continue its $85 billion monthly asset purchases because the job market has remained too weak and the budget battles in Congress "loom very large right now," as New York Fed Reserve Bank President William Dudley said in a Monday speech. He is not confident that the labor market will continue to grow because the economy's 2 percent annual growth rate "might not be sufficient."
There are other concerning indicators as well. Weak job growth has contributed to the tepid 2 percent annual growth rate of consumer spending, which has come amid poor income growth, Dudley explained. "In my view, the economy still needs the support of a very accommodative monetary policy," he said.
After a tough August, September retail sales have not been very strong either. The first snapshots of United States retail sales for this month have indicated that even though American consumers are spending, they are still keeping purchases limited to immediate necessities."Sales weakened as consumers lacked the urgency to shop this past week," noted Michael Niemira, International Council of Shopping Centers chief economist, in a press release. "This lack of urgency added to the sales volatility throughout September and created a weak undertone for sales."
In the first week of September, sales bounced back after softness in late August. But, for the week ended September 14 and the week ended September 21, the ICSC-Goldman Sachs same-store sales index reported a weekly declines. Last week, same-store sales at chains dropped 1.0 percent, week over week, after contracting at a 1.6 percent rate in the previous week.
While recent readings of the ICSC-Goldman Sachs index has shown that retail sales have expanded after hitting one of the lowest year-on-year rates recorded so far in 2013 at the end of last month, that trend has changed as well. The year-over-year rate slowed from the previous week's 3.2 percent, which was the strongest pace since January, to 1.6 percent.
Johnson Redbook Index showed comparatively stronger results. However, the data has been volatile in recent weeks. The 3.6 percent rate of growth recorded for the past week compares with the previous week's reading of 3.4 percent. But Redbook's September-to-August comparison contracted 0.4 percent rate after contracting 0.3 percent the week before.
Already, analysts are predicting that this year's holiday-shopping will be the worst since 2009 and retailers are increasing discounts to gain an advantage in what they fear will be hard-fought sales. Challenger, Gray & Christmas has forecast that shaky consumer confidence and the need to keep costs low will prevent 2013 holiday seasonal hiring from surpassing or even reaching last year's 12-year high.
Follow Meghan on Twitter @MFoley_WSCS
Don't Miss: These Downbeat Fed Speeches Subdued Stocks.