THQ Earnings: Homefront Saves the Day
THQ Inc. (NASDAQ:THQI) reported its results for the fourth quarter. THQ, Inc. is a worldwide developer and publisher of interactive entertainment software for all popular game systems.
Don't Miss: Wall St. Cheat Sheet's newest Feature Trades of the Month!
THQ Earnings Cheat Sheet for the Fourth Quarter
Results: Loss widened to $44.1 million (65 cents/diluted share) from $10.4 million or a loss of 15 cents per share.
Revenue: Fell 37.1% to $124.2 million YoY.
Actual vs. Wall St. Expectations: THQI reported adjusted net income of of 15 cents/share. By that measure, the company beat the mean estimate of 11 cents/share. Estimates ranged from 7 cents per share to 17 cents per share.
Quoting Management: "THQ posted strong fourth quarter results primarily driven by the success of Homefront," said THQ President and CEO Brian Farrell. "We have already shipped 2.6 million units, a solid start for this new franchise, which kicks off the strongest pipeline of AAA core games in our history. We also continued to grow the uDraw franchise with the successful international debut of this compelling new tablet. Today, I am pleased to announce that we plan to bring exclusively designed uDraw GameTablets to Microsoft Xbox 360 and Sony PS3 platforms this holiday."
Key Stats:
From the third quarter, the company's current liabilities rose to $379.5 million from $206.3 million.
Over the last five quarters, revenue has fallen an average of 19.1% year over year. The biggest drop came in the first quarter, when revenue fell 38.7% from the year earlier quarter.
Competitors to Watch: Electronic Arts Inc. (NASDAQ:ERTS), Microsoft Corporation (NASDAQ:MSFT), Take-Two Interactive Software, Inc. (NASDAQ:TTWO), Activision Blizzard, Inc. (NASDAQ:ATVI), KONAMI CORPORATION (NYSE:KNM), Majesco Entertainment Co. (NASDAQ:COOL), The Walt Disney Company (NYSE:DIS), Nintendo Co., Ltd (NTDOY), Zoo Entertainment, Inc. (ZOO), and Sony Corporation (NYSE:SNE)
Stock Performance: Shares of THQI are up 3.4% from the previous closing price of $4.01.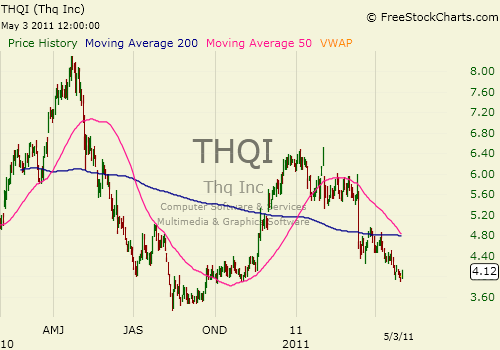 Don't Miss Wall St. Cheat Sheet's newest Feature Trades of the Month!