Three Weeks of Claim Gains: Is the Labor Recovery Slowing?
The United States Labor Department will release its report on the state of hiring and unemployment for May next Friday, leaving economists wondering where the roller coaster rise and fall of unemployment claims experienced this month left the labor market.
Last week, for the third straight week, the number of Americans filing for initial unemployment benefits rose, signaling that the job market may be softer than expected. Applications for jobless benefits increased 10,000 to 354,000, according to Labor Department figures released Thursday. The number of new claims were slightly higher than economists had expected, but the level is well below the 382,000 who sought help in the year-ago period. Despite the last three weeks of gains, recently, initial claims have been hovering around five-year lows, indicating that fewer employers are cutting their payrolls.
Jobless claims figures are considered a good measure of layoffs, and provide the first look at the employment situation for any given month. Still, weekly figures can be volatile, so economists use the four-week moving average to understand wider trends. Last week, that figure rose by 6,750 to 347,250.
"This week we had a bit of a pop, but we still are seeing a gradual improvement in the labor market," BNP Paribas economist Bricklin Dwyer told Bloomberg. "The problem hasn't really been from firing — it's been on the other side with a lack of hiring." Dismissals have been declining as employers keep workers to meet the current demand for goods and services. But only when demand accelerates will hiring truly pickup. Faster gains in employment may provide a cushion against the payroll tax hike and help households sustain spending, which accounts for about 70 percent of all economic activity in the United States.
However, the rate at which jobs have been created is still below levels needed to significantly reduce the rate of unemployment. As of April, approximately 11.7 million people were counted as unemployed, although not all were receiving unemployment benefits. Slightly fewer than 3 million people filed for their second week or more of unemployment benefits during the week ended May 18, which was an increase of 63,000 from those filing for continuing claims the previous week.
On June 7, the Labor Department will release its Employment Situation Report for May. The April reading of the health of the job market showed more strength than expected, with 165,000 jobs added that month. Earlier forecasts for May indicated that a similar gain was made this month, but actual figures could be lower, judging from the recent labor market readings.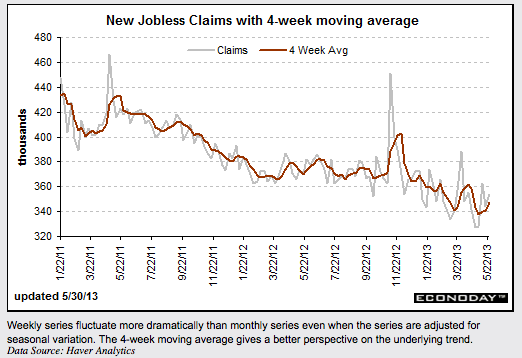 Follow Meghan on Twitter @MFoley_WSCS
Don't Miss: Is Wells Fargo the Healthiest Bank?