Thursday Mid-Day Movers: 3 Stories Driving Markets
The U.S. equity markets were floating comfortably in positive territory on Thursday afternoon following a battery of positive economic news.
At 12:35 p.m.: DJIA: +0.67%, S&P 500: +0.49%, NASDAQ: +0.61%.
Here are three stories affecting the markets on Thursday:
1) After logging impressive gains last year, homebuilders continue to climb higher as housing starts in December were stronger than expected.
Start 2013 better than ever by saving time and making money with your Limited Time Offer for our highly-acclaimed Stock Picker Newsletter. Click here for our fresh Feature Stock Pick now!
According to the Commerce Department, builders broke ground on houses at a seasonally adjusted annual rate of 954,000 units last month, representing a 12.1 percent increase above the revised November estimate of 851,000. It is the highest pace of housing starts since mid-2008… (Read more.)
2) Lenders repossessed fewer homes in 2012 than in 2011, pursuing alternatives to foreclosures following government mortgage settlements with large U.S. banks and harsher state laws.
RealtyTrac's year-end Foreclosure Market Report for 2012 showed that foreclosure filings, including default notices, scheduled auctions, and bank repossessions, were made on a total of 1.8 million properties last year, down 3 percent from 2011 and more than 36 percent from a 2010 peak of 2.9 million properties… (Read more.)
3) The advance figure for seasonally-adjusted initial unemployment claims for the week ended January 12 fell 9.9 percent to 335,000, according to the U.S. Department of Labor. The four-week moving average, a more reliable indicator of employment trends, also fell, decreasing 1.8 percent to 359,250.
The markets are watching employment data to get not just an idea of overall economic health, but to stay ahead of the Federal Reserve, which last month announced that it will link its monetary policy to employment… (Read more.)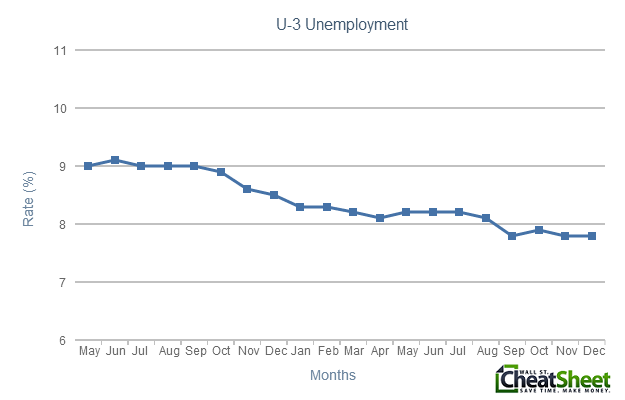 Don't Miss: Congress Loves These 10 Stocks.