Thursday Morning Cheat Sheet: 3 Stories Moving Markets
Markets declined in Asia on Thursday. Japan's Nikkei fell 0.76 percent, Hong Kong's Hang Seng fell 0.30 percent, and Australia's S&P/ASX 200 fell 0.70 percent.
Markets trekked up in Europe in mid-day trading. Germany's DAX was up 0.40 percent, London's FTSE 100 edged up 0.01 percent, and the STOXX 50 index climbed 0.43 percent.
U.S. futures at 8:35 a.m.: DJIA: +0.37%, S&P 500: +0.35%, NASDAQ: +0.49%.
Here are three stories to keep an eye on:
1) Job Cuts Fall to a Fourth-Month Low: U.S. employers announced plans to cut payrolls by 38,121 in April, according to the latest report by Challenger, Gray & Christmas. This is 23 percent lower than March, 6 percent lower than the year-ago period, and the lowest rate of job cuts since December. Through the first four months of the year, job cuts were about equal to year-ago levels.
"The economic slowdown that began late in the third quarter and is expected to turn into another summer slump has yet to result in increased or widespread downsizing. The biggest concern is that consumers, who had been holding up the economy for so many months, are starting to scale back their spending as wages continue to stagnate," commented Challenger, Gray & Christmas CEO John A. Challenger.
2) Euro Zone Manufacturing Downturn Deepens: The final euro zone manufacturing PMI reading for April, compiled by Markit, came in at 46.7, a fourth-month low that is slightly lower than March's reading of 46.8. This indicates that overall manufacturing business activity not only remains in contraction, but that it is trending downward.
Markit reports that all of the national PMI indices signaled contraction in April, with concerning rates of decline in Germany, Ireland, and Austria. German output fell to 48.2, a two-month low and its first contraction in 2013.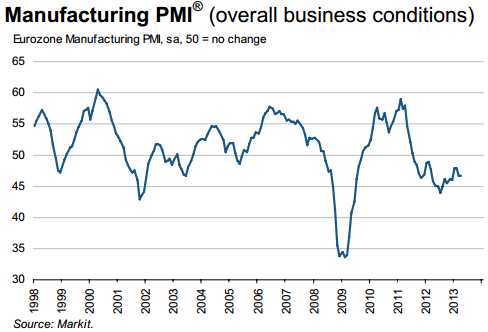 3) OECD Releases Economic Survey of Japan 2013: "Abenomics has changed the mood in Japan, bolstering confidence for private sector firms and households alike," said OECD Secretary-General Angel Gurría at the presentation of the report in Tokyo. "The coming expansion will be driven by exports, and should increase business investment and employment and bring an end to deflation. While we are encouraged by these developments, it remains critically important for Japan to address extremely high and still rising levels of government debt and other challenges posed by its aging population."
Don't Miss: Is Obama Still the Best Gun Salesman Ever?