Thursday Morning Cheat Sheet: 3 Stories Moving Markets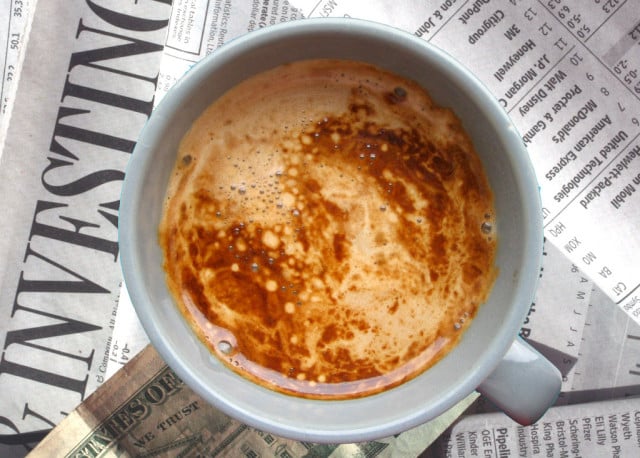 Markets were mixed in Asia on Thursday. Japan's Nikkei index climbed 1.32 percent to an eight-week high of 13,808.5, ostensibly fueled by U.S. Federal Reserve Chairman Ben Bernanke's testimony before Congress, in which he articulated a flexible wind-down of stimulus purchases and eventual tightening of policy. Overall global equity and currency market reaction to Bernanke's comments was relatively muted, but the yen did weaken slightly to 100.271 to the dollar. In Hong Kong, the Hang Seng fell 0.12 percent to 21,345.2, and in Australia the S&P/ASX 200 climbed 0.24 percent to 4,993.42.
European markets advanced in midday trading. Germany's DAX was up 0.29 percent, London's FTSE 100 was up 0.62 percent, and the STOXX 50 index was up 0.4 percent.
U.S. stock futures at 8:45 a.m.: DJIA: +0.10%, S&P 500: +0.21%, NASDAQ: +0.03%.
Here are three stories to keep an eye on.
1) U.S. Cities Face Financial Crisis: Detroit could file for bankruptcy within days if the city's emergency manager, Kevyn Orr, fails to reach agreements with the city's bondholders and pension funds to restructure nearly $20 billion of long-term liabilities. One strategy put on the table last month would pay secured creditors and certain bondholders, but pay just pennies on the dollar to unsecured creditors and pension funds. In total, that's about $11 billion in missed benefits for retirees, and municipal retirees will reportedly get as little as 10 percent of what they were originally owed. There are as many as 20,000 people on city pension.
Meanwhile, Moody's has cut its credit rating on the city of Chicago because of the threat that growing pension liabilities have on the city's financial position. Moody's pointed to a $36-billion pension deficit and highlighted the steep cost of funding public safety demands. Moody's also placed a negative outlook on the city's $7.7 billion in general-obligation bonds.
2) Initial Unemployment Claims: The elephant in the room during a typical diagnosis of the U.S. economy is the labor market. At 7.6 percent, the headline unemployment rate has come down 2.4 percent since hitting a post-recession high of 10 percent in October 2010. This decline has been cited as both an improvement of conditions and misleading about reality.
The U.S. Department of Labor reported on Thursday that initial claims for unemployment insurance for the week ended July 13 declined 24,000 to a seasonally adjusted 334,000. The four-week moving average declined 5,250 to 3460,000.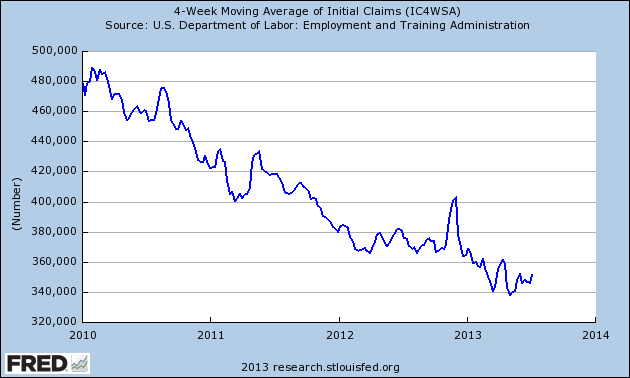 3) Bernanke's Policy Report: Where Are We, and Where Are We Going? Twice a year — usually in February and July — the U.S. Federal Reserve is required to submit a monetary policy report to Congress. Alongside the report, the chairman of the Fed testifies before the House Financial Services Committee and the Senate Committee on Banking, Housing, and Urban Affairs, and makes himself available for questioning.
At a glance, Chairman Ben Bernanke's testimony and the accompanying monetary policy report are an opportunity for both Congress and the public to update their understanding of current Fed thinking. Zero-bound and unconventional monetary policy has dominated the post-crisis economy and has been simultaneously credited with fueling the recovery and contributing to the buildup of bad mojo over the past few years.
Bernanke's vision of the current economic condition in the United States may best be described as cautiously optimistic. "The economic recovery has continued at a moderate pace in recent quarters," he said at his testimony, "despite the strong headwinds created by federal fiscal policy." This sort of fuzzy rhetoric — where pro-growth statements are qualified with a "despite" or "but" clause — are liberally sprinkled throughout Fed commentary on the economy… (Read more.)
You can follow Dan on Twitter @WscsDan
Don't Miss: Did Bernanke Soothe Market Nerves?