Thursday Morning Cheat Sheet: 3 Stories Moving Markets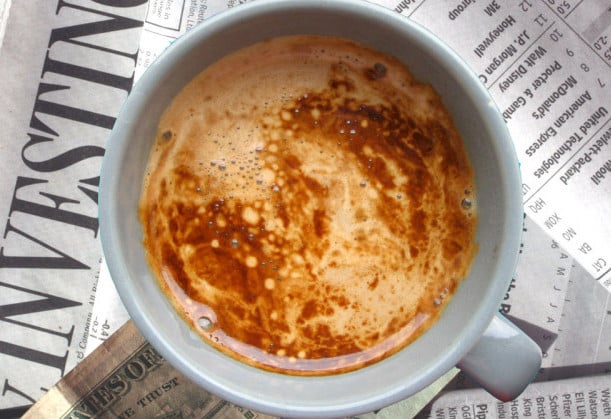 Markets were mixed in Asia on Thursday. Japan's Nikkei closed the day down 0.44 percent at 13,365.20 following the release of the Federal Open Market Committee minutes, which showed broad support for tapering. In Hong Kong, the Hang Seng climbed 36 percent to 21,895.40 and on the mainland, the Shanghai Composite Index fell 0.28 percent to 2,067.12 following a better-than-expected manufacturing report out of China. The S&P/ASX 200 fell 0.48 percent to 5,075.75.
European markets advanced in midday trading, spurred on by a better-than-expected reading of the composite purchasing managers' index. Germany's DAX was up 1.1 percent, London's FTSE 100 was up 0.82 percent, and the STOXX 50 index was up 1.16 percent. U.S. stock futures also advanced in pre-market trading.
At 8:45 a.m.: DJIA: +0.40%, S&P 500: +0.54%, NASDAQ: +0.71%.
Here are three stories to keep an eye on.
1. U.S. Labor Market: The U.S. Department of Labor reported Thursday morning that initial claims for unemployment insurance increased by 13,000 for the week ended August 17 to a seasonally adjusted 336,000. However, the four-week moving average continued to decline, falling by 2,250 to 330,500, a five-year low. No state reported an increase in initial claims of more than 1,000.
2. European Union Economy: "The euro area's economic recovery gained momentum in August, with manufacturing and service sector companies reporting the strongest pace of expansion for just over two years," Markit chief economist Chris Williamson said in the Markit Flash Eurozone PMI report. "So far, the third quarter is shaping up to be the best that the euro area has seen in terms of business growth since the spring of 2011. The economic picture from the surveys is therefore coming into line with policymakers' expectations of a modest yet still fragile return to growth."
The Composite Output Index increased 1.2 points to 51.7, the Services PMI Activity Index increased 1.2 points to 51, the Manufacturing PMI increased 1 point to 51.3, and the Manufacturing Output Index increased 1.1 points to 53.4.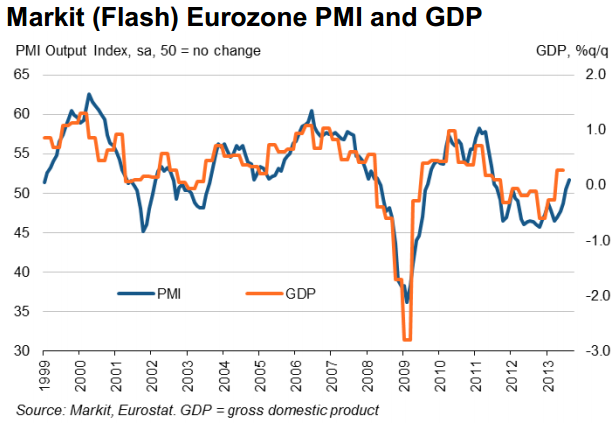 3. Chinese Manufacturing: "China's manufacturing growth has started to stabilise on the back of modest improvements of new business and output. This is mainly driven by the initial filtering through of recent fine-tuning measures and companies' restocking activities, despite the continuous external weakness. We expect further filtering-through, which is likely to deliver some upside surprises to China's growth in the coming months," Hongbin Qu, HSBC's China chief economist and co-head of Asian economic research, said alongside the HSBC August Flash China Manufacturing PMI report, which is compiled by Markit.
The flash reading of the manufacturing PMI came in at 50.1, up from 47.7 in July, indicating growth in the nation's manufacturing sector. The manufacturing output index increased from 48 to 50.6, a three-month high also indicating growth.
Don't Miss: 8 Corporate Brands Getting the Most Face Time on Facebook.