Thursday Morning Cheat Sheet: 3 Stories Moving Markets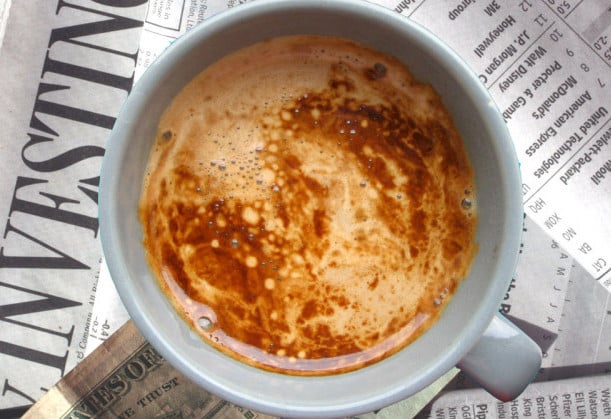 It's Thursday, October 31 — happy Halloween! As expected, the U.S. Federal Reserve announced no change to its asset purchase program at the conclusion of a two-day policy meeting on Wednesday. As per previous guidance, the Fed will "closely monitor incoming information on economic and financial developments in coming months and will continue its purchases of Treasury and agency mortgage-backed securities, and employ its other policy tools as appropriate, until the outlook for the labor market has improved substantially in a context of price stability."
Exactly what that means, the markets have learned, is a bit nebulous. Payroll growth of 148,000 in September, according to the Bureau of Labor Statistics, and of 130,000 in October, according to ADP, clearly isn't enough. Headline unemployment still sits at 7.2 percent, while labor force participation continues to fall.
Adding to the pool of labor market data are Thursday's initial unemployment claims numbers. The U.S. Department of Labor reports that unemployment insurance claims fell 10,000 for the week ended October 26 to a seasonally adjusted 340,000. The four-week moving average edged up 8,000, to 356,250. Several states reported fewer layoffs in the manufacturing and construction industries, which ADP showed had fairly strong job growth in October.
At 8:35 a.m., Dow futures were off 0.03 percent, S&P 500 futures were off 0.03 percent, and Nasdaq futures were off 0.38 percent.
Equity markets in Asia were not immune to the U.S. Federal Open Market Committee statement, and something in the boilerplate language of the report seems to have fueled speculation that a taper could come earlier than previously expected. In August, most economists polled by Bloomberg believed that tapering would begin in March, but a growing number of observers believe that a taper could come as early as January.
Speculation along these lines helped drive equities in Asia lower on Thursday. In Japan, the Nikkei fell 1.2 percent to 14,327.94, and the yen strengthened slightly to 98.2350 against the dollar. The index was also pulled lower by underwhelming earnings reports from Honda and Toshiba. As expected, the Bank of Japan also announced no change to its monetary policy. The central bank will continue to conduct money market operations aimed at increasing the monetary pace at an annual rate of about 60 trillion yen to 70 trillion yen.
In Hong Kong, the Hang Seng fell 0.42 percent to 23,206.37, and in Shanghai, the SE Composite fell 0.87 percent to 2,141.61. In Mumbai, the Sensex climbed 0.62 percent to 21,164.52. In Australia, the ASX All Ordinaries fell 0.09 percent to 5,420.30.
Most major European equity markets advanced in midday trading. Eurostat, the statistical office of the European Union, was able to report that the seasonally adjusted headline unemployment rate in both the euro area (EA17) and the EU28 was stable in September compared with August. Unemployment in the EA17 remained flat, at 12.2 percent, and at 11 percent in the EU27. However, unemployment in both regions is up on the year, from 11.6 and 10.6 percent, respectively.
Eurostat also reported inflation data for October. The annual rate of inflation is expected to fall to 0.7 percent for the month, down from 1.1 percent in September. Food, alcohol, and tobacco prices are expected to increase the most (+1.9 percent), while energy prices are expected to decline the most (-1.7 percent).
In the U.K., the FTSE was off 0.33 percent; in Germany, the DAX was up 0.19 percent; in France, the CAC 40 was up 0.35 percent; and the Euronext 100 index was up 0.2 percent.
On Wednesday, the European Commission reported that its index of economic sentiment increased 0.9 points in the euro area to 97.8 and by 1.1 points in the EU to 101.8. The index's long-term average is set at 100.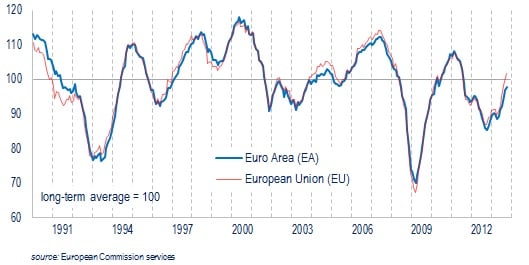 Don't Miss: 4 Ongoing Crises Americans Must Live With.