Thursday Morning Cheat Sheet: 3 Stories Moving Markets
The unexpected contraction in U.S. fourth-quarter GDP, reported yesterday, is impacting investing behavior around the world. In Asia, the markets were mixed, with Japan's Nikkei only curbing steep losses at the last minute for 0.22 percent gains. Lower-than-expected industrial production added to early losses. The Hang Seng fell 0.39 percent and the S&P/ASX 200 fell 0.37 percent.
The European markets were in negative territory heading into the opening bell in New York. Germany's DAX was off 0.39 percent, London's FTSE 100 was off 0.58 percent, and the STOXX 50 was off 0.78 percent.
U.S. futures at 8:30 a.m.: DJIA: 0.04%, S&P 500: -0.15%, NASDAQ: -0.30%.
Here are three stories to keep an eye on: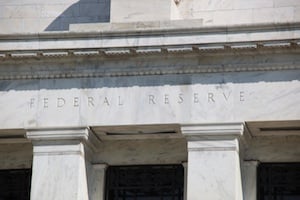 1) "To support a stronger economic recovery and to help ensure that inflation, over time, is at the rate most consistent with its dual mandate, the Committee will continue purchasing additional agency mortgage-backed securities at a pace of $40 billion per month and longer-term Treasury securities at a pace of $45 billion per month," reported the Board of Governors of the Federal Reserve at the conclusion of its January meeting.
As expected, the Fed will continue securities purchases until economic conditions — specifically the labor market — improve. What's more, the Fed suggested that near-zero interest rates could remain in effect even after the securities-purchasing program ends. QE-infnity drags on.
2) Japanese industrial output rose 2.5 percent in December, short of expectations for 4.0 percent growth, but still better than the alternative. Production shrank 1.4 percent in November, and contracted 0.3 percent over the course of 2012.
Japan's Ministry of Economy, Trade, and Industry is forecasting 2.6 percent growth in January and 2.3 percent growth in February, mainly due to transport equipment, iron and steel, and electronic parts and devices. Japan's yen, currently trading at 91.03 to the dollar, is expected to weaken further, which would be a boon for exporters.
3) Job cuts climbed 24 percent month over month to 40,430 in January, according to a report from Challenger, Gray & Christmas. However, this was still a 24 percent decrease from the same month a year ago, and the lowest January for job cuts on record. What's more, hiring plans increased to an expected 60,585 new positions.
The Challenger report comes ahead of Thursday's initial unemployment claims report, which is expected to report 350,000 new claims, a slight increase over last week.
Don't Miss: Don't Expect Tightening from the Federal Reserve.