Thursday's Midday Movers: 3 Stories Driving Markets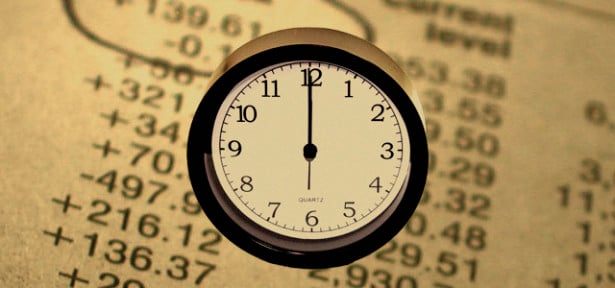 The major U.S. markets were trading higher on Thursday thanks to a wave of strong earnings reports. As of noon:
DIJA:

+0.55%

to 15,498.16
S&P 500:

+0.26%

to 1,750.98
NASDAQ:

+0.51%

to 3,927.00
Gold:

+3.19%

to 75.34
Oil:

-0.52%

to 22.76
U.S. 10-Year:

+0.89%

to 25.07
Here are three stories helping shape the market Thursday afternoon.
1. Jobless Claims: Still Inflation from Government Shenanigans: First-time claims for unemployment benefits have edged up since September, thanks in part to three consecutive weeks of technical problems in California, which have caused delays in application processing. The partial government shutdown also inflated first-time application numbers because a number of government contractors were laid off temporarily, although furloughed federal workers were not included in the claims data, according to the Department of Labor.
After spiking to a six-month high in the week ended October 5, applications have declined for the past two weeks. As the Bureau of Labor Statistics reported Thursday, the number of Americans seeking unemployment benefits dropped by 12,000 to a seasonally adjusted 350,000 in the week ended October 19… (Read more.)
2. Here's Obamacare's Appeal to America's Bros: Most dictionary entries for "bro" merely note that it is the colloquial abbreviation of the term "brother," which can be used to address a friend. However, Urban Dictionary takes the meaning a step further, defining a bro as an obnoxious partying male who is "often seen at college parties." When bros "aren't making [fools] of themselves they usually just stand around holding a red plastic cup waiting for something exciting to happen so they can scream something that demonstrates how much they enjoy partying." It is harsh definition, but it certainly creates a mental picture of a young man in the prime of his life, enjoying life's simple pleasures. That is how those that developed the Affordable Care Act's individual mandate see young men, at least so far as they are young and healthy… (Read more.)
3. Are Earnings Making Markets Dip? Stocks headed lower on Wednesday after a number of disappointing earnings reports — especially from Caterpillar (NYSE:CAT) — put investors in a risk-averse mood. Wednesday's most important contrarian indicator was a remark made by former Federal Reserve Chairman Alan Greenspan during a televised interview, when he said that stock prices are "relatively low." Greenspan's assessment of the market probably encouraged more selling than what we would have seen if he had just kept his opinion to himself… (Read more.)
Don't Miss: Jobless Claims: Still Inflation from Government Shenanigans.