Thursday's Midday Movers: 3 Stories Driving Markets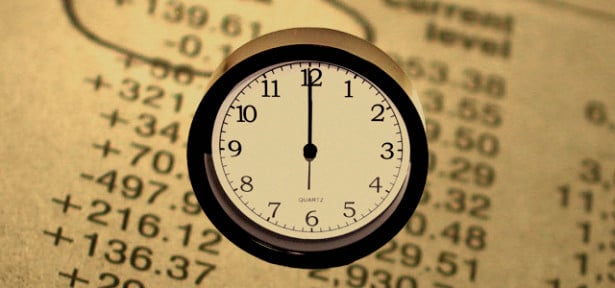 The major U.S. markets were trading lower on Thursday despite reports of economic growth that beat the quarter's expectations. As of noon:
DIJA:

-0.21%

to 15,713.71
S&P 500:

-0.48%

to 1,762.04
NASDAQ:

-1.14%

to 3,887.05
Gold:

+5.92%

to 78.655
Oil:

-0.55%

to 22.228
U.S. 10-Year:

-1.1%

to 26.11
Here are three stories helping shape the market Thursday afternoon.
1. How Many Americans Actually Have a Full-Time Job? On Friday, the U.S. Bureau of Labor Statistics is expected to release the monthly Employment Situation report, which is the benchmark for the headline unemployment rate. Headline, or U-3, unemployment is a measure of how many members of the workforce — defined by the BLS as the set of Americans who are both eligible and willing to work — are actively seeking employment. In September, this totaled 11.3 million people, or 7.2 percent of the American labor force… (Read more.)
2. Here Is How the Job Market Is Shaking Off Political Troubles: Firings have not increased in the wake of the 16-day partial shutdown of the federal government. Unemployment data is no longer as muddled from Washington's manufactured political crisis, meaning the Department of Labor's Thursday release of jobless claim numbers is a much more accurate depiction of the trajectory of the labor conditions than the market has been given for several weeks.
Bureau of Labor Statistics data showed that in the week ended November 2, initial claims for unemployment benefits decreased by 9,000 to a seasonally adjusted 336,000, the fourth consecutive weekly drop. Still, analysts had been expecting a slightly greater decline to 335,000 new claims… (Read more.)
3. Wall Street: Whose Bonuses Will Be Bigger? Based on estimates from consulting firm Johnson Associates, bond traders on Wall Street won't be looking at the same bonuses as money managers, with only the latter likely to see a solid bonus hike. As reported by Reuters, the consulting firm believes bonuses across Wall Street may see an average rise of 5 to 10 percent, but it's likely that the rises will be unevenly distributed, demonstrating new priorities for Wall Street, according to what Alan Johnson, head of Johnson Associates, told the news service… (Read more.)
Don't Miss: Q3 GDP Growth: Pleasant Surprise But the Economy Needs More.