TIBCO Software, Inc. (NASDAQ:TIBX) reported net income above Wall Street's expectations for the second quarter. TIBCO Software Inc. is a provider of infrastructure software. It provides a range of standards-based infrastructure software solutions that help organizations achieve the benefits of real-time business.
Don't Miss: Wall St. Cheat Sheet's newest Feature Trades of the Month!
TIBCO Software Earnings Cheat Sheet for the Second Quarter
Results: Net income for TIBCO Software, Inc. rose to $21 million (12 cents/share) vs. $12.8 million (8 cents/share) in the same quarter a year earlier. A rise of 64.2% from the year earlier quarter.
Revenue: Rose 24.9% to $216.4 million YoY.
Actual vs. Wall St. Expectations: TIBX reported adjusted net income of 21 cents/share. By that measure, the company beat the mean estimate of 18 cents/share. Estimates ranged from 18 cents per share to 21 cents per share. It beat the average revenue estimate of $198.5 million.
Quoting Management: "We experienced another quarter of accelerating demand in Q2, with total revenue growing 25%, license revenue growing 32%, and non-GAAP EPS growing 40% over the same period a year ago," said Vivek Ranadivé, TIBCO's chairman and CEO. "The threats and opportunities of the 21st century require a software platform like ours that is engineered from the ground up to operate in real-time, handle events and not just transactions, and deliver superior context to decision makers. Working with TIBCO, customers are addressing many of today's greatest needs, such as preventing service outages before they happen, avoiding security breaches before data is lost, and optimizing the revenue opportunity at every point of sale."
Key Stats:
The company has enjoyed double-digit year-over-year revenue growth for the past five quarters. Over that span, the company has averaged growth of 22.4%, with the biggest boost coming in the most recent quarter when revenue rose 24.9% from the year earlier quarter.
The company has now seen net income rise in three-straight quarters. In the first quarter, net income rose 53% and in the fourth quarter of the last fiscal year, the figure rose 18.2%.
Gross margin shrunk 1.2 percentage points to 71.5%. The contraction appeared to be driven by rising costs as the figure rose 30.4% from the year earlier quarter while revenue rose 24.9%.
The company has now beaten estimates the last two quarters. In the first quarter, it topped expectations with net income of 13 cents versus a mean estimate of net income of 11 cents per share.
Competitors to Watch: Oracle Corporation (NASDAQ:ORCL), Progress Software Corp. (NASDAQ:PRGS), CA, Inc. (NASDAQ:CA), Intl. Business Machines Corp. (NYSE:IBM), Pegasystems Inc. (NASDAQ:PEGA), MicroStrategy Incorporated (NASDAQ:MSTR), SAP AG (NYSE:SAP), Microsoft Corporation (NASDAQ:MSFT), Red Hat, Inc. (NYSE:RHT), and Sybase, Inc. (SY).
Stock Performance: Shares of TIBX are down over 1% after hours today.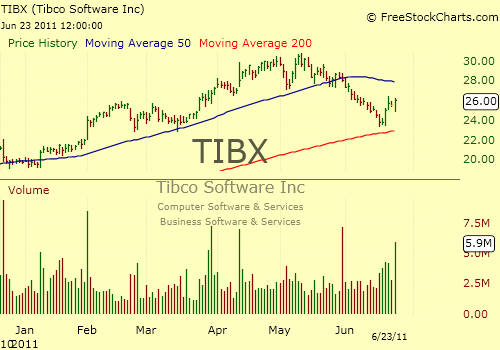 Don't Miss Wall St. Cheat Sheet's newest Feature Trades of the Month!
(Source: Xignite Financials)