Time to Worry About Home Sales Again?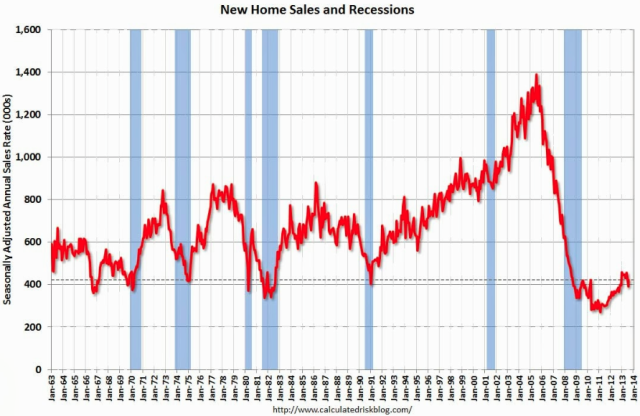 The real estate market has been one of the strongest pillars in the economic recovery, but higher interest rates and a sluggish economy are hindering new single-family home sales.
On Wednesday, the U.S. Census Bureau reported that purchases of new homes, measured by contracts signed, increased 7.9 percent to a seasonally adjusted 421,000-unit pace in August compared to the downwardly revised July rate of 390,000 units. Home sales were up 12.6 percent from a year earlier, but as the chart above shows, the housing market is still well below its glory days.
Purchases of new homes in July and August were the two weakest months this year, while the pace of sales in July was the worst month since October 2012 and the biggest miss of expectations since May 2010. On average, economists were expecting a pace of about 420,000 units in August.
The Commerce Department also reported the median sales price on new houses sold last month was $254,600, down from $256,300 in July, but slightly higher than $253,200 a year earlier. The average sales price came in at $318,900 for August.
The seasonally adjusted estimate of new houses for sale at the end of August was 175,000 units. This represents a supply of 5 months at the current sales rate, up from only 3.9 months at the beginning of the year. The all-time high for supply hit 12.1 months in January 2009. A supply of around 6 months is typically considered to be healthy.
While the housing market is due to slow down, higher interest rates are hitting consumers and businesses. Wells Fargo (NYSE:WFC) — the nation's largest mortgage lender — recently announced it is cutting 2,300 jobs in its mortgage-production unit. Bank of America (NYSE:BAC) and JPMorgan Chase (NYSE:JPM) have also announced similar job cuts.
Don't Miss: Who Does the Government Really Work For?
Follow Eric on Twitter @Mr_Eric_WSCS