Time Warner Cable Earnings: High-Speed Data has 10 Million Subscribers
Although profit increased, S&P 500 (NYSE:SPY) component Time Warner Cable Inc.'s (TWC) net income missed estimates in the most recent quarter. Time Warner Cable, Inc. together with its subsidiaries is a cable operator in the U.S., with systems located mainly in New York State, the Carolinas, Ohio, southern California and Texas.
Don't Miss: Wall St. Cheat Sheet's newest Feature Trades of the Month!
Time Warner Cable Earnings Cheat Sheet for the First Quarter
Results: Net income for Time Warner Cable Inc. rose to $325 million (93 cents/share) vs. $214 million (60 cents/share) in the same quarter a year earlier. A rise of 51.9% from the year earlier quarter.
Revenue: Rose 5% to $4.83 billion YoY.
Actual vs. Wall St. Expectations: TWC fell short of the mean analyst estimate of 98 cents/share. Estimates ranged from 68 cents per share to $1.11 per share.
Quoting Management: Time Warner Cable Chief Executive Officer Glenn Britt said: "This is an exciting time for Time Warner Cable. Our high-speed data product just crossed the 10 million subscriber threshold and is quickly becoming the anchor product in the eyes of consumers. At the same time, new technology is making it possible for us to provide an even better video experience to our customers. Nowhere is this more evident than in our iPad app, which we launched last month to overwhelmingly positive consumer reviews. As our first quarter performance demonstrates, we continue to generate solid results, invest to further improve the value of our services and return cash to our shareholders."
Key Stats:
The company has now seen net income rise in three-straight quarters. In the fourth quarter of the last fiscal year, net income rose 21.7% and in the third quarter of the last fiscal year, the figure rose 34.3%.
Competitors to Watch: Liberty Media Corp (NASDAQ:LINTA), News Corporation (NASDAQ:NWSA), AOL (NYSE:AOL), Comcast (NASDAQ:CMCSA), Dish Networks (NASDAQ:DISH), DirecTV (NASDAQ:DTV), TiVo (NASDAQ:TIVO), Echostar (NASDAQ:SATS), and Coinstar, Inc. (NASDAQ:CSTR).
Today's Performance: Shares of TWC are trading at $75.31 as of April 28, 2011 at 9:17 AM ET, unchanged from the previous close.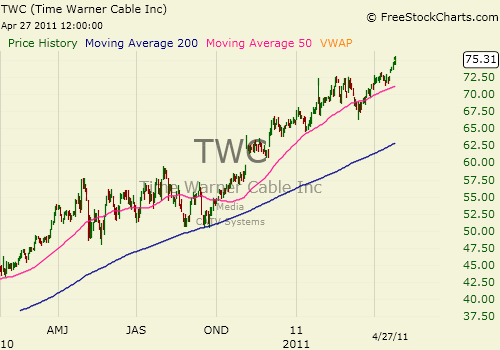 Don't Miss Wall St. Cheat Sheet's newest Feature Trades of the Month!