Time Warner Cable's Deal With Guggenheim, FedEx and UPS Ride Stronger Freight Traffic, and 2 More Hot Stocks
Time Warner Cable (NYSE:TWC): Guggenheim Partners is being forced to overhaul its 25-year agreement with Time Warner for the $7 billion rights to Los Angeles Dodgers baseball games, and under the structure of the deal, Guggenheim Baseball Management might need to pay up to $130 million a year to Major League Baseball. That's over the $85 million that the firm had expected to pay, due to the revenue-sharing nature of the agreement.

FedEx (NYSE:FDX): The global air freight market picked up somewhat last month, according to data from the IATA. Freight traffic rose 1.2 percent over the same month last year, and 0.8 percent over the month of March. Business Latin America and the Middle East showed "encouraging signs" of growth, as last year saw global air cargo demand fall by 1.5 percent. This is good news for FedEx and fellow delivery heavyweight United Parcel Service (NYSE:UPS).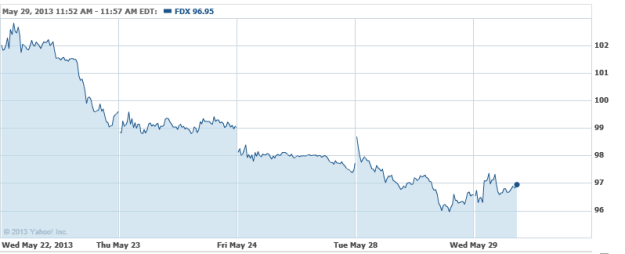 Westell Technologies, Inc. (NASDAQ:WSTL): Fourth-quarter earnings per share of -$0.02 beat estimates by $0.01, although revenue of $10.7 million missed by $0.59 million. "Custom systems integration — a cornerstone for our growth strategy — produced its best quarter ever, with revenues up more than 300 percent from a year ago," said Chairman and CEO Rick Gilbert, who also pointed out that some expected fourth-quarter revenue from distributed antenna system (DAS) panels was delayed. 


Achillion Pharmaceuticals, Inc. (NASDAQ:ACHN): CEO Michael Kishbauch is apparently beloved by investors, as the announcement of his retirement has sent shares of Achillion sinking over 7 percent. R&D Chief Milind Deshpande will be brought in as the company's new CEO.

Don't Miss: Will Time Warner Continue This Bullish Run?