Time Warner Explores Morning Contender, Cisco and HP Face Off, and 2 Other Hot Stocks
Time Warner, Inc. (NYSE:TWX): CNN chief Jeff Zucker is looking to cash in on the giant market that is morning television, with a new morning show slated for a June release that will offer viewers an alternative to NBC's (NASDAQ:CMCSA) Today Show, or ABC's (NYSE:DIS) Good Morning America. Titled New Day, the show is an attempt by CNN's parent Time Warner to embrace some of the $1.2 billion that morning shows rake in each year.

Cisco (NASDAQ:CSCO): The company's Nexus data center switch business is under fire from several companies offering strongly competitive products, notably one from Hewlett-Packard (NYSE:HPQ). HP has made improvements to its data switch, which now includes a "virtual router" which runs on commmodity software to offload tasks handled by server virtualization software, a function Cisco already supports, but that now brings the two companies to a more level playing field.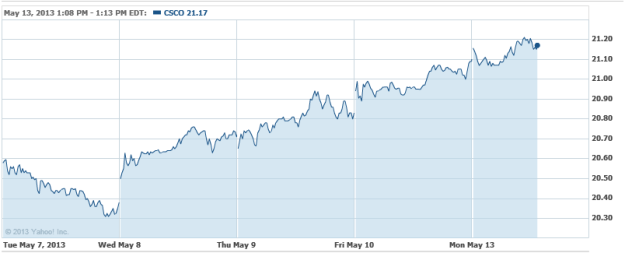 HSBC (NYSE:HBC): More jobs could be put on the chopping block at HSBC, which has already laid off over 65,000 people in efforts to curb costs and improve efficiency. CEO Stuart Gulliver will push ahead with plans to produce a leaner, more streamlined bank, investors were told, and the nine businesses that have been folded already this year could grow as the bank continues its considerable downsizing efforts.

Yum! Brands (NYSE:YUM): The nearly 30 percent fall in market share in China for Yum! Brands during April isn't just tied to the avian bird flu scare, and analysts are speculating that the company has not done enough to tailor its menus to suite the Chinese palate. Though the company is insisting that the shortfalls will be shorter-lived, eyebrows are being raised over the possibility that the flu is a peripheral issue.

Don't Miss: Mom's Top Gift? Money-Smart Kids.