Time Warner Is the Belle of the Ball: Comcast a Potential Suitor
Comcast Corp. (NASDAQ:CMCSA): Current price $48.88
Knowledgeable persons have told CNBC on Friday that Comcast could be on the list of potential suitors as Time Warner Cable shows interest in pursuing a merger. The people also said that the latter is seeking advice on possible regulatory matters if it should pursue an offer, but that the corporation is not in active talks on deal terms with Time Warner, only obtaining guidance on antitrust and telecommunications-related questions. Finally, the sources say that Time Warner has specified that if it should sell itself, Comcast would be the preferred suitor, and that Comcast has been quietly considering such a deal for a while.

ARIAD Pharmaceuticals Inc. (NASDAQ:ARIA): Current price $3.65
On Friday, ARIAD announced the adoption of a positive opinion by the Committee for Human Medicinal Products of the European Medicines Agency on the continued availability of Iclusig (ponatinib) in the European Union for use in patients in its authorized indications. After its review of updated clinical-trial data on Iclusig, the Committee made a series of recommendations on measures to help minimize the risk of occlusive vascular events in patients taking Iclusig.
Gilead Sciences Inc. (NASDAQ:GILD): Current price $74.24
European regulators have recommended the approval of a new drug for hepatitis C treatment from Gilead Sciences and an HIV medicine from GlaxoSmithKline, both of which are anticipated to be top sellers. On Friday, the European Medicine Agency said that its committee of experts also gave a nod to an Otsuka tuberculosis drug, subsequent to a review of an earlier rejection. Analysts expect Gilead's sales to move higher in 2014, driven by its new HCV treatment known as Sovaldi, or sofosbuvir, for people infected with the hepatitis C virus.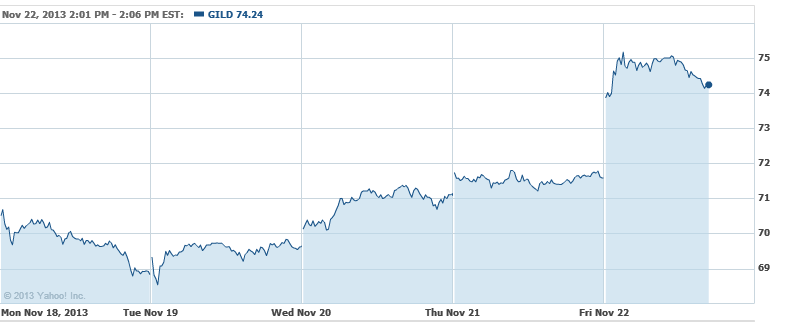 Don't Miss: Free Birds and 6 Older Films That Rule Thanksgiving.