TiVo Earnings Cheat Sheet: Streak of Three Straight Losses Snapped
TiVo Inc. (NASDAQ:TIVO) swung to a profit in the first quarter driven by lower costs and rising revenue, beating Wall Street estimates. Tivo, Inc. is a provider of technology and services for digital video recorders.
Don't Miss: Wall St. Cheat Sheet's newest Feature Trades of the Month!
TiVo Earnings Cheat Sheet for the First Quarter
Results: Swung to a profit of $139 million ($1.04/diluted share) in the quarter. TiVo Inc. had a net loss of $14.2 million or a loss 13 cents per share in the year earlier quarter.
Revenue: Fell 25.5% to $45.8 million YoY.
Actual vs. Wall St. Expectations: TIVO beat the mean analyst estimate of a loss of 31 cents/share. Estimates ranged from a loss of 28 cents per share to a loss of 32 cents per share.
Quoting Management: Tom Rogers, President and CEO of TiVo, said, "This has been a memorable quarter for TiVo. The recent historic half billion dollar settlement with DISH Network highlights the significant value of our intellectual property and creates a recurring high margin licensing revenue stream that greatly enhances our financial profile. Additionally, our momentum as a leader in advanced television continued through deals now in place that include significant guarantees with domestic or international providers that have more than 10 million subscribers. We believe these deals, along with our arrangements with Comcast, Cox and also DirecTV, give us the opportunity to drive significant subscription growth. This quarter we believe we are beginning to see early signs that our strategy is working as evidenced by the reduction in MSO/Broadcaster subscription losses, which are being driven by larger contributions from our new distribution deals as well as lower legacy DirecTV churn. We believe the stage is set for TiVo to continue to be at the forefront of advanced television innovation with a strong, proven portfolio of intellectual property, and growing momentum from our television service provider relationships around the world."
Key Stats:
Revenue has fallen in the past four quarters. Revenue declined 18.5% to $55.8 million in fourth quarter of the last fiscal year. The figure fell 10.6% in third quarter of the last fiscal year from the year earlier and dropped 10.2% in second quarter of the last fiscal year from the year-ago quarter.
TIVO's profit in the latest quarter follows losses in the three previous quarters. The company reported a net loss of $34.4 million in the fourth quarter of the last fiscal year, a loss of $20.6 million in the third quarter of the last fiscal year and a loss of $15.3 million in the second of the last fiscal year.
Gross margins expanded last quarter, rising 2.5 percentage points to 46.1% from the year earlier quarter. This snaps a streak of two consecutive quarters of shrinking margins.
Competitors to Watch: DISH Network Corp. (NASDAQ:DISH), Comcast Corporation (NASDAQ:CMCSA), Virgin Media Inc. (NASDAQ:VMED), DIRECTV (NASDAQ:DTV), Time Warner Cable Inc. (NYSE:TWC), Cablevision Systems Corp. (NYSE:CVC), Verizon (NYSE:VZ), Charter (NASDAQ:CHTR), Time Warner (NYSE:TWX), AT&T (NYSE:T) and Echostar Corporation (NASDAQ:SATS).
Stock Performance: Shares of TIVO are up 4 cents after hours.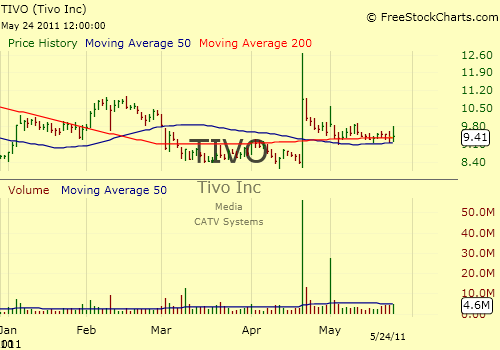 Don't Miss Wall St. Cheat Sheet's newest Feature Trades of the Month!
(Sources: YahooFinance, Xignite Financials)