Today's Top 4 Financial Stock Stories
JPMorgan Chase & Co. (NYSE:JPM): Closing price $46.14
JPMorgan's policing of money flows is set to be its next regulatory headache, as United States officials are now expected to order the firm to correct lapses in how it controls suspect movements, according to two inside sources. The bank is caught in a current crackdown by the government in order to force banks to tighten their anti money-laundering systems. However, the action against would likely take the form of a cease-and-desist order, which are used to force to improved compliance policies, and the company  will probably not have to pay a monetary penalty, say the sources. The officials involved are the Federal Reserve and the Office of the Comptroller of the Currency.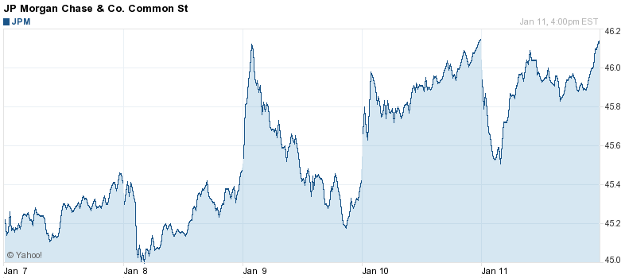 Banco Santander (NYSE:SAN): Closing price $8.58
Chairman Emilio Botin has said in the United Kingdom financial magazine The Banker, that Santander anticipates that its profits will rebound  in 2013, following its non-performing loans ratio peaks in the first half of the year. Botin commented that "In 2012, our profits will be down because we have made large extraordinary provisions for Spanish real estate loans. Santander will finish the extraordinary provisioning in 2012, ahead of most other banks, and we expect our Spanish non-performing loans to peak at about 7 percent in the first half of 2013. Profits will then start to rebound."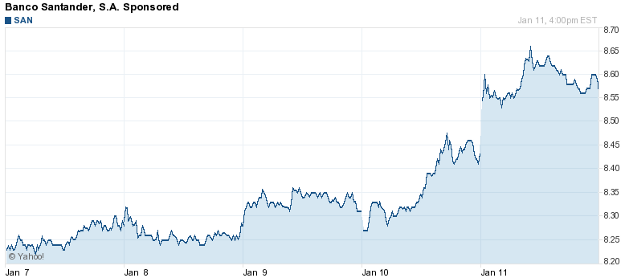 Are these stocks a buy or sell? Let us help you decide. Check out our Wall St. Cheat Sheet Stock Picker Newsletter now >>
Wells Fargo & Co. (NYSE:WFC): Closing price $35.10
On Friday, Wells Fargo posted $5.1 billion in profit for the fourth quarter, marking a 24 percent jump, fueled by the bank's lucrative mortgage business. Exploiting low-interest rates that have caused a spate of refinancing activity, the firm again notched record profits. During the past 12 consecutive quarters, profits at the bank have increased.

Nationstar Mortgage Holdings (NYSE:NSM): Closing price $37.78
On Friday, Nationstar Mortgage shares were upgraded at Sterne Agee from Neutral to Buy with a price target of $47. The stocks closed at $38.83 Thursday, with a 52 week range of between $13.00 and $40.61.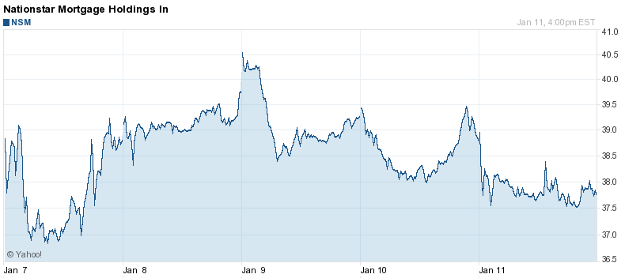 Don't Miss: Are Wells Fargo's Sinking Margins Indicative of a Dangerous Industry Trend?