Together At Last: Justice Department Approves US Airways-American Airlines Merger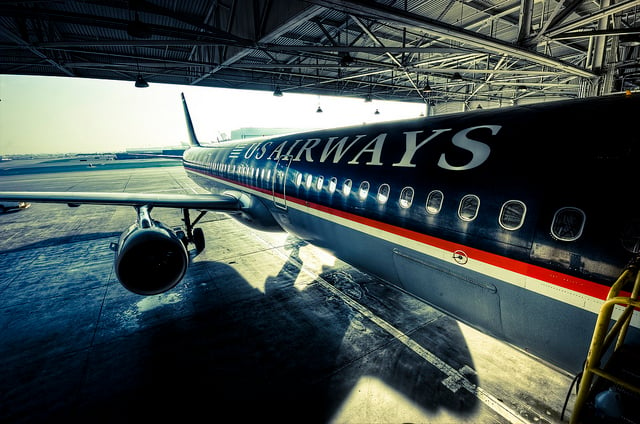 It's official — the U.S. Justice Department will allow the merger between US Airways (NYSE:LCC) and American Airlines (AAMRQ.PK) to go through after the airlines make some divestitures of takeoff and landing slots at several airports. Now that they've reached an agreement, the two parties won't be going to a trial scheduled for November 25.
The DoJ had originally sued to block the merger on the belief that it would cut down too much on competition and raise airfare prices for consumers. Recently, reports have been circulating that the airlines and the DoJ were negotiating with the hopes that an agreement could be reached before going to trial. American parent company AMR Corp. CEO Tom Horton said at the end of October that he believed "there's a way" for the airlines to come to an agreement with the DoJ. "If there's a reasonable settlement, I think it's better for both sides" than proceeding to go to a trial, Horton said at the time.
The agreement involves American and US Airways, which, combined, will make the largest airline in the world, giving up slots at certain airports to low-cost carriers. Airports where American and US Airways will make concessions include Boston Logan International, Chicago O'Hare International, Dallas Love Field, Los Angeles International, Miami International, New York LaGuardia International, and Ronald Reagan Washington National. The DoJ said that the agreement will increase competition and offer customers more options by encouraging the growth of low-cost carriers.
"This agreement has the potential to shift the landscape of the airline industry. By guaranteeing a bigger foothold for low-cost carriers at key U.S. airports, this settlement ensures airline passengers will see more competition on nonstop and connecting routes throughout the country," said Attorney General Eric Holder. "The department's ultimate goal has remained steadfast throughout this process — to ensure vigorous competition in airline travel. This is vital to millions of consumers who will benefit from both more competitive prices and enhanced travel options."
Last week, it was reported that both Southwest Airlines (NYSE:LUV) and JetBlue (NASDAQ:JBLU) were interested in purchasing some of the slots at Ronald Reagan National and LaGuardia. Now it looks like they'll probably get those slots and have the chance for more at other airports, and consumers may start seeing more discount flight options in cities around the country soon.
Follow Jacqueline on Twitter @Jacqui_WSCS
Investing Insights: Can National Oilwell Varco Continue to Move to the Upside?