Too Big to Fail Banks Still Clawing Back
A little more than four years ago, Congress voted and approved the controversial Troubled Asset Relief Program, also known as TARP. The $700 billion "rescue plan" was passed on a second voting attempt in efforts to save Wall Street and the financial system.
The program was voted on once before by the House of Representatives on September 29, 2008, but failed by a vote of 205 to 228. The Dow Jones Industrial Average plunged nearly 800 points on that day, leading to a near identical TARP package being passed on October 3, 2008 by a vote of 263 to 171. While the blue-chip average still fell off a cliff and eventually reached rock bottom at 6,705 on March 3, 2009, the index has reversed its losses to recapture the 13,000 level.
However, some of the largest financial entities to receive bailout funds have yet to recover their stock losses, as investors still remain skeptical of the battered and artificially propped up financial system.
Here's a look at the most recognizable bailout recipients and their stock performance:
American International Group (NYSE:AIG):
Once the world's largest insurer, AIG received one of the most debated bailout packages of the financial crisis – $182.3 billion from the New York Fed and U.S. Treasury. Most recently, the company is known for seriously thinking about joining a $25 billion lawsuit against the U.S. Government, which was filed by former CEO Maurice Greenberg. The lawsuit accuses the government of constructing an illegal and inequitable bailout.
The New York Times reports, "The choice is not a simple one for the insurer. Its board members, most of whom joined after the bailout, owe a duty to shareholders to consider the lawsuit. If the board does not give careful consideration to the case, Mr. Greenberg could challenge its decision to abstain."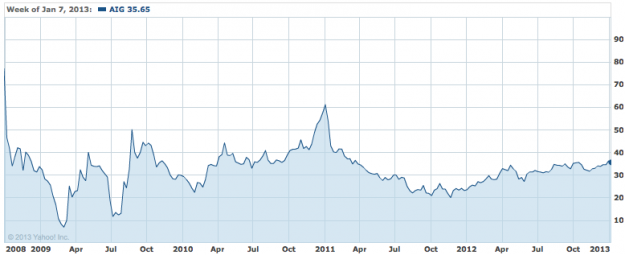 AIG shares logged a 52 percent gain last year, but still need to double its current price to reach 2008 levels.
Other banks also have their work cut out for them…
Start 2013 better than ever by saving time and making money with your Limited Time Offer for our highly-acclaimed Stock Picker Newsletter. Get our fresh Feature Stock Pick now!
Bank of America (NYSE:BAC):
The bank was the best performing blue-chip in the Dow Jones Industrial Average last year and beat the S&P 500 for the first time since 2006. However, its stock price still needs to more than triple to reach pre-crisis levels.
On Wednesday, Credit Suisse downgraded Bank of America to Neutral from Outperform. In a note to clients, the firm explains, "Current Valuation appears to be ahead of the company's near to intermediate-term performance and appears to be discounting significantly faster improvements in efficiency than we would be expecting."
A CEO departure boosted this bank…
Citigroup (NYSE:C):
Shares of Citigroup surged 60 percent last year and are up about 7 percent in 2013. It is still well below its 2008 levels of $200 a share, but a management shakeup looks to be positive.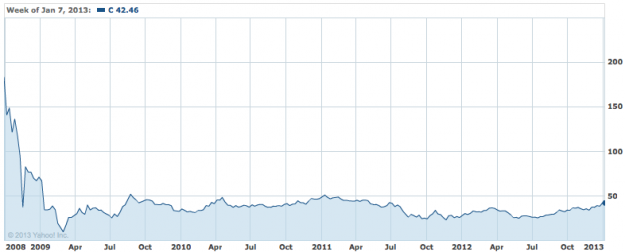 The Board of Directors from America's third largest bank by assets announced in late October that Vikram Pandit, chief executive officer, stepped down and would be replaced by Michael Corbat. The decision went into effect immediately, and by the time traders had finished their second Red Bull of the morning, all traces of Pandit were wiped clean from Citigroup's website.
Despite a whale citing, investors seem to have confidence in…
JPMorgan Chase (NYSE:JPM):
The largest bank by assets in America enjoyed a 36 percent jump last year, and shares are currently trading at 2008 levels.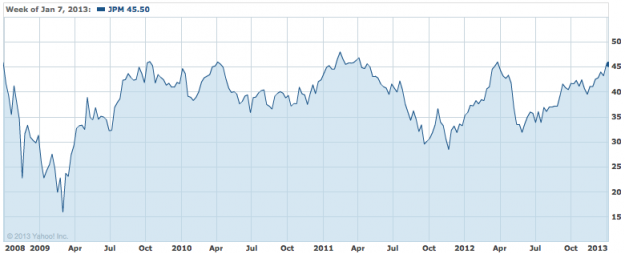 Get ready for more bank layoffs…
Morgan Stanley (NYSE:MS):
Shares of Morgan Stanley increased 33 percent in 2012 and are currently in the green by more than 2 percent this year. Although shares are still below 2008 levels, they are close and could recapture its pre-crisis stock price if the good times continue to roll for the financial sector.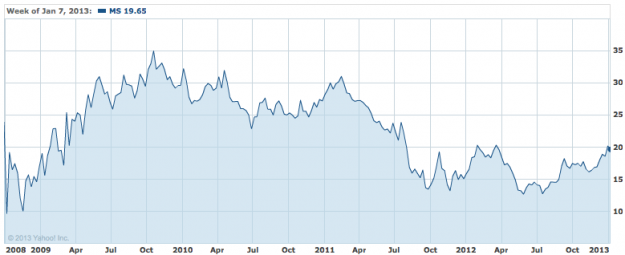 Overall, the financial sector posted its largest annual increase in almost a decade. The high performance came along side of job cuts across the board. Major banks in the industry announced more than 30,000 job cuts in the first nine months of 2012, according to Bloomberg.
The pain is not over. According to the WSJ and a person familiar with the situation, Morgan Stanley is planning to lay off 1,600 employees. The cuts will affect investment bankers, traders and support staff employees. Roughly half of the layoffs will take place in the United States.
Fannie Mae and Freddie Mac are excluded from the charts, as they were both delisted from the New York Stock Exchange in 2010, but the two failed entities are the biggest drains on taxpayers with bailout amounts of $116.1 billion and $71.3 billion, respectively.
Investor Insight: Cheat Sheet: Gundlach's Year of the Snake 2013 Outlook