Gas is getting so cheap that consumers just might burn it for fun. During the final months of 2014, oil prices slid off a cliff and posted their biggest annual decline in six years. Prices at the pump followed suit and have declined every day since late September. Consumers will save billions of dollars from the plunge, but some states are enjoying lower prices more than others.
The national average price of gas has fallen for a record 108 consecutive days, according to AAA. That is the longest streak since the travel and leisure group began tracking daily averages in January 2000. Unless a significant rebound in crude oil prices takes place, the average price at the pump is likely to remain below $3.00 per gallon in 2015. As of January 10, 2015, the national average for regular unleaded gas in America was only $2.15 per gallon, down 34% from the year ago level of $3.31 per gallon.
Drivers in almost every state can find at least one station selling gas for less than $2.00 per gallon. Let's take a look at the 10 states with the lowest gas prices, based on the average price for regular unleaded gas from AAA.
10. Iowa
Current average: $2.01
Month ago average: $2.59
Year ago average: $3.24
9. Tennessee
Current average: $2.01
Month ago average: $2.48
Year ago average: $3.13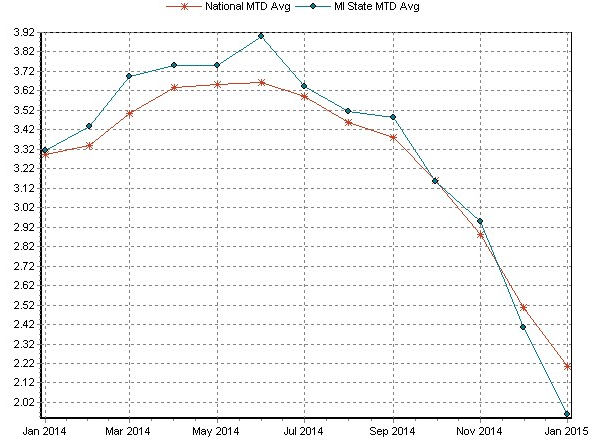 8. Michigan
Current average: $2.01
Month ago average: $2.66
Year ago average: $3.29
 7. Mississippi
Current average: $2.00
Month ago average: $2.44
Year ago average: $3.12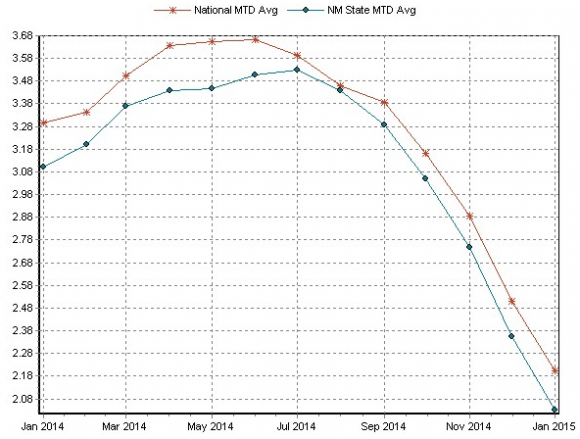 6. New Mexico
Current average: $1.99
Month ago average: $2.50
Year ago average: $3.09
5. Minnesota
Current average: $1.97
Month ago average: $2.53
Year ago average: $3.22
4. Texas
Current average: $1.95
Month ago average: $2.44
Year ago average: $3.12
3. Kansas
Current average: $1.90
Month ago average: $2.50
Year ago average: $3.12
2. Oklahoma
Current average: $1.87
Month ago average: $2.43
Year ago average: $3.05
1. Missouri
Current average: $1.81
Month ago average: $2.37
Year ago average: $3.00
Follow Eric on Twitter @Mr_Eric_WSCS
More from Business Cheat Sheet: