Top 5 Stocks Pushing the Dow Back Above 15K

Even though a fair amount of uncertainty still surrounds Capitol Hill and the political drama involving the nation's fiscal situation, just the hint of some clarity was enough to catapult stocks higher.
With House Republican leaders offering President Obama a six-week extension on the upcoming debt ceiling, all three major indexes rallied more than 2 percent. The Dow Jones Industrial Average (NYSEARCA:DIA) surged more than 320 points, and all 30 blue chips in the average closed in the green. Meanwhile, all 10 major sectors in the S&P 500 (NYSEARCA:SPY) climbed higher. In fact, it was the second best day of the year for stocks.
In return for the temporary increase, Republicans want the president to negotiate on a longer-term fiscal plan. Speaker of the House John Boehner (R-Ohio) told reporters, "It is our hope that the president will look at this as an opportunity and a good-faith effort on our part to move halfway, halfway to what he's demanded in order to have these conversations begin."
Here's a look at the top five best performing blue chips on Thursday.

5. American Express (NYSE:AXP)
Shares of American Express increased 3.4 percent on Thursday. American Express is up almost 30 percent year-to-date.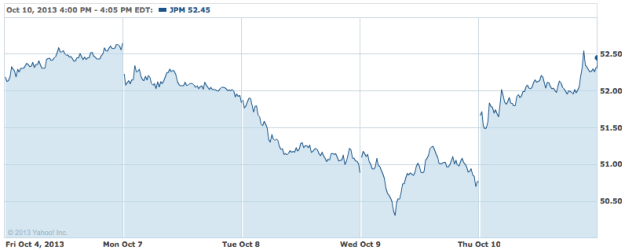 4. JPMorgan Chase (NYSE:JPM)
Shares of JPMorgan Chase gained 3.5 percent on Thursday. Investors will continue to keep a close eye on America's largest bank by assets as it reports earnings for the third quarter on Friday. Profit expectations for JPMorgan Chase have been on the decline in recent months. JPMorgan Chase shares have gained 19 percent year-to-date.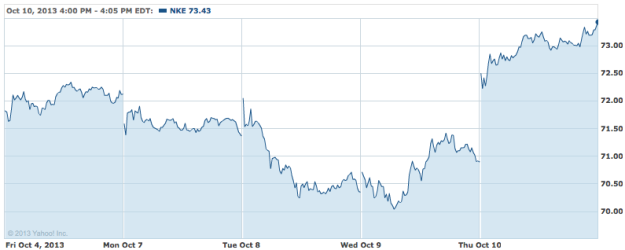 3. Nike (NYSE:NKE)
Shares of Nike jumped 3.6 percent on Thursday and are up 42 percent year-to-date. Earlier this week, Nike said it expects revenue of $30 billion by fiscal year 2015, near the top end of its previous target range of $28 billion to $30 billion.
"Nike is designed to win. We've never been better positioned to capitalize on the opportunities ahead of us," said Nike CEO Mark Parker. "We have a strong management team and we are accelerating our innovation agenda to create products and services that drive growth in the marketplace, deliver exciting retail experiences globally and expand the capabilities of our powerful supply chain. We will continue to serve the athlete, reward our shareholders, manage risk, and lead our industry."

2. UnitedHealth Group (NYSE:UNH)
Shares of UnitedHealth Group climbed 3.6 percent higher on Thursday. UnitedHealth is up 36.4 percent year-to-date.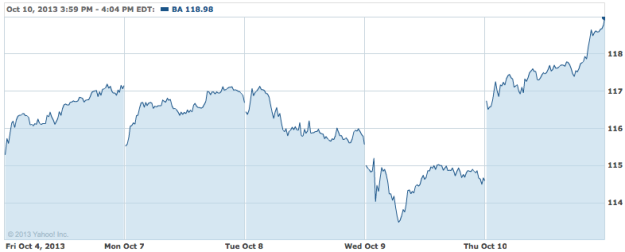 1. Boeing Co. (NYSE:BA)
Shares of Boeing surged 3.9 percent on Thursday and are up almost 58 percent year-to-date. Boeing continues to face issues over the highly anticipated Dreamliner 787s, but investors have been willing to overlook any troubles.
Don't Miss: Top 10 States Hurt by the Government Shutdown
Follow Eric on Twitter @Mr_Eric_WSCS