Top Mega-Financial Stock Stories of the Week: Goldman Sachs Return on Equity and Much More
Here's your Cheat Sheet to this week's top financial industry business headlines:
Wells Fargo & Co. (NYSE:WFC): Current price $37.88
The number-one domestic mortgage originator is growing its home-lending headquarters in Iowa, as it plans for expansion even as the industry forecasts a slowing market. The bank has begun construction on a building that will swell the capacity at its West Des Moines office complex by roughly 28 percent, or 265,000 square feet, according to a statement released earlier this week. Bank spokesman Alfredo Padilla said in an email that the project will cost $100 million and that the edifice will house some 1,800 workers and a parking garage is planned as well.
Are these stocks a buy or sell? Let us help you decide. Check out our Stock Picker Newsletter now.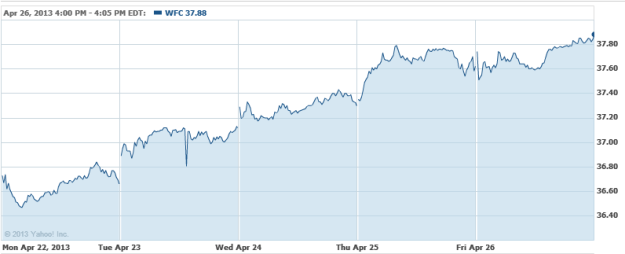 Citigroup (NYSE:C): Current price $46.93
Shareholder meetings are getting more attention than ever before, as investors and observers want to know more about what is going on at banks. Bank analyst Mike Mayo went the extra mile by purchasing stock in certain firms, including Citi and JPMorgan Chase, just to be allowed to attend the meetings and hopefully get answers to some questions. When Citi shareholders meet on Wednesday in New York, Mayo will be in attendance to ask some tough questions, such as: "If performance falls short or the value of the parts remains far in excess of Citi's market cap, would a break-up get considered?" The meeting should mark the first time that Citi's new Chairman and Chief Executive Michael Corbat will directly face shareholder questions. However, a proposal that would have required the bank to explore breaking itself up was not permitted on this year's proxy after the Security and Exchange Commission  determined it to be "too vague."
Are these stocks a buy or sell? Let us help you decide. Check out our Stock Picker Newsletter now.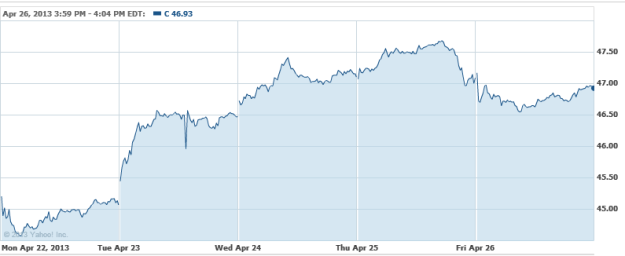 Goldman Sachs Group (NYSE:GS): Current price $144.09
The analyst Brad Hintz at Sanford C. Bernstein & Co. says that the Wall Street bank that generates the highest percentage of revenue from trading, might be able to post a higher return on equity than its rivals. In a Bloomberg Television interview with Tom Keene, Hintz remarked that Goldman Sachs could generate ROE of between 15 and 20 percent, which would make the firm an "outlier" among the largest banks and Wall Street firms, which will likely generate ROE of around 12 to 15 percent. The analyst said that banks will continue to reduce compensation in an endeavor to grow return.
A knowledgeable source says that Goldman Sachs plans a $1.25 billion sale of five-year, floating-rate notes, also reporting that the bonds could pay 120 basis points more than the quarterly Libor. That amount compares with a floating spread of 125 basis points for $700 million of similar-maturity debt that Goldman issued in February, according to data by Bloomberg. Those securities are rated A3 by Moody's Investors Service and A- at Standard & Poor's, and were valued Wednesday at 100.6 cents on the dollar.
Are these stocks a buy or sell? Let us help you decide. Check out our Stock Picker Newsletter now.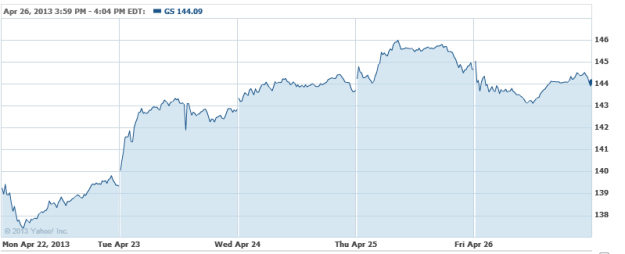 Don't Miss: Most Americans Missed the 'Economic Recovery.
"Progressives and conservatives can debate the proper role of government, but this is one principle on which we can all agree," begins a New York Times article written by Senator Sherrod Brown (D-OH) and Senator David Vitter (D-LA). "The government shouldn't pick economic winners or losers."
The problem, the senators go on to point out, is that during the 2008 financial crisis, the government did just that.
The debate about whether or not the government had a choice to bail out major financial institutions that were deemed 'too big to fail' (really, too interconnected) will probably continue indefinitely. Thankfully, the legislators don't seem interested in lingering on the past. Instead, they seem keen on pursuing the idea that, with a new understanding of economic crises in hand, the United States should pass legislation that would prevent a bailout situation from ever happening again.
"On Wednesday," they write, "we will introduce legislation to ensure that all banks have proper capital reserves to back up their sometimes risky practices — so that taxpayers don't have to. We would require the largest banks to have the most equity, as they should."
"Our bill aims to end the corporate welfare enjoyed by Wall Street banks, by setting reasonable capital standards that would vary depending on the size and complexity of the institution"…
How did we get here?
The Federal Reserve was established in 1913 to serve as a lender of last resort to banks struggling to navigate turbulent economic waters. Twenty years later, the Depression rolled through and everybody was afraid that if the banks didn't collapse under their own weight, a run would finish them off. Federal deposit insurance was created to curb this fear and protect not just depositors, but the financial institutions that serviced the American economy. At that time, the legislators point out, most banks had shareholder equity equal to between 15 and 20 percent of assets.
The trend from here is fairly well understood. As time wore on, a slow perversion of the original policy allowed big banks to reduce capital rations to as low as 3.5 percent of assets. At such a low ratio, very small reductions in the value of assets could force a bank into insolvency. Queue the housing bubble and the 2008 financial crisis.
The legislation that Brown and Vitter will introduce would require so-called megabanks — those with at least $500 billion in assets, such as JPMorgan (NYSE:JPM), Bank of America (NYSE:BAC), Citigroup (NYSE:C), and Wells Fargo (NYSE:WFC) — to maintain a capital ratio of 15 percent of assets. This is more than double the 6.9 percent held in 2012, and is also more than the 8.0 to 9.5 percent that is currently being discussed by international regulators.
Brown and Vitter also argue that Basel III requirements are too weak, suggesting that a 4 percent reduction in the value of a bank's assets could cause it to become insolvent.
"Requiring the largest banks to finance themselves with more equity and with less debt will provide them with a simple choice: they can either ensure they can weather the next crisis without a bailout, or they can become smaller," the legislators wrote.
Don't Miss: This Report Is Bad for U.S. Manufacturing.
JPMorgan Chase & Co. (NYSE:JPM): Closing price $48.92
Forrester Research's 2013 Global and U.S. Mobile Banking Functionality Rankings has placed Chase Mobile in the number-one spot for both American and world banks on Thursday. Chase scored 71 out of 100, which was 15 points above the report's average score of 56. Out of the 15 banks included in the study, Chase excelled for its mobile banking offerings across multiple touchpoints that range from smartphone applications and mobile websites to two-way Short Message Service. Forrester also recognized Chase's money movement features like bill pay, which includes the ability to add a payee, and mobile transfer capabilities.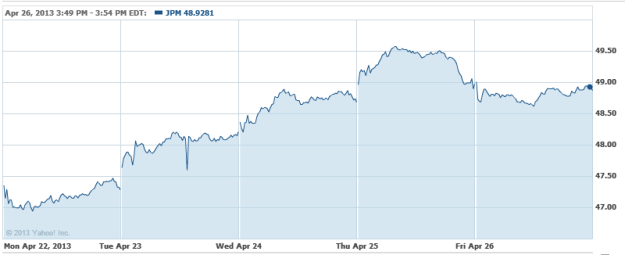 Morgan Stanley (NYSE:MS): Closing price $21.41
Morgan Stanley Wealth Management, majority-owned by Morgan Stanley, has reinforced its adviser team in California and Florida with two veteran recruits from competitor companies. In Florida, Eric Behr joined Morgan Stanley's Boca Raton office from Deutsche Bank (NYSE:DB), at which he served as a director and client adviser, and had an annual revenue output of around $1.2 million. In California, Thomas McCann joined Morgan Stanley's La Jolla office from Merrill, where he managed in excess of $200 million in client assets and in 2012 generated roughly $1.1 million in revenue.
Are these stocks a buy or sell? Let us help you decide. Check out our Stock Picker Newsletter now.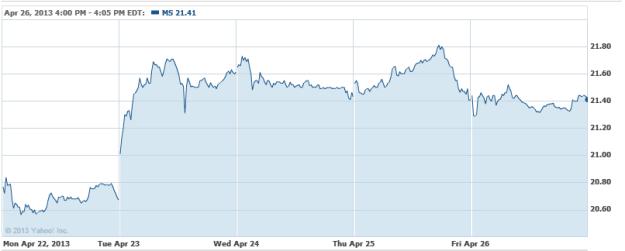 Don't Miss: Are Americans Falling for Bernanke's Wealth Effect?