Top Stock Stories of the Week: Apple Earnings, World Economic Forum and Much More
Here's your Cheat Sheet to this week's top stories:
Tuesday
The markets were off to a mixed start on Tuesday morning after a long weekend, but found their legs in the afternoon. Positive expectations for tech earnings this week helped pull the NASDAQ into late gains.
At the close: DJIA: +0.46%, S&P 500: +0.44%, NASDAQ: +0.27%.
On the commodities front, Oil (NYSE:USO) climbed o.64 percent to $96.65 per barrel. Precious metals were also up, with Gold (NYSE:GLD) climbing 0.27 percent to $1,691.70 per ounce, and Silver (NYSE:SLV) climbing 0.93 percent to $32.23 per ounce. The yield for the 10-year T-bill fell 0.003 points to 1.839 percent.
Here's your Cheat Sheet to today's top stock stories:
Google (NASDAQ:GOOG) released fourth-quarter results that sent its shares up 4.5 percent in after-hours trading. Consolidated revenues climbed 36 percent to $14.42 billion. Total clicks climbed 24 percent, but average cost per click fell 6 percent… (Read more.)
Markets are at 5-year highs! Discover the best stocks to own. Click here for our fresh Feature Stock Pick now!
IBM (NYSE:IBM) shot up 3.5 percent after posting an earnings beat. Net income increased 11.1 percent to $6.1 billion, or $5.39 per diluted share, beating estimates by 14 cents… (Read more.)
Apple's (NASDAQ:AAPL) December quarter earnings, scheduled to be released tomorrow after the bell, are being seen as the most important in several years for the company. After all, the iPhone maker's stock has been under considerable distress over the past few months on investor concerns about its long-term growth prospects. To add to the pressure, there have been recent reports claiming decreased iPhone and iPad demand in the ongoing quarter… (Read more.)
Shares of Boeing (NYSE:BA) shed about 1.2 percent on Tuesday after a long market weekend filled investors with pessimism. Battery issues with the 787 Dreamliner remain unsolved, meaning fleets around the world are grounded until at least the end of January. Shares of Boeing are off 2.6 percent since the New Year, and the cost to carriers is also building… (Read more.)
The World Economic Forum's five-day annual meeting began on Tuesday. Heading into the event, founder and executive chairman of the forum, Professor Klaus Schwab, commented on the meeting's theme, which is resilient dynamism.
"To stem today's spiral of pessimism and avoid the burnout of crisis management, we must look at the future in a much more positive, constructive, and dynamic manner, gaining the resilience to adapt to changing contexts, withstand sudden shocks, and recover from them while still pursuing critical goals," said Schwab in a statement… (Read more.)
Don't Miss: These 5 Stocks Beat Earnings 90% of the Time.
Wednesday
Beginning the day on wobbly feet, the markets found strength late in the morning and closed in positive territory across the board. After flirting with them so much, the S&P 500 and Dow are close to being in an official relationship with record highs. The Nasdaq is at its highest level since 2000.
At the close: DJIA: +0.49%, S&P 500: +0.15%, NASDAQ: +0.33%.
Here are three stories that helped shape the markets today:
1) The House of Representatives passed a short-term increase to the debt ceiling. The measure, proposed at the end of last week and anticipated to glide through the GOP-controlled House, will make its way to the Democratically-controlled Senate, where leaders have said they will pass it without alteration. From there, President Barack Obama has indicated that he will also sign the bill.
A short-term fix has removed a lot of tension from the markets, but spending cuts still remain in focus for the short term, and the debt crisis facing America will take years to resolve. Market participants can only hope that Congressional leaders will use this opportunity to avoid a damaging last-minute solution… (Read more.)
2) Per a formal recommendation from the European Banking Authority on Wednesday, thirty-nine large European Union banks must draft thousand-page documents known as "living wills" by the end of 2013 that will explain to regulators their precise plans for recovery and risk management in the event of an economic crisis. This marks increased international efforts to avoid another situation like the 2008 financial crisis by focusing on those banks considered "too big to fail" — banks so interconnected that their failure would warrant government intervention… (Read more.)
3) Home prices in the United States logged another gain in November, but fell short of estimates, according to the latest Federal Housing Finance Agency report.
The agency's index showed that prices increased 0.6 percent in November from October on a seasonally adjusted basis, slightly below the 0.7 percent average estimate of 15 economists in a Bloomberg survey. For the 12 months ending in November, U.S. prices gained 5.6 percent. The FHFA index is back to 2004 levels, but still remains 15.2 percent below its April 2007 bubble peak… (Read more.)
Don't Miss: Apple's Mixed Results Send Some Investors Running.
Thursday
The markets were mixed on Thursday. Positive economic indicators and a lingering sigh of relief from yesterday's debt-ceiling vote in the House helped pull the S&P into positive territory alongside the Dow, after briefly breaking 1,500. The Nasdaq ended the day in the red, largely because of tremendous losses at Apple (NASDAQ:AAPL).
At the close: DJIA: +0.33%, S&P 500: +0.03%, NASDAQ: -0.74%.
On the commodities front, Oil (NYSE:USO) climbed 0.82 percent to $96.01 per barrel. Precious metals fell, with Gold (NYSE:GLD) shedding 1.16 percent to $1,667.10 per ounce, and Silver (NYSE:SLV) dropping 2.34 percent to $31.68 per ounce. The yield on the 10-year T-bill climbed 0.027 points to 1.852 percent.
Here's your Cheat Sheet to today's top stock stories:
Apple closed the day at $450.50, down 12.35 percent as a result of its first-quarter earnings. The company sweat off as much as $50 billion in market value after performance failed to live up to expectations. The company reported a 17.7 percent year-over-year revenue increase to $54.51 billion. Earnings came in at $13.81 per share, well ahead of the company's own guidance of $11.75.
Starbucks (NASDAQ:SBUX) posted record first-quarter fiscal 2013 results after the markets closed. Total revenues increased 11 percent to $3.8 billion and earnings increased 14 percent to $0.57 per share. Comparable store sales grow 7 percent in the Americas and 11 percent in China/Asia pacific, which is a strong indicator of growth…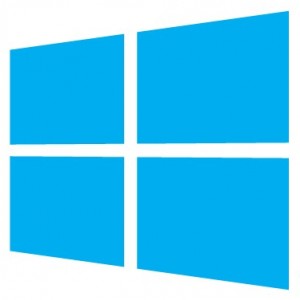 Microsoft (NASDAQ:MSFT) reported second-quarter fiscal 2013 results that sent shares lower in after-hours trading. Revenue grew 3 percent year over year to $21.46 billion, just shy of estimates. Earnings came in at $0.76 per share, a 2 cent loss year over year. Windows Division revenue grew 24 percent, after falling 33 percent in the first quarter.
AT&T (NYSE:T) also reported earnings after the bell, netting a loss of $0.68 per share on a fractional increase in revenue to $32.58 billion. This is a narrower loss than last year, and comes backed with over 8.5 million iPhone sales.
"Our coffee was too hot, our apple was bruised, and our iron supplements didn't go down smoothly," wrote David Einhorn to shareholders on January 22, describing Greenlight Capital's fourth-quarter results.
Even compared to Apple's slide and a bearish bet on the iron ore supply, his stance on Green Mountain Coffee Roasters (NASDAQ:GMCR) turned out to be a particularly bad one. In the letter, Einhorn acknowledged that his short position in the company wrecked the hedge fund's portfolio return for the fourth quarter… (Read more.)
Don't Miss: How Big is the Apple Eco-System?
Friday
The markets closed up on Friday, with the S&P finishing above 1,500 after being fueled by a series of strong earnings reports.
At the close: DJIA: +0.51%, S&P 500: +0.54%, NASDAQ: +0.62%.
On the commodities front, Oil (NYSE:USO) was relatively flat at $95.99 per barrel. Precious metals were down, with Gold (NYSE:GLD) falling 0.73 percent to $1,657.70 per ounce, and Silver (NYSE:SLV) falling 1.65 percent to $31.20 per ounce. The yield on the 10-year T-bill climbed 0.094 points to 1.945 percent.
Here's your cheat sheet to today's top stock stories: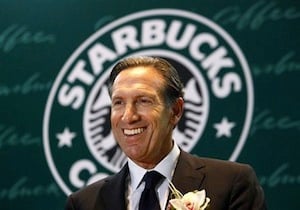 Starbucks (NASDAQ:SBUX) closed up 3.2 percent for the week, with all of those gains coming on Friday following strong first-quarter results. Earnings came in at $0.57 per share, which met expectations. Revenue came in at $3.8 billion, an increase of 11 percent year-over-year. Starbucks reaffirmed its outlook for the year, which is EPS between $2.09 and $2.15. This would represent growth of between 15 percent and 20 percent… (Read more.)
Apple (NASDAQ:AAPL) lost its status as the largest U.S. publicly traded company by market value during the trading day on Friday to Exxon Mobil (NYSE:XOM) as its shares continued to fall. With Apple falling 2.36 percent on the day to $439.88, its market value stood at roughly $413 billion. Exxon, with its shares largely flat on the day at $91.73, had a market value above $418 billion… (Read more.)
Netflix (NASDAQ:NFLX) climbed an additional 15.5 percent on Friday after surging 42 percent on Thursday following its fourth-quarter results. The company smashed expectations and embarrassed the bears with one hand, while laying the foundation for future growth with the other… (Read more.)
Yahoo (NASDAQ:YHOO) will release its fourth-quarter earnings on Monday after the markets close, and analysts are expecting the report to round off a fourth consecutive year of decreasing revenue. Expectations are that revenue will drop about 10 percent for the year to $4.6 billion as the company continues to lose advertising dollars to competitors… (Read more.)
Sales of new single-family homes in the United States declined last month, but prices continue to receive support from low inventory levels. According to new data released by the U.S. Department of Commerce, home sales in December dropped 7.3 percent to a seasonally adjusted 369,000-unit annual rate. It was the biggest monthly drop in almost two years and well below expectations of 385,000. In comparison, sales in November were revised 21,000 units higher to a 398,000-unit annual rate… (Read more.)
Lower production output from oil producers in the North Sea and manufacturers has brought Great Britain close to its third recession in four years. During the last three months of 2012, the economy shrank more than expected, with fourth-quarter Gross Domestic Product falling 0.3 percent, according to Britain's Office for National Statistics. This fall was greater than the 0.1 percent decline analysts had predicted, and it appears to be a sign of further bad news to come. The International Monetary Fund cut its 2013 forecast for economic growth to 1.0 percent from the 1.1 percent that was predicted last October… (Read more.)
Mario Draghi, president of the ECB, has been hailed as the euro's savior because of a bond-buying program that diffused what became a dangerous level of tension in the markets last year. Draghi spearheaded operations that demonstrated commitment to nations in crisis, such as Spain, Greece, and Italy, removing crippling uncertainty about the fate of the region and the currency.
At the World Economic Forum's annual meeting in Davos, currently underway, Draghi said that while the bond-buying maneuver helped remove risk for the euro, "we haven't seen an equal momentum on the real side of the economy." (Read more.)
Don't Miss: Can Money Buy Apple Love?