Top Stories Affecting Dow 30 Industrial Stocks This Week
Caterpillar (NYSE:CAT): Current price $88.55
The financial newspaper Barron's said that shares of Caterpillar are ready to jump as the economic recovery picks up steam, adding that the stocks rose by 2.7 percent to $86.98 on Friday, following positive  economic news, and that it could be a good entry point for investors having a 12- to 24-month horizon. Barron's also said that further global growth fears could take the shares back down to $80, but that Caterpillar's 2.4 percent dividend yield "should ease the pain. Meanwhile, the stock should hit double digits again."

The Boeing Company (NYSE:BA): Current price $94.19
Gulf airline giants Emirates and Qatar Airways, while they get ready to purchase Boeing's new 777X jet, warn that Boeing must not repeat the errors of the 787 Dreamliner, which cost its customers millions of dollars due to its batteries failing. These rapid-growing Gulf carriers should be among the first and possibly largest customers for Boeing's latest offering, which was shown to customers last week. Emirates' President Tim Clark commented, "For sure they have changed, I hope they have. Boeing came out of the ashes of the Sonic Cruiser years ago and came up with the Dreamliner, which was a leap of faith by any stretch. They were just beginning to stabilize when things went wrong again."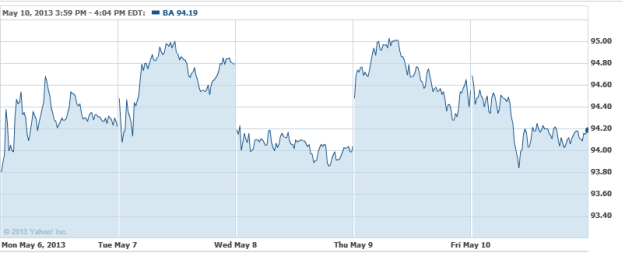 Investing Insights: Is JPMorgan Chase Ready To Explode?
United Technologies Corp. (NYSE:UTX): Current price $95.22
UTX's Sikorsky Aircraft Corp. said that the Federal Aviation Administration has okayed a new functionality on the S-92 helicopter, through which  to supply offshore oil operators with an automated approach that lowers cockpit workload by 60 percent and enables safer operations under challenging weather and operating situations. Sikorsky developed the new safety feature working jointly with PHI, which is an important Sikorsky customer operating S-92 and S-76 helicopters in the Gulf of Mexico, giving transportation to offshore oil workers to the platforms there. "Rig Approach" will be an option on the S-92 helicopters, providing a fully coupled and automated approach capability, along with a higher safety margin than is now available with any other offshore approach procedure.
UTX announced that it has initiated cash tender offers for any and all of two series of outstanding notes issued by the Goodrich Corporation, a wholly owned subsidiary, and as much as $500 million of principal amount of the 1.2- percent Senior Notes due 2015 issued by UTC. Through these offers, UTC expects to repay a portion of the long-term debt issued by Goodrich, along with a portion of debt issued by UTC.  UTC does not guarantee the Goodrich notes, and the U.S. Securities and Exchange Commission registration of the Goodrich notes was terminated on July 27, 2012.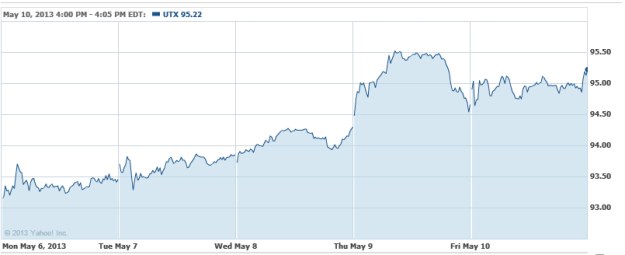 3M Company (NYSE:MMM) Current price $110.45
3M diversified tech conglomerate has recently debuted the digital technology 3M True Definition scanner for use in orthodontic practice. This new tech is meant to provide enhanced digital impressions for analysis and treatment planning, thus improving the overall oral care of patients. The new 3M True Definition scanner is an innovative tech alongside Unitek Treatment Management Portal, and permits a full digital workflow for the Incognito appliance system, offering precise, 3D-setup review, model overlay capabilities, and advanced communications and messaging.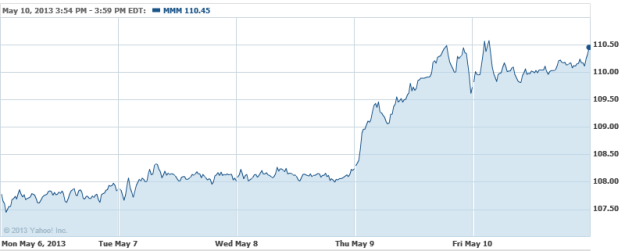 Alcoa (NYSE:AA): Current price $8.70
Officials in Stanly County, North Carolina, which is the location of  closed Alcoa aluminum smelter, are considering an agreement that could take away a hurdle to the corporation renewing a license for dams that once powered the plant, and now generate electricity for sale. County commissioners met on Monday to examine a deal that could end an Alcoa lawsuit pressing officials for more information. For their parts local officials could end their efforts to disallow a state water-quality certification the company requires to win a federal operating license for as much as 50 additional years.
The aluminum major says that it will enlarge a facility in Tennessee, boosting its capacity to make aluminum sheet for the automotive industry. Alcoa will shell out $275 million on the factory during the next three years in support of automotive producers' plans to employ increasing amounts of aluminum sheet to increase safety, fuel efficiency, durability and performance of cars and light trucks. The company expects that the expansion will add 200 full-time jobs and 400 temporary jobs, created during the construction phase of the expansion, which is set to begin in May, with completion expected by mid-2015.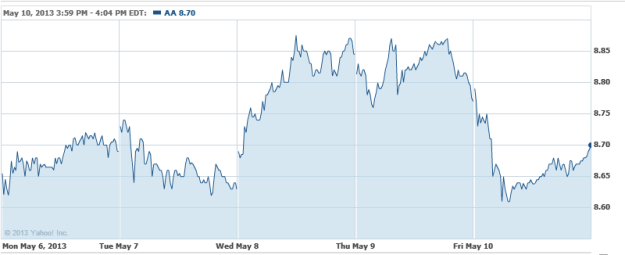 Don't Miss: Gun Control: Will 3D Guns Be Obama's Latest Headache?