Toyota Aims to Improve Hybrids, Chevron Pulls Out of Olokola, and 3 More Hot Stocks
Toyota Motor Corp. (NYSE:TM): Toyota will be playing with the battery packs in its next hybrid vehicles to deliver  "significantly improved" fuel economy, as the company is "very motivated" to continue improving its Prius mileage after boosting fuel economy by about 10 percent with second- and third-generation models. Toyota is hoping to move 250,000 Prius units this year.
Chevron Corp. (NYSE:CVX): The company said it will be withdrawing from the Olokola liquefied natural gas project in Nigeria, which was meant to exploit the country's vast gas reserves, as it has failed to become operational. It adds to the list of asset sales in the African country by Chevron, though the company has reiterated its commitment to the country.
Blackstone Group (NYSE:BX): Blackstone is reportedly involved in discussions to buy a 25 percent stake in three hotels in some of the most expensive neighborhoods in Dublin, Bloomberg reports. The three were once owned by now-bankrupt developer Sean Dunne, who bought them at the highest price per acre ever seen in Ireland in 2005. In November, Blackstone paid 67 million euros for the 501-bedroom Burlington Hotel in the same neighborhood, compared to the 288 million paid by the now-bankrupt Bernard McNamara in 2007.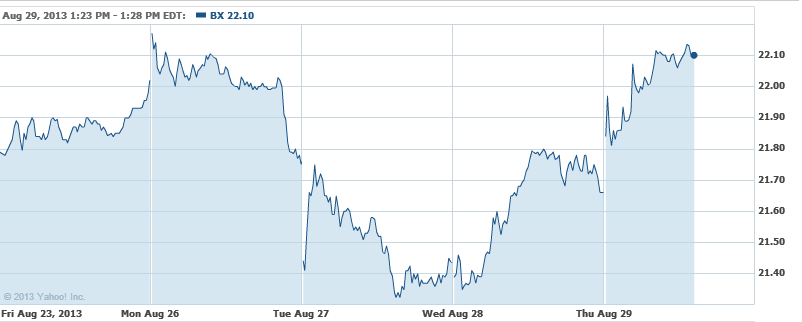 The Fresh Market (NASDAQ:TFM): Guidance that clocked in well below expectations has sent shares of the company spiraling down nearly 10 percent with earnings per share of 32 cents, in line with projections. Revenue missed, though, at $354.8 million, off by $2.28 million. Comparable sales growth weighed in at 3.4 percent for the period thanks to a 1.8 percent increase in number of transactions and a 1.6 percent increase in average transaction size.

NextEra Energy Inc. (NYSE:NEE): NextEra is on pace to raise $402.43 million when it exchanges shares for equity units it issued in September 2010, as the holders of the units will receive 0.7387 shares per unit in exchange for $50 for each one. NextEra Energy expects to transfer 5.95 million shares to the holders. Additionally, NextEra will also pay a final quarterly dividend of 87.5 cents payable per equity unit.