Toyota Brings Luxury to Avalon and 4 Auto Stocks Making Headlines Now
Ford Motor Co. (NYSE:F): Current price $13.06
Ford Motor Co., the second-largest US automaker, elevated Elena Ford, a cousin of Executive Chairman Bill Ford, to Vice President. Elena Ford, 46, will head a new global dealer and consumer experience group known as the Dearborn. She will report to Jim Farley, the company's global Marketing Chief. She is the great-great-granddaughter of company founder, Henry Ford.

General Motors Company (NYSE:GM): Current price $27.73
General Motors has strung together a tidy, three-year run of profits by making big dollars in their backyard. Now, the question is whether their United States operations can keep making enough to carry the company and cover widening losses in Europe. GM posted a profit of $4.9 billion for 2012, down 36% from a year earlier when they made $7.6 billion. Their net income fell because of European losses as well as a truckload of one-time accounting gains and losses in both years. Last year's pretax profit still dropped, but only by 5% to $7.9 billion. Revenue for the year rose 1% to $152.3 billion.

Toyota Motor Corporation (NYSE:TM):  Current price $102.62
After years of looking like a bloated Camry, the 2013 Toyota Avalon is ready to welcome back younger buyers with aggressive styling that does away with their "retiree" car reputation. It may still share a power train with top shelf Camry models, but inside, the car reaches Lexus-like luxury.

Honda Motor Co., Ltd. (NYSE:HMC): Current price $37.54
Honda Motor Co. Canada provided a glimpse into Honda's future North American lineup at the Canadian International Auto Show in Toronto, debuting the Honda Urban SUV Concept. Perfect for people with active lifestyles, the Urban SUV Concept design provides the basis for a fun-to-drive and fuel-efficient small vehicle with aspirational design, flexible packaging and next-generation connectivity.

Tesla Motors, Inc. (NASDAQ:TSLA):  Current price $37.01
Should your CEO handle press relations? Maybe not. Earlier in the week, Tesla's chief  blew up about the experience of a New York Times writer who published his Model S road trip findings, stunning shareholders and Twitter followers.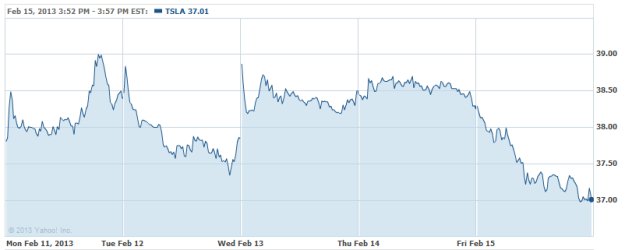 Don't Miss: Has the Auto Recovery Only Just Begun?