Toyota Class Action Suit Denied and 3 Morning Hot Stocks Turning Heads
Fisher Communications, Inc (NASDAQ:FSCI): Current Price $33.01
Seattle-based owner of television and radio stations and communications company Fisher Communications, Inc (NASDAQ:FSCI) announced the decision by its board to explore and evaluate potential strategic alternatives that could enhance shareholder value, and include a likely sale of the company. The 2013 annual meeting of shareholders is therefore postponed to a date not earlier than January 9, 2013.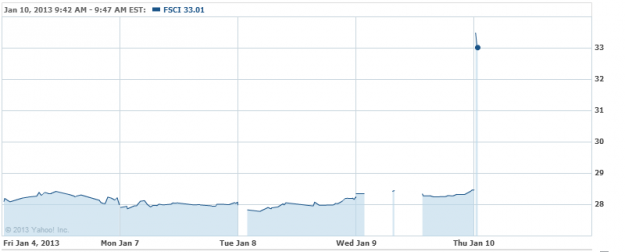 Smith & Wesson (NASDAQ:SWHC): Current Price $8.57
The California State Teachers Retirement System, often referred to as Calstrs, has conveyed its disapproval of arms and ammunition businesses such as of the Freedom Group, the manufacturer of the weapon used in the tragedy at the Sandy Hook elementary school in December. The pension fund voted to divest its holdings in companies such as Smith & Wesson (NASDAQ:SWHC) and Sturm Ruger (NYSE:RGR), after teachers said they were not comfortable keeping their retirement funds with these companies.

Start 2013 better than ever by saving time and making money with your Limited Time Offer for our highly-acclaimed Stock Picker Newsletter. Get our fresh Feature Stock Pick now!
Toyota Motor Corporation (NYSE:TM) Current Price $97.03
A class-action suit against Toyota Motor Corporation (NYSE:TM) was denied by US District Judge Cormac Carney on the grounds that most of the alleged class of plaintiffs that sued the company over a 2010 recall of Prius and Lexus models did not suffer any injury from the alleged defect. The judge also dismissed a claim by one of the four plaintiffs who sought to represent the other car owners affected by the recall, for the same reason. Said a Toyota spokeswoman: "After nearly three years of litigating this matter, we are pleased the court agrees that that no class exists and that plaintiffs are not entitled to any classwide relief in light of Toyota's swift and effective market action to address its customers' concerns."

Supervalu Inc (NYSE:SVU): Current Price $3.45
Cerberus Capital Management LP and certain real estate firms have agreed to purchase its Albertsons business from Supervalu Inc (NYSE:SVU) for $100 million. The deal covers 877 stores including the Albertsons, Acme, Jewel-Osco, Shaw's and Star Market stores. These stores will likely get merged with the other Albertsons stores already in the Cerberus' kitty following a 2006 acquisition.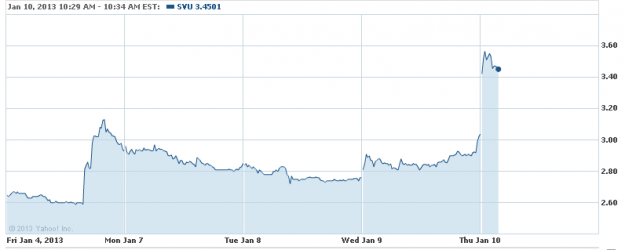 Don't Miss: Is Shell Up to Alaska's Challenge?