Toyota is Very Optimistic and 4 Other Hot Stocks
Amazon (NASDAQ:AMZN): Last summer when the company introduced its Kindle Fire HD, it  also introduced X-Ray for movies, which is a software feature using IMDB to pull in background information on whatever film user is watching. The company described iit as a quick way to discover exactly who was in a movie and any other films they were in. Furthermore, it offered a quick way to add the movies to the users' queue. Now, Amazon expanded the service to work with TV shows and movies. Amazon says that X-Ray will work with the "most popular TV shows" the company offers, and a fast expansion is planned to cover more and more content.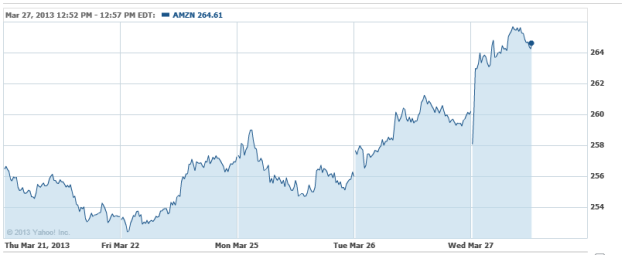 Ericsson (NASDAQ:ERIC) has been considering a purchase of Microsoft (NASDAQ:MSFT) IPTV business. This transaction could be announced during the next few weeks, Internet protocol television uses the same technology that powers the Internet to transmit multimedia content over telecom and cable networks. Ericsson is the largest maker of wireless networks, and it is interested in catering to phone companies that are competing with cable, satellite, and web-based media providers.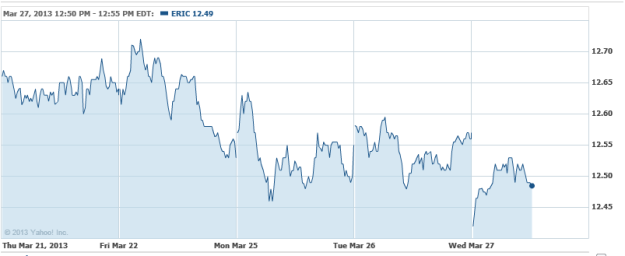 Halliburton (NYSE:HAL): The company's price target has been raised by UBS from $48 to $53 on higher estimates, but the firm believes that the stock will continue to tread water until potentially the 2nd-half of 2013, or Q2 at the earliest. The firm has increased its 2014 EPS estimates 9 percent from $3.45 to $3.75, but they reduced EPS from $0.61 to $0.56 because of seasonal choppiness in Latin America. In North America, the firm said Q1 that pricing is soft, but that is expected. "In North America, Halliburton is seeing modest price softness (less than 5 percent) in several low technology product lines (cementing, directional drilling, and coiled tubing). However, the price declines have not been widespread, nor are they escalating," it stated.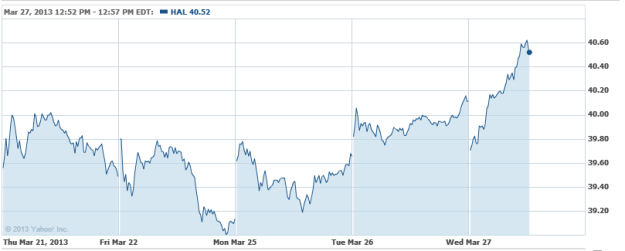 Toyota Motor (NYSE:TM): March's U.S. industry sales have been strong, and the annual sales rate has tracked at a pace that would top 15 million for the fifth consecutive month, according to a senior U.S. executive for Toyota Motor. Bob Carter, Toyota's senior vice president for U.S. auto operations, stated that the Japanese automaker is "very optimistic" regarding the economy in 2013  due to jobs recovery, rising consumer confidence, and an improving housing market. Carter stated that Toyota believes that U.S. industry sales finishing this year at 15.3 million, up from 14.5 million last year, and the U.S. gross domestic product has been growing about 2 percent.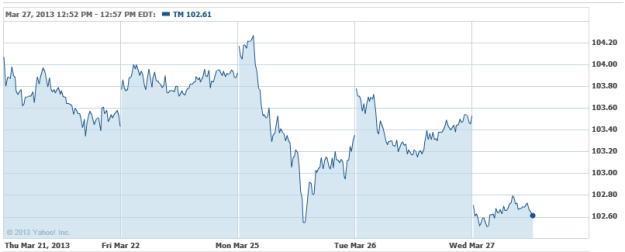 Don't Miss: Ford's Headache is a Boon for Japanese Automakers.